Looking for effective, high-performance as well as stylish looking radiators for your home? Then, you're on the right page. As, today we're going to acquaint you with stylish yet functional Tavola Total Mirror by Antrax IT, Italian company specialized in the production of radiators and fireplaces. This decorative mirror is integrated with a radiator to keep your home warm, meanwhile ensures that you look your best every time you walk by.
This sleek home decor object cleverly combines two elements 'mirror' and 'radiator' to regulate your home's temperature in a trendy way. This unique mirror is composed of two hardened mirrors, separated by a special shatter-proof film. Its rear mirror with black finishing is integrated with fins, which optimize performance of the radiator for extended usage as well. This 'heating mirror' features technologies of high-performance radiator to maintain optimum temperature.
Measuring 67 x 14-inches, Tavola Total Mirror is designed to be installed both vertically and horizontally; moreover it protrudes 3-inches from the wall. Due to its compact size, the high-tech mirror can be placed anywhere in public or private spaces, maximizing the available space. The radiator power is about 700 W that can be adjusted to different levels using a touch-screen keyboard. It also comes with a special remote control that performs as a thermostat, making the radiator perform automatically in particular conditions.
Designed by Andrea Crosetta, this mirror is a descendant of Tavola mirror that was presented in 2014. However, the latest Tavola Total Mirror comes with modern and futuristic touch ups. Antrax IT showcased the upgraded version during the occasion of Fuorisalone 2015. You can get this stylish mirrored radiator at your location by requesting it from company's official website.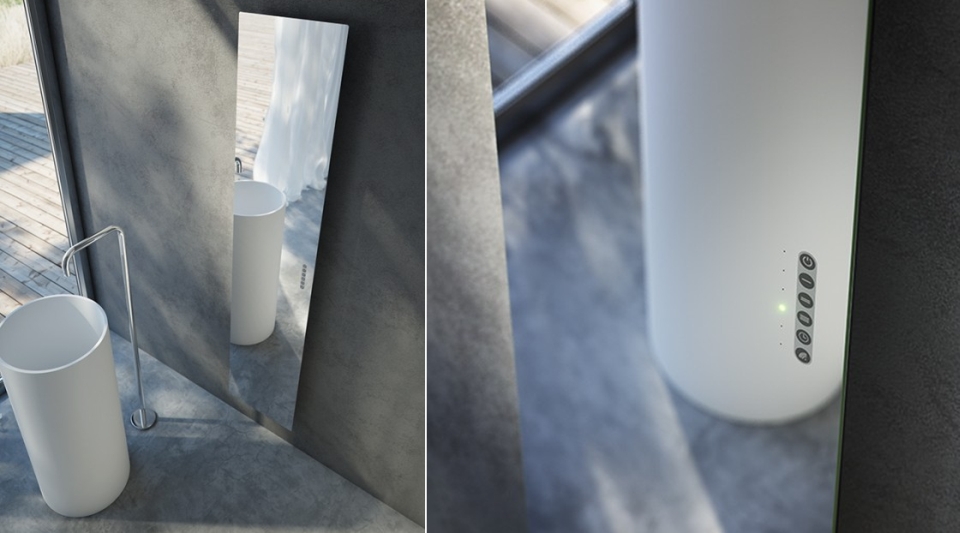 Via: Archiexpo