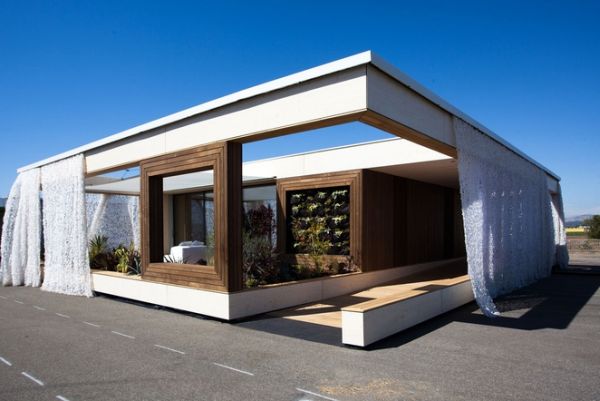 Around 19 college teams from around the world participated in this year's Department of Energy's Solar Decathlon competition, with their entries being judged under crucial categories like architecture, engineering and affordability. Finally, after 10 days of intense competition in Irving, California, Team Austria was declared the first place winner for their solar powered building. The designers mainly from Vienna University of Technology, were successful in combining energy efficiency yet cost effective measures for their housing unit. The end result is a simple yet visually enticing modernist specimen christened as LISI (Living Inspired by Sustainable Innovation). Comprising of linear angles and rectangular facades, the house is complemented by a host of green oriented features.
These low carbon attributes start out with the usage of eco-friendly timber as the primary building material for the LISI house. The power harvesting scope is achieved by the array of solar panels on the roof top which is actually capable of generating more energy for a year than required by the living unit. The green features of the LISI also take a high-tech route with incorporation of mechanisms like – dual air-water pumps for heating and cooling the interiors, automated screens and awnings and a heat recovering shower tray. And, the best part about these technologies is that most of them can actually be controlled from your finger tips via a tablet app.
Finally, such active mechanisms are also accompanied by some passive yet effective architectural techniques. These include integration of an entire herb garden within the patio space and a separate rainwater collecting system for conserving usable water.
For more details about LISI and the other energy efficient entries, please check out Solar Decathlon's official site.