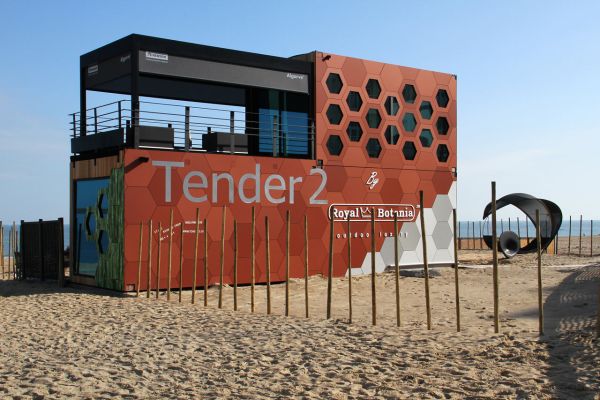 The core credential of a pop-up structure is borne out of a short term arrangement, thus alluding to the very nature of flexibility and portability. The Tender2 pop-up hotel from Royal Botania retains all these 'nomadic' advantages, along with some classy hospitality features of its own. Arranged on the shores of Knokke-Heist in Belgium, the short-term structure is actually back for its second year outing on the paradisiacal, sun-kissed beach. Furthermore, its modernist, beach house-esque form complements its prime location attributes, thus serving up a concoction of both fun and swankiness for the potential guests.
Structurally, the Tender2 hotel comprises of two floors with contemporary-styled guest rooms boasting of breathtaking views of the sea. This inherently modernist style is not just limited to linear glass facades and geometric arrangements. The guests are also offered with an additional hot tub and a sauna to complete the classic vacation experience.
Additionally, when you are outdoors in the compound, you can take your nap in the two ergonomic and elegant hammocks designed by the parent company Royal Botania. And, if you thought that was pampering, Tender2 cranks up on the indulgence by giving you your very own personal butler and a range of French gourmet cuisines to choose from.
The hotel will be open till September 15th of this year. For more details, please check out Tender2's homepage.
Via: Tender2