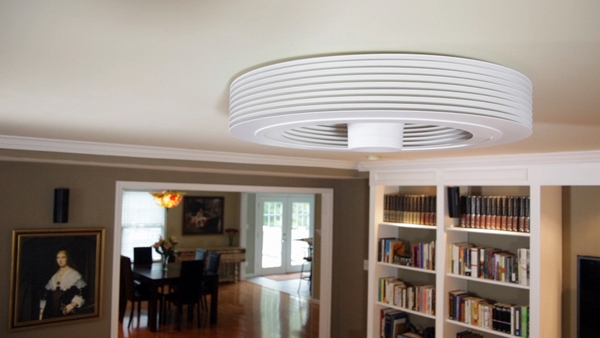 Remember the summer days, they are hot and humid and certainly one needs at least a good fan for keeping themselves cool. Till Now, we have seen and used various types of table fans, ceiling fans, which promise a lot and deliver the same as was a decade ago, except for being a little efficient on power usage. Not much has been done as far as fan designs are concerned but Tesla & Nik Hiner have come up with a bladeless exhale ceiling fan, which will blow your mind and cool your senses.

The vortex airflow generated by the Tesla Exhale fan is unmatched in the ceiling fan history. Air is not simply directed straight down, but moves around the room in a 360° horizontal flow and passes over you from the side as if you were experiencing a cool spring day with its fresh-feeling and calm breeze.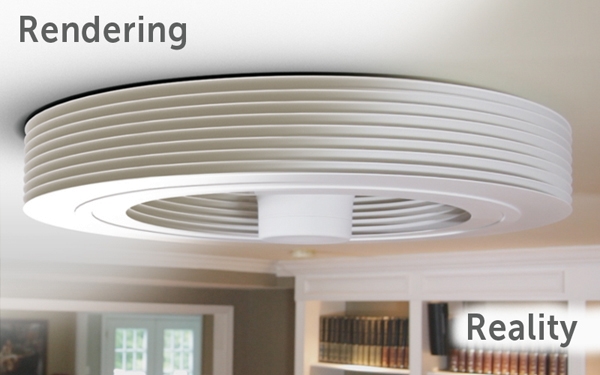 The best thing about this air-flow is its homogenization of air. The air flow is equal in all places of the room and therefore one does not needs to alter their sitting or sleeping places in order to receive more air, this also reduces stress on the air-conditioning units, providing the best in HVAC (heated ventilation & air conditioning). The fan runs on high-efficiency DC motor with 6-speed wireless remote. These DC ceiling fan motors reduce operating costs by 50%-80% compared to their AC counterparts.
Some of the features and dimensions of this innovative fan, which will soon come into the market, are following:
•Width: 34″ (863.6mm)
•Height: 7.25″ (184.15mm)
•Weight: 25lbs (11.3Kg)
•Material: Precision injection moulded plastic
•Motor: High efficiency DC (34 watts max)
•CFM: 3,186 @ High speed
•Power: 120v/60Hz or 240v/50Hz
•Control: Wireless 6-speed remote
•Coverage: Effective in rooms up to 20'x20′
•MSRP: $499.99 in standard white (45%-50% off for backers)
•Manufacturing: Made in the USA