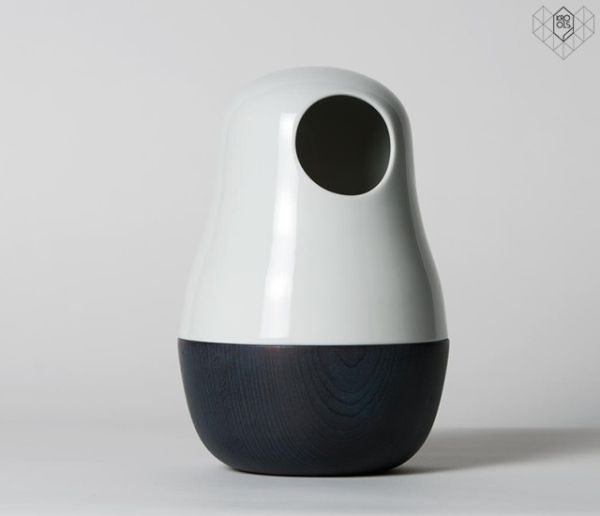 It is not often that we come across artistic conceptions inspired by artistic traditions. Well, the Babula Lamp from Germany-based studio Krools fill this design void with its own degree of delectable essence. Inspired by the exalted Matryoshka doll, an iconic part of the Russian art and folklore, the lamp exhibits a curvaceous form (which represents the feminine side) with a simple symmetrical bearing. This intrinsic level of simplicity is accentuated by the duality of the materials used for the design – with minimalist porcelain comprising of the upper section and naturalistic blue-beech wood draping the bulbous base.
According to the designers, the Babula Lamp –
…is based on the feminine basic form of the Russian Matryoshka doll; this unique table lamp is distinguished by its combination of wood and its precise luminary made of porcelain. A female note, that provides warmth to modern ambiance and a mix of coziness and feel-good to every interior decoration.
So in essence, the duality preset is not entirely symbolic in nature. The pristine quality of porcelain does play its part in the ambiance oriented 'glow' of the Babula Lamp. On the other hand, the opaqueness of the blue-beech wood helps in creating the silhouette of the lamp profile. The resultant fusion alludes to the play of light and shadow, which is the fundamental effect employed by many artistic lamps. The simplicity of the entire scope is also unobtrusive in its nature, thus making the Babula Lamp an easy decor choice of contemporary living rooms and bedrooms.
All images are courtesy of Krools.
Via: Krools