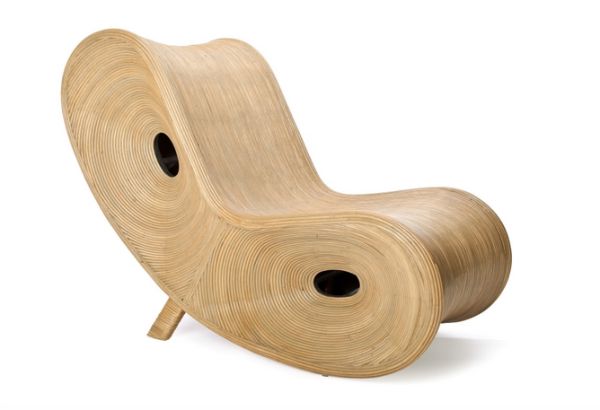 The flourishing curves, the flawless form and the simplistic essence; all embodied within the vernacular scope of Balinese art and crafts – this is the Chill, an elegant rocking chair from Norr11. Completely handmade, the 'exotic' material used for the furniture was rattan, a species of palm native to tropical regions of Asia and Australasia. In fact, 70 percent of world's rattan population comes from Indonesia, and as such the hardy material is used in various applications ranging from handicrafts to furniture items. The Chill rocking chair is an apt example of such a traditional trend, albeit fused with some modernistic design ideals.
According to the designers, the Chill is composed of high quality rattan fibers, which by their original nature conform to extreme robustness and weatherproof qualities. This makes it convenient for the customer to use the Chill as an authentic piece of Balinese furniture for semi-private outdoors areas like patios and gardens. Furthermore, the 'natural' credential of the rattan fiber also makes them much easier to clean than conventional fiber.
Finally, the Chill scores high on the overall visual scale with its remarkable exhibition of craftsmanship (that combines vernacular techniques and a contemporary form). And, that coupled with its indigenous durable attributes surely makes the furniture item a winner in our book.
Dimensions – Height: 91 cm, Length: 119 cm, Width: 62 cm, Seating height: 39/40 cm
Price – £579.00 (around $900). For more buying details, please refer to this link.
Via: Norr11