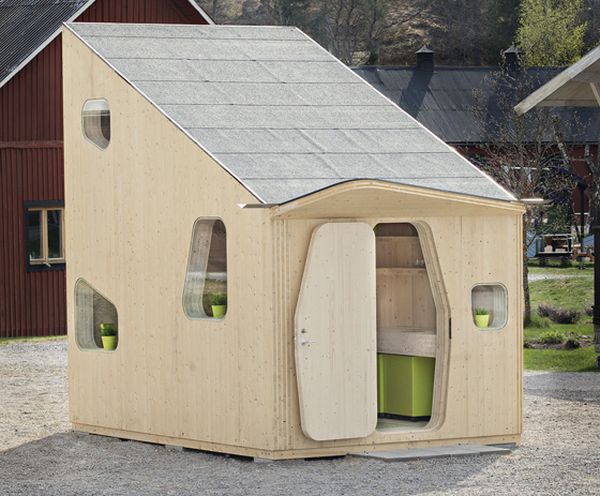 What might look like a minimalist wonderland is in reality a compact student flat just 10 sq m in area. Designed by the collaborative effort of Tengbom Architects and the students at the University of Lund, the prototype unit has been named as the Smart student flat. Now according to the creators, this level of 'smartness' is not just defined by the gimmicky size of the construction. Rather the innovation is achieved through a confluence of student inspired features like sustainability and affordability. So, in essence, the remarkably small area is derived from such practical notions, not the other way around.
In this regard, the compact Smart student flat offers a slew of user oriented zones that are expected in a modern living unit, like – a pretty snug sleeping-loft, kitchen, bathroom and even a small garden with a patio. As is the case in most low carbon designs, these spatial features are complemented by the use of wood (cross laminated variety) as the sustainable construction material. In fact, the usage of timber not only lessens the overall carbon footprint, but also contributes to the low cost and rent of the building.
The architects have also talked about how they have used flexible construction techniques that allow easy assembly of the entire Smart student flat on the site. This is partially helped by the compact area of the unit and the adjustable nature of wood. But more than that it is the sheer degree of innovation for breaking new grounds, which according to Tengbom must be a virtue of a contemporary designer.
Via: Tengbom