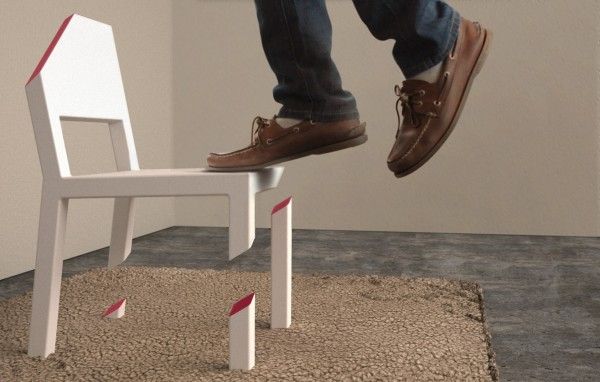 There is innovation, and then there is magic. The Cut Chair seems to follow both of these design trends to emerge as a really novel furniture conception. Conceived by designer Seattle-based designer Peter Bristol, the unique visual scope of the chair comprises of three 'severed' legs, and yet functions as a normal chair sharing a normal person's weight. Now, before you start arching your eyebrows and scratching your head, we should make it clear – the Cut Chair doesn't use any of those transparent props. And, for the more imaginative among us; it also doesn't use any kind of magnetic paraphernalia to levitate the components. So, the question remains – how exactly does the chair stand? To know the answer, please do continue reading!
Those who are familiar with the concept of cantilevered structures might have a clue to the 'working' of the Cut Chair. In actuality, the left-sided support leg (at the rear end) is fixed to a solid metal structure hidden beneath the carpet. This is the sole supporting member of the chair, sturdily fixing the entire structure to the ground. So, you shouldn't be too worried about the seemingly flimsy credentials of the chair, while wholeheartedly enjoying its whimsical aesthetics.
For more buying details, please refer to this contact.
Price – $4,000
Via: PeterBristol