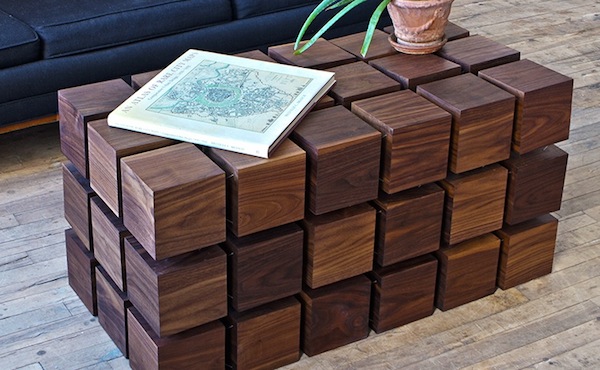 Are you bored of your regular coffee table? Then check out this new coffee table designed very differently by the New York Based engineering boutique, Rock Paper Robot. Dubbed as the Float Table, this marvelous furniture piece appears to be rigid and sturdy like a conventional table when stationary, but as soon as you slightly push it, it will reveal its unconventional dynamic nature by getting deformed. Although it retains its normal stable structure, within seconds after you release the applied pressure, but this elastic property of the Float Table will make it a conversational piece of furniture among your guests, especially the science enthusiasts.
The table is a matrix of "magnetized" wooden cubes that levitates or floats in the air with respect to one another culminating classical physics and modern design aesthetics. This levitating effect in the cubes embodied in the entire structure is brought about by a network of tensile steel cables. The system of cables allows the table to stabilize as well as deform in response to human touch.
The Rock Paper Robot is a studio that specializes in creating innovative furniture and lighting products that features high end kinetics. The Float Table is one of their tactile pieces of furniture that persuade people to touch it. Each of the tables is handmade and can be customized to any size or shape, and with the wood of your choice. The pictured table goes for around $12,000. To see the Float Table in action, take a look at the video below.

Via: Designtaxi