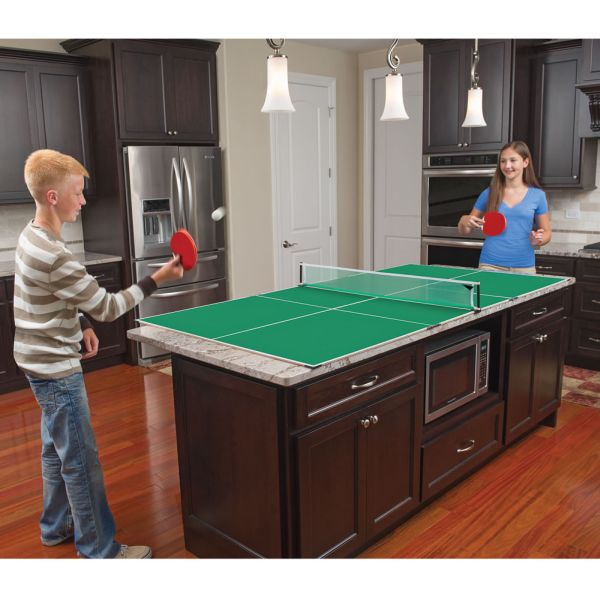 Do you often wish to have Ping Pong table where you can play as much as you want and whenever you want? It is seen that even if you are fond of this game, you cannot afford to purchase the table because of the high cost or because you lack enough space to keep one in your house. What if you could transform your kitchen island to a tennis table? With the kitchen table tennis pictured above, you can now convert your dining table, kitchen table or any other table into a real Ping Pong table at quite affordable price without the need of an extra space.
This kitchen table tennis set from Hammacher Schlemmer includes a board that can be unfolded to place on the dining table 2 paddles and two table tennis balls and a 4 inch high net, which can be clipped onto the flat green board on either of the ends to keep the net taut while play, thus not damaging the finishing of the table it is placed on. The flat green board measures 84 inch Length x 42 inch Width x ¼ inch Height.
Wait, there is more. You can also play chess and checkers  on the same board just by reversing it, because on turning the board upside down, it reveals separate chess/checkers and backgammon boards. This means you can play a multitude of board games and table tennis on the same wooden board. The entire package includes the set of table tennis along with a set of chessmen, checkers, and dice/dice roller. The sturdy wooden board is light in weight and portable. So now you would have to rush to a club to play a game of table tennis. Buy the kitchen table tennis here today for a cool price of $149.95.