Yesterday, we talked about how a robotic coffee maker takes your orders via smartphones. Well, if the feathers of some coffee enthusiasts are ruffled by such artificial mumbo-jumbo, they would surely look forward to the Coffee Extract Tower designed by the duo of Kitbashive. Taking a nigh opposite route to highfalutin features, this contraption brews coffee by just dripping cold water over coffee grounds (and that too – 'one drop at a time'). This time-consuming albeit 'purist' method of essence extraction results in a pure coffee concentrate that is favorable to making iced coffee. And, also given its non-acidic credentials, the brew is better for our stomachs and taste buds.
However, according to the designers, the Coffee Extract Tower is not only about delivering purer coffee brews. They have gone on to describe their creation as a 'functional sculpture' that is elegant in its bearing yet usable in its scope. In fact, the conception comprises of a few visually enticing components that come together to form a solid coffee extraction mechanism. These very same components can be individually disassembled by the user for the purpose of cleaning and even storing.
Finally, coming to the structural attributes of the Coffee Extract Tower, the contraption is mainly divided into three parts – the main structure, the support and the drip train. This main structure is constructed from mild steel plates, while the support is made from of Baltic birch wood plates (with a food-safe polyurethane coating). The drip train on the other hand consists of a combination of infuser, funnels and decanter – all crafted out of stainless steel and glass.
For more details, please check out the product's Kickstarter page.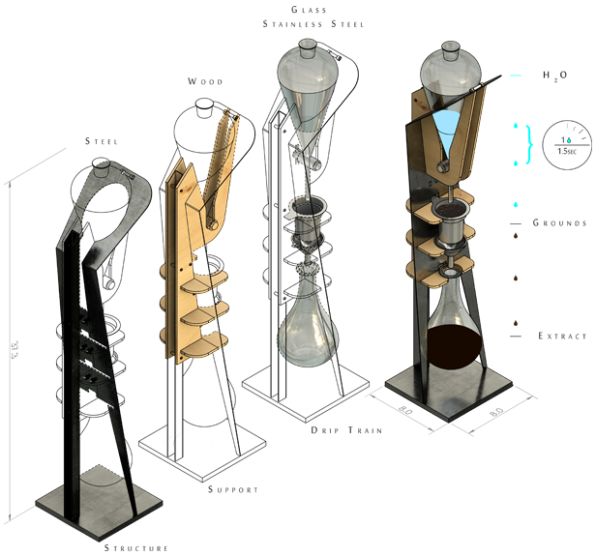 Via: Kickstarter