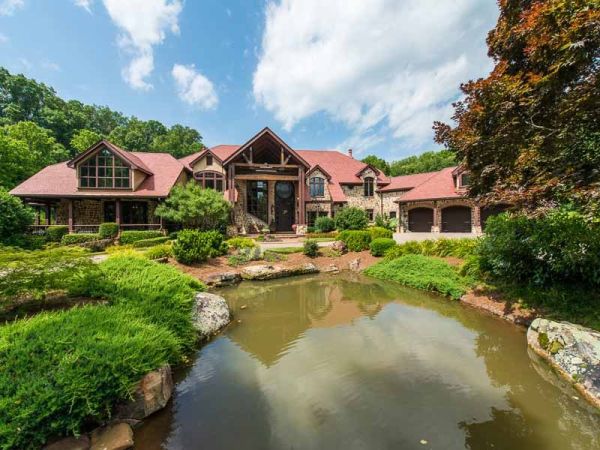 A grandiosely conceived country estate spread across a lush area of 446 acres – this in a nutshell is the $17.5 million Gainesville Estate situated in Georgia, United States. Nestled amidst a Tolkien-esque setting of rolling pastures and natural waterfalls, the magnificently 'rustic' house offers breathtaking views of the nearby (accessible) river and the verdant landscape. The structure itself is a fine piece of architecture with exquisite building materials and remarkable design details. One of these materials entails 100 year-old reclaimed wood used for interior support elements like extended beams. These are complemented by elegant segments and fixtures like wide planked floors, mahogany moldings and Baccarat chandeliers.
The exclusive scope is however not just limited to the high-end aesthetics of the 5-bedroom Gainesville country house. The paradisiacal estate also comprises of a few amenities including a billiard room, a full fledged movie theater, caretaker rooms, library, guest houses and a private lake. However, the 'piece de resistance' would obviously be the state-of-the-art 40,000 sq ft of climate controlled garage (see video below). Furthermore, the estate features a slew of Western-themed zones like a saloon, carriage house, barns, pastures, river dock and even an authentic mill. These 'exotic' zonal attributes do play a part in accentuating upon the sylvan yet posh essence of the Gainesville Estate.
For more details (including pricing), please refer to this link.
Via: PriceyPads