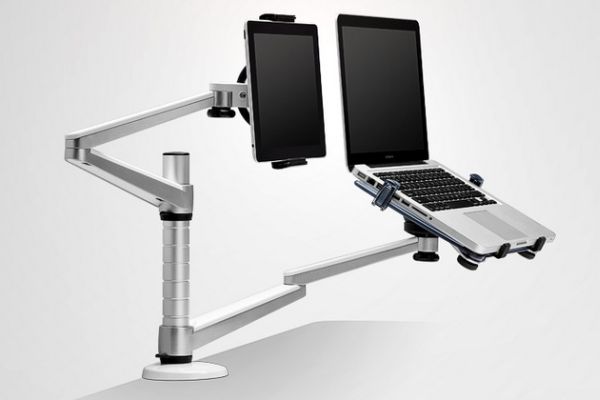 Various stands for tablets and laptop are available these days to  facilitate the user while working on these devices. But carrying two different stands each for a tablet and a laptop is quite frustrating. A feasible solution is launched in shape of a stand featuring two arms to hold both tablet and laptop together using one stand. Dubbed the 360 degree rotating laptop & tablet stand, this has an adjustable clamp in the base, which can be adjusted to fix the stand to any desk, table, shelf, bed or sofa in a home or at office without much hassle.
The stand is made of aluminum alloy making it strong enough to firmly hold weight of any-size laptop or tablet. Both arms attached to the stand can easily rotate 360 degrees on its axis. One arm of the stand has a tray to securely hold any laptop of 10 to 17-inches. Whereas, the second arm comes with a clamp to hold any sort of tablet or iPad. Moreover, you can fold, stretch, or adjust its arms to different angles according to requirement.
The 360 degree rotating laptop & tablet stand can be fixed/unfixed to any furniture item using a clamp hose attached to its base. This adjustable stand is an ideal accessory to access a laptop and a tablet at the same time in home or office.
Via: BonjourLife