Rarely do you find a retreat that is embodied by the essence of nature, taking your mind off everything that is apparent. In a place like this, the chirping of birds, wind blowing in the trees and star-studded sky put forth an experience which is unforgettable. Yes, a treehouse can make you go through all these sensory experiences, when every piece of the puzzle is in place. Beautiful landscape all around, intoxicating smell of deodar tress and a comfortable place to get sound sleep. One simply cannot ask for more. Being quite a few feet above the ground, living in a treehouse can do just that by rebooting your mind, body and soul without doubt.
About an hour's drive away from Shimla – the Queen of Hills, in Himachal Pradesh, is located Himalayan Bliss, a beautiful treehouse suspended 20 feet above the ground on four tall deodar trees. Getting to the place is quite easy, as it takes about 15 minutes detour from the National Highway 22 to where it is located.
Designed and owned by Sandeep Singh, a local guy, it is the only treehouse in the entire state perched on deodar tress. Built by local carpenters, it oozes with the essence of heritage vernacular architecture of the Himalayan state. The wooden structure is surrounded by greenery and apple orchards on three sides, so it is an inviting retreat for those who want to spend some time in the lap of nature away from the hustle and bustle of city life.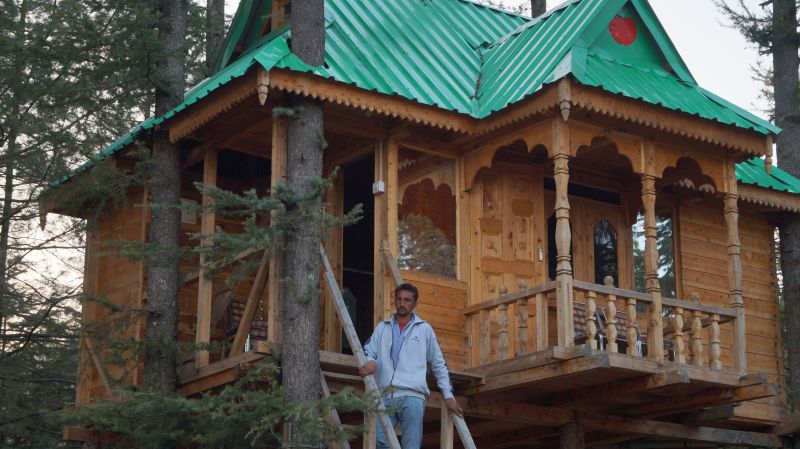 There is a lot of open space around the treehouse to enjoy night time camping, bonfire or simply having a romantic time. The treehouse is made out of locally-sourced materials. Amazing carvings on wooden walls add refined aesthetic sense to its exteriors.
It can be accessed through a wooden staircase that ushers you into a small deck area leading to a bedroom capable of housing two adults along with two kids comfortably. A glass tile in the middle of the bedroom adds to the vertigo effect. Moreover, built-in cabinets are included for storage purpose. Also the attached bath and a kitchenette offer homely environment.
Complete wooden interior adds rustic touch, making it a cozy place to stay in. A small wood balcony offers mesmerizing views of green valley draped in golden hue of sunset.
Comfort and serenity of the place is very much evident from its pictures. It is not only a place for adventure lovers, but for those who seek peace to freshen up their body and soul.
Getting to this place is easy, and it is a completely different kind of treehouse that can be booked for ₹3,858 (US$65)/night.
Apparently, Sandeep has promised that in the coming months this treehouse is going to see many improvements, and he has planned other treehouses to be erected on his property in the future.