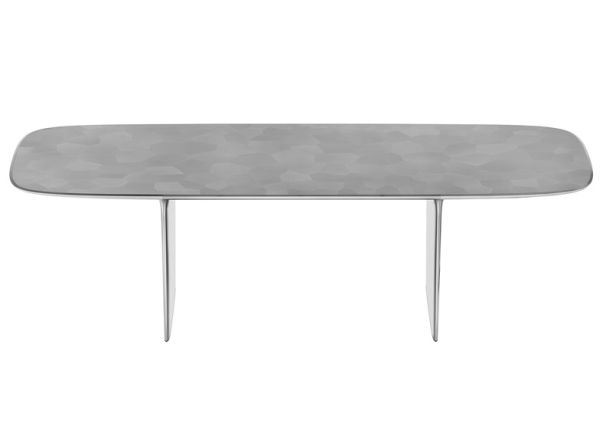 British designer and the Senior Vice President of Design at Apple Inc., Jony Ive has recently teamed up with his friend and acclaimed Australian designer, Marc Newson to create a range of products for the (RED) charity auction. These splendid list of products includes a champagne bottle, camera, a grand piano and even a pair of gold headphones. The latest among their collection is the (RED) Desk pictured above.
The team of the ingenious designers  created this one of a kind (RED) Desk machined from solid aluminum chunk that weighed 2600lb. The entire sleek form of the table is unique and meticulously designed. The table top sits over a pair of blade like legs, which are again made of aluminum. When you look closer, the table top reveals  an intricate cellular surface pattern that is fabricated by California based renowned aluminum specialists Neal Feay Studio. 
The (RED) Desk measures 102 inches in length and 38 inches in depth and boasts a pattern of 185 interlocking cells and the inscription that says "Designed by Jony Ive & Marc Newson for (RED) 2013 edition 01/01".  This iconic desk is up for sale at the (RED) auction that will take place at Sotheby's auction house in New York on November 23, the proceeds of which will go to (RED), the anti-HIV/AIDS fund co-founded by U2's Bono.  Although the aluminum desk feels cold and may not last last for long, but this piece will definitely be impactful and memorable.