Buzzfeed Nifty shares DIY and money-saving tricks for creating something useful from common things. Recently, their video demonstrating DIY procedure for creating a storage bench from wooden crates got much response from the online community. For making this easy DIY furniture, all you need is simple tools and materials such as wooden crates, furniture legs, wood glue, adhesive spray, foam, batting, staple gun and your favorite fabric for upholstery.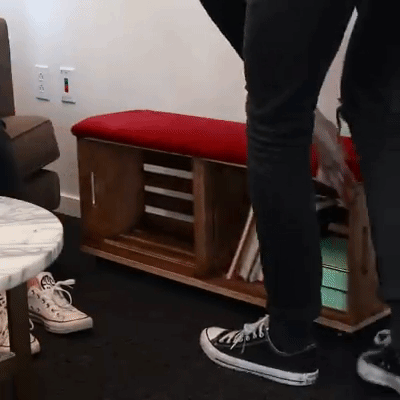 If you have spare time, requisite materials and tools, then you can follow these simple instructions to make a Crate bench-cum-storage box for yourself.
The first thing to do is sand the sides of crates and then put them in a straight line for attaching with wood glue. Clamp both the crates tightly, so that glue makes a tight bond.
As glue is drying, secure the crates with wood screws for better solidity.
According to the measurement of the joined crates, cut wood pieces for top and bottom.
Drill holes to attach legs or wheels in the bottom board using screws. Then, it is time to glue and screw it to the wooden crate structure.
For making the upholstered top, start with connecting the upper wood board to foam and batting by the adhesive spray. Then fix them to wood using a staple gun and finally wrap it with the fabric. Similarly, use a staple gun to secure the fabric to the wooden board tightly. Once complete, remove the excess fabric.
Follow up and attach the upholstered board to connected crates using wood glue, screws and clamps. Also, ensure that plenty of screws hold both the crates.
Now, the crate bench-cum-storage is ready to be used. For better appearance, one also can stain or color it and even add some cabinets or shelves.
The crate storage bench looks fine; however, its flimsy nature is also apparent, since, its holding capacity truly depends on the strength of wood used in the crates. Despite all these things, it can be used as a handy DIY storage box in kid's room or as shoe rack at the entryway fo homes. It is also a simple wood-crafting weekend project for growing kids to enhance their creativity and skills.
Upcycled old wooden crates into this storage-savvy bench!

Supplies & instructions: bzfd.it/2gC8h9V

Posted by Nifty on Friday, 2 December 2016