Levitating gadgets have always flummoxed us all, simply because they look so cool. The same goes with nixie tube gadgets which are unique in their own way. Just imagine combining these two extremes into one. That is what Tony Adams from Scotland has done, and created a Levitating Nixie Clock for geeky home owners. His unique idea is up on Kickstarter for funding and looks good to make it through to the funding stage.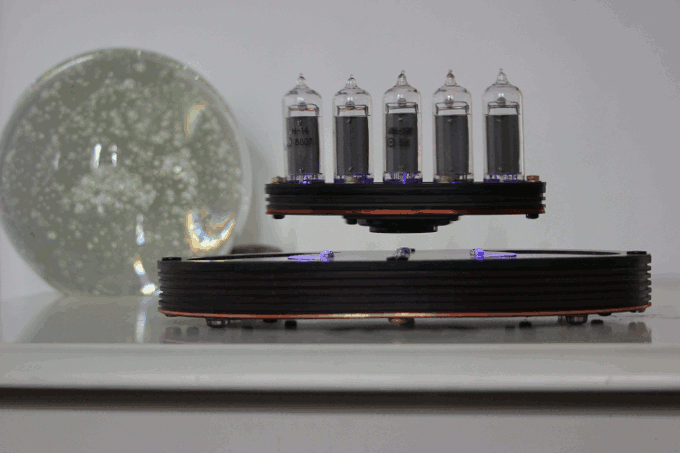 Nixie tubes, rare earth magnets and electromagnets do the magical display of time, while the clock itself levitates in the air. Power is supplied through the levitating base with inductive copper coils, and as long as main power is up, the clock functions perfectly. In case there is a power cut, the electromagnets stop functioning, but the clock shows time for 30 hours courtesy the battery backup in the base.
Timekeeping of this clock comes courtesy the electronics located in the base which communicates with it using infrared signal. You can reset the time manually using buttons on the levitating base or via an app too.
Currently, the nixie clock being offered in two different versions – five tube relay and one tube beacon. The former has separate nixie tubes to display hours, minutes and seconds while the latter version has one big nixie tube to display the hour, minute and second sequentially. On Kickstarter, the Relay model carries a minimum pledge of USD $463, while the Beacon model goes for USD $562.