The tiny house movement is a popular architectural trend that is widely being accepted for residential as well as hospitality facilities. You can find a number of tiny house rentals in every part of the world. These holiday accommodations are based on the concept of the live big, think small.
Tiny house rentals are designed for downsized living – it packs only the necessary things in a small footprint. Whether you are planning for a desert vacation or hiking in the forest, these tiny getaways are just perfect. They will be less expensive and provide a much trendier vacation experience.
To provide a little insight, we are listing some of the most unique tiny house Airbnb rentals in California (CA). Have a look below:
Coyote Ridge Tiny House
Charming and rustic, this handcrafted tiny home has scenic countryside views. It is a quiet cabin with two small bedrooms, two seating areas, kitchen and bathroom with shower. There are many wineries nearby, which can be of interest to the guests.
Highlights
Use of recycled materials around the house
Two decks and a hammock
Faux fireplace
Breakfast is provided
Price: $117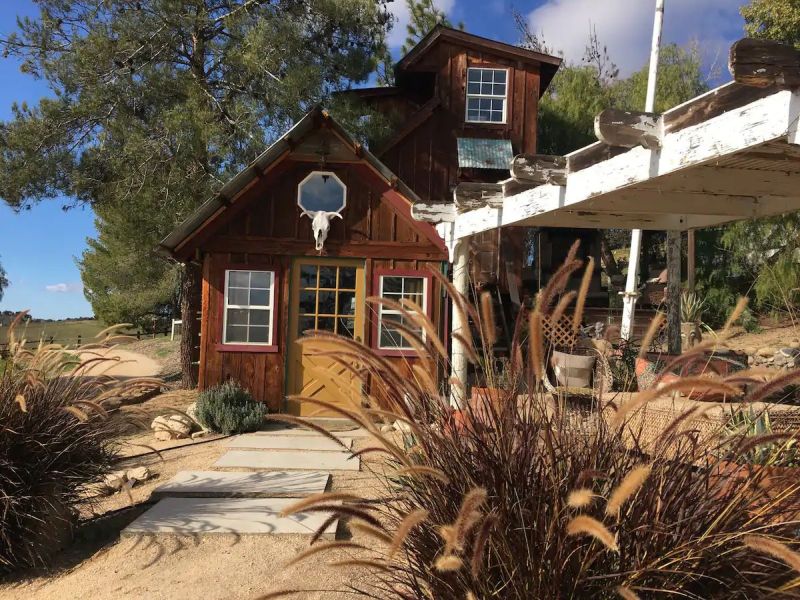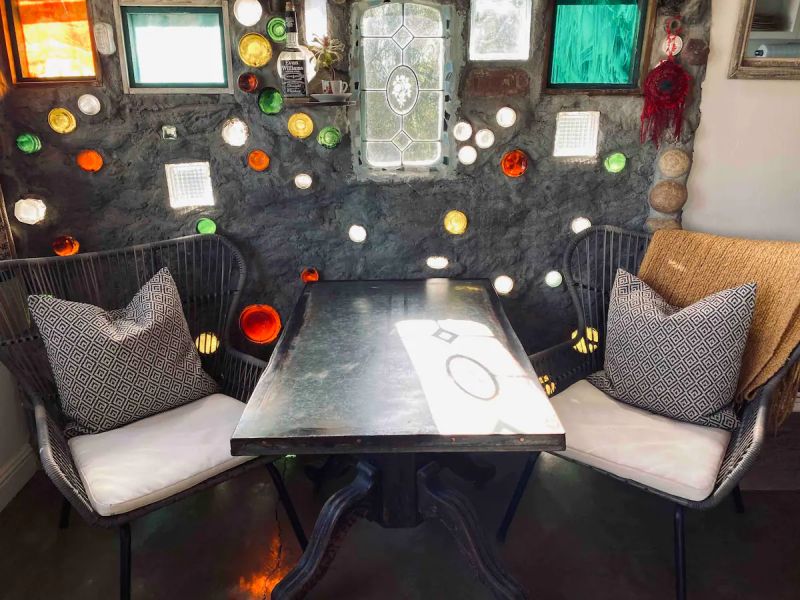 Luxury Tiny House, Ione
Located in a secluded 10-acre ranch in Ione, California; this tiny house rental is perfect to relax amidst the wilderness, away from the city. It has a loft bedroom, kitchen and bathroom with an RV-type indoor toilet.
Highlights
Play with goats and horses
Pool and Pond
Pet friendly
Covered patio and gazebo
Price: $365/night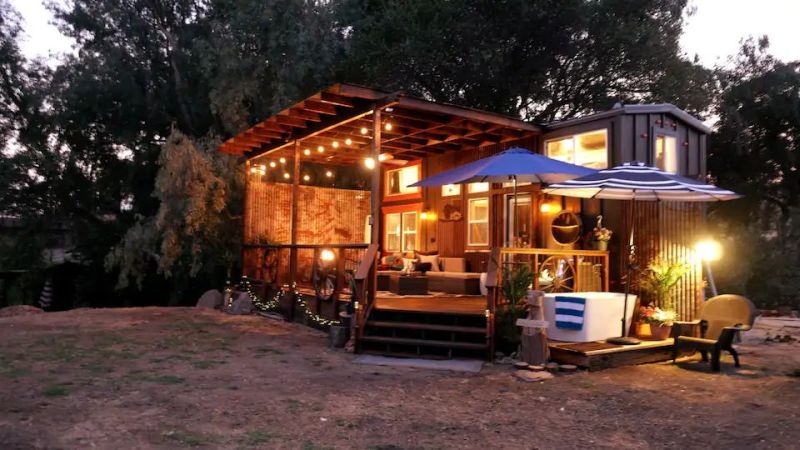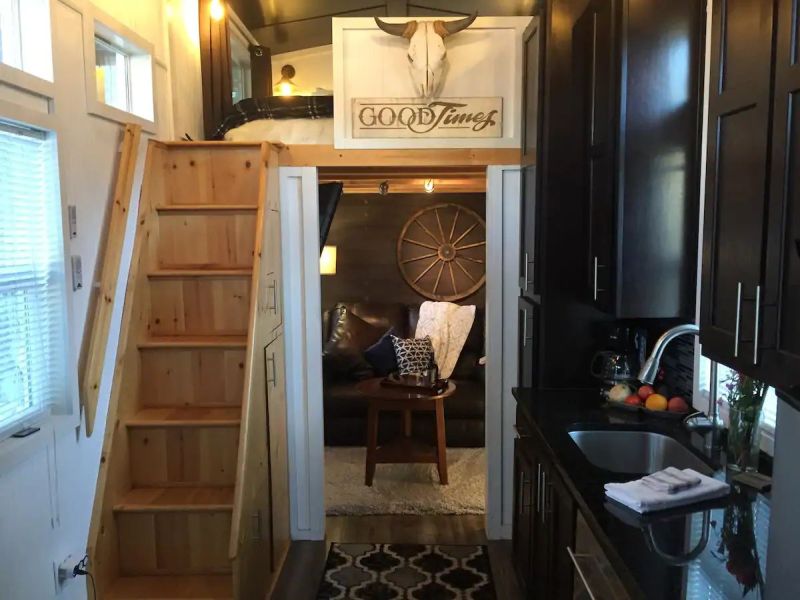 Micro Cabin by Sierra Meadows, Ahwahnee
This uniquely tiny house cabin is perfect for solo travelers or a couple that wants to spend some good time in the vicinity of the Sierra National Forest, Yosemite. There is just one bed, table, mini-fridge, coffee maker, and a storage rack onboard.
Highlights
No kitchen and TV
Shared outdoor bathroom
Access to 140 acres former golf course
Pets allowed
EV charger
Price: $144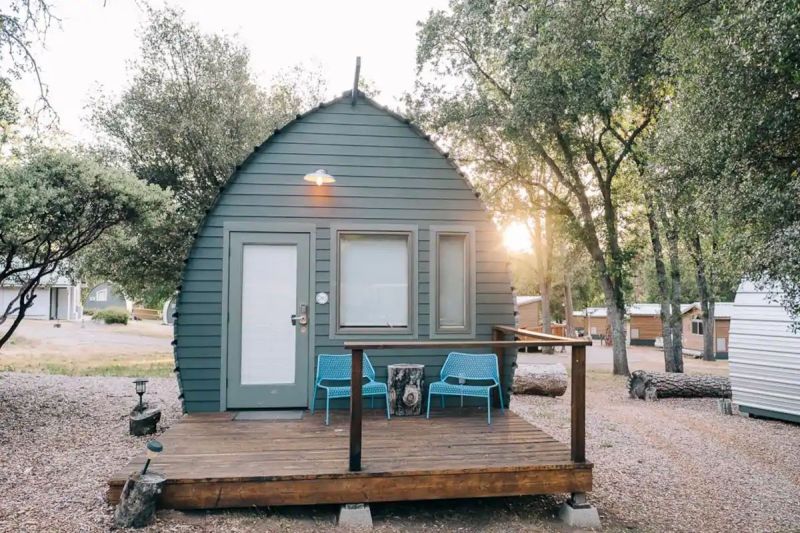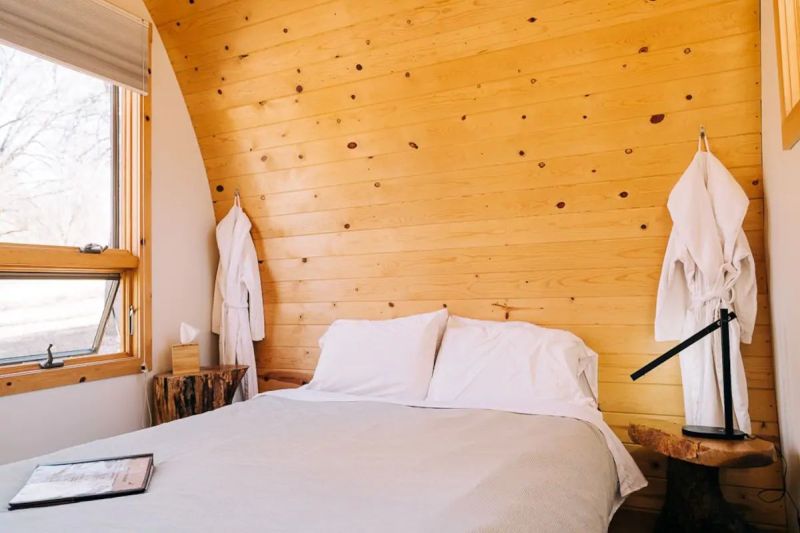 Vintage Airstream Tiny House, Spring Valley
Nestled in a large canyon overlooking the San Diego skyline, this tiny house Airbnb rental is ideal for enjoying the best of nature. It has a kitchen with cooking basics, bathroom, sofa and a double bed. Guests can sit in a sauna, soak in a tub, and enjoy a refreshing outdoor shower, all while enjoying the beautiful panorama around.
Highlights
Nightly fireworks show
Personal sauna
Private outdoor shower
Golf area
Abundance of wildlife
Price: $350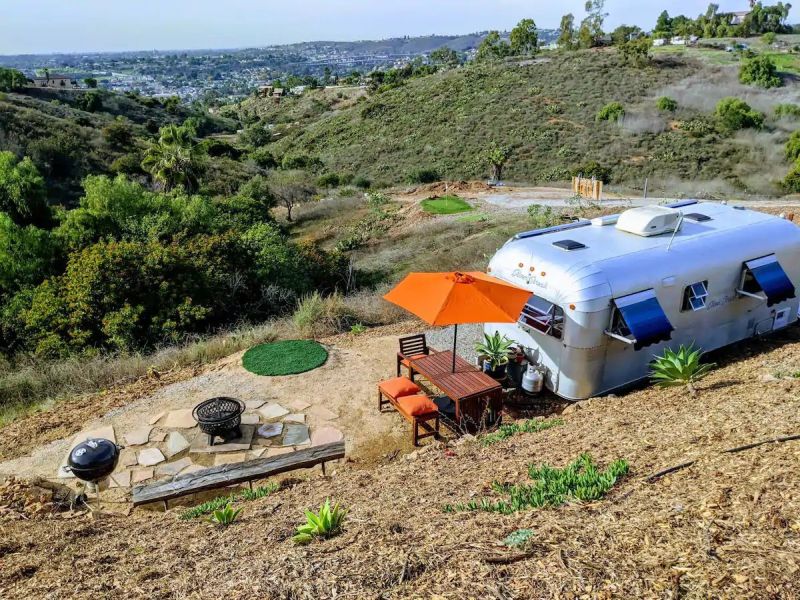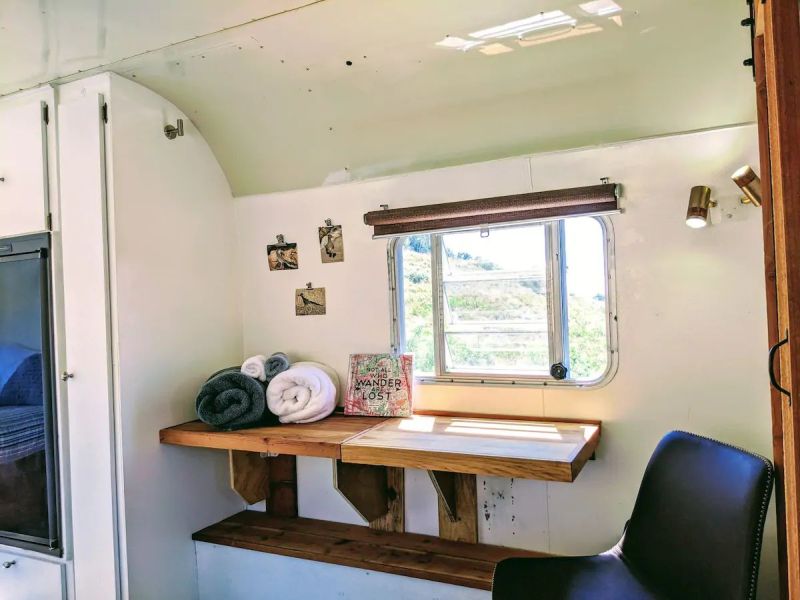 Tiny Beach House, Rainbow
This three-story tiny house measures 280-square-feet in size and has a communal living space on the 1st level, a kitchen on the 2nd, and on the 3rd level is the loft bedroom. It is a perfect weekend getaway.
Highlights
Long-term stays allowed
5-star ratings
Swimming pool
Spa
Price: $148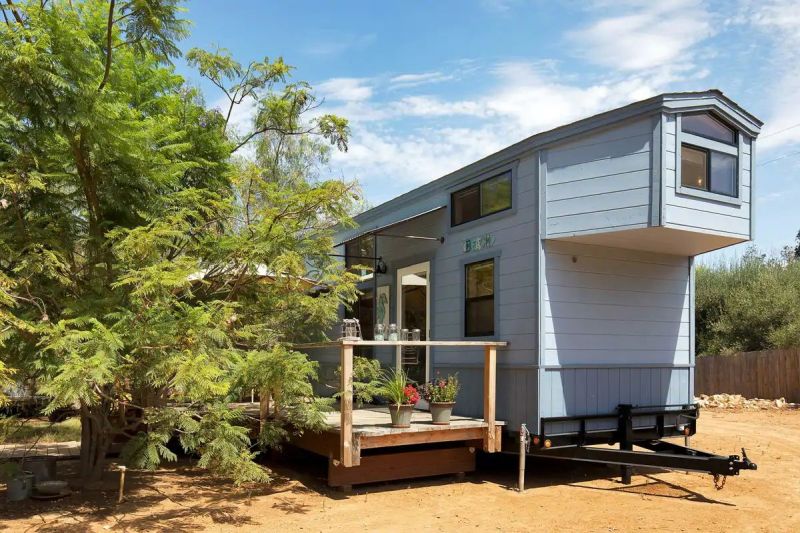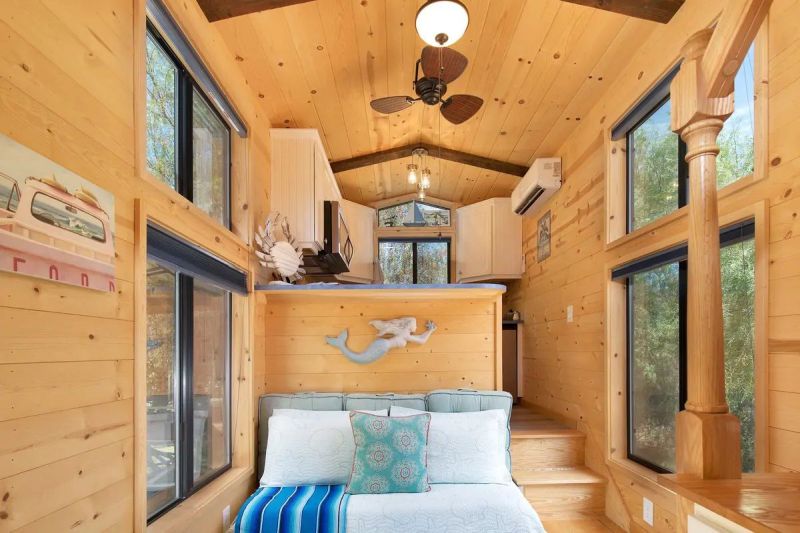 Casita Conejo, Joshua Tree
This 303-square-feet tiny home is a rabbit-themed Airbnb rental that can accommodate up to four people. There is one full-sized memory foam bed upstairs, living room with sleeper sofa, kitchen and bathroom with shower.
Highlights
Exterior security cameras
Close to Joshua Tree National Park
Fast internet facility
Price: $230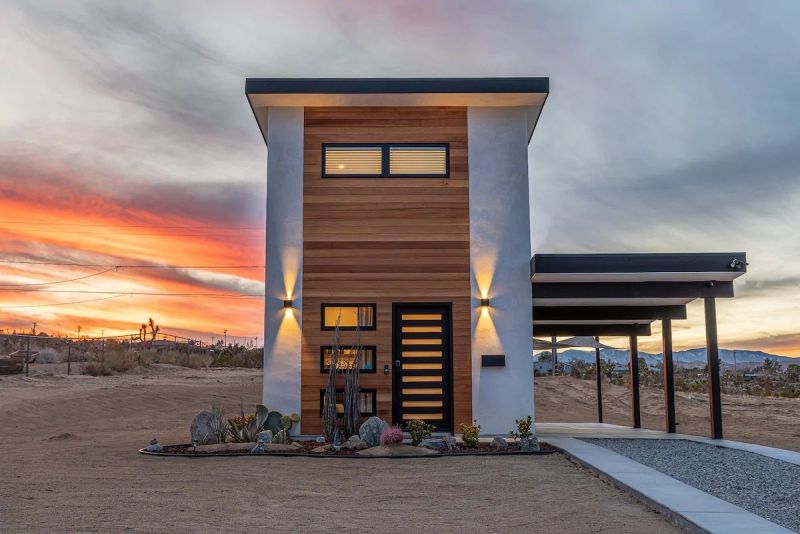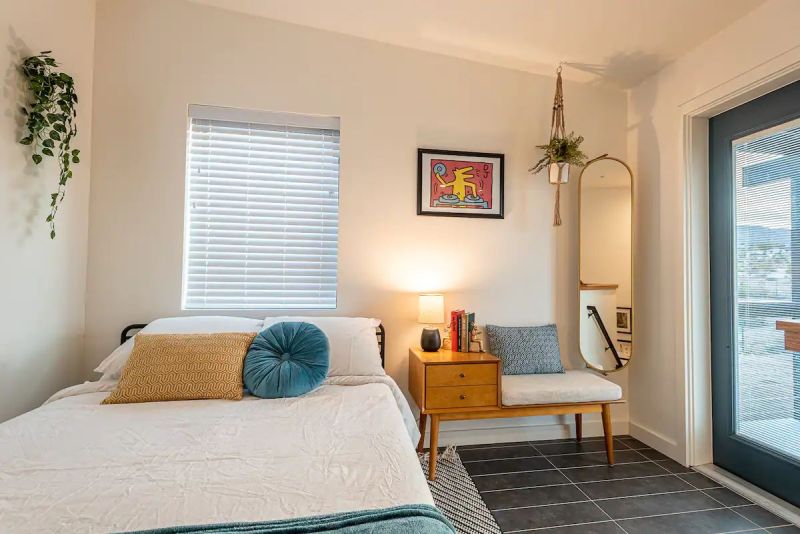 Nugget Tiny House, Costa Mesa
Nestled in a calm residential area, this 140-square-feet tiny house rental is ideal for romantic getaways or business travels. It looks highly stylish from the outside and is comfortable on the inside. There is a small kitchenette, queen bed and a bathroom in the tiny house.
Highlights
Price: $152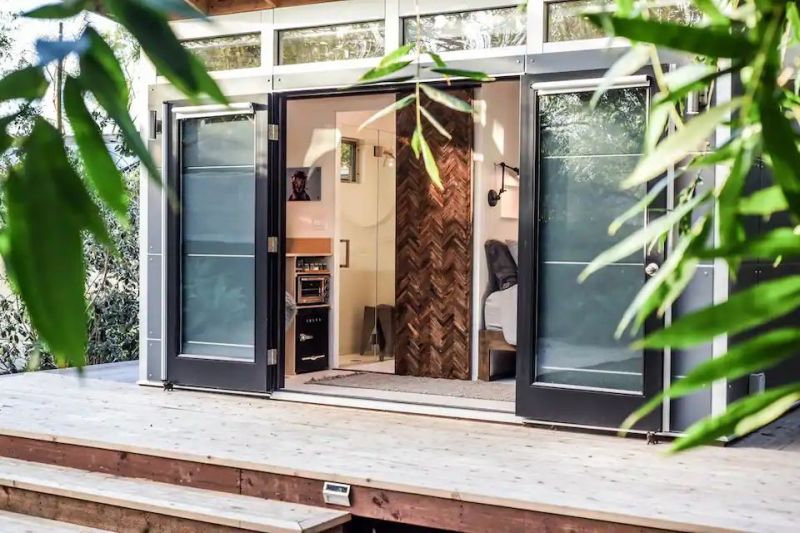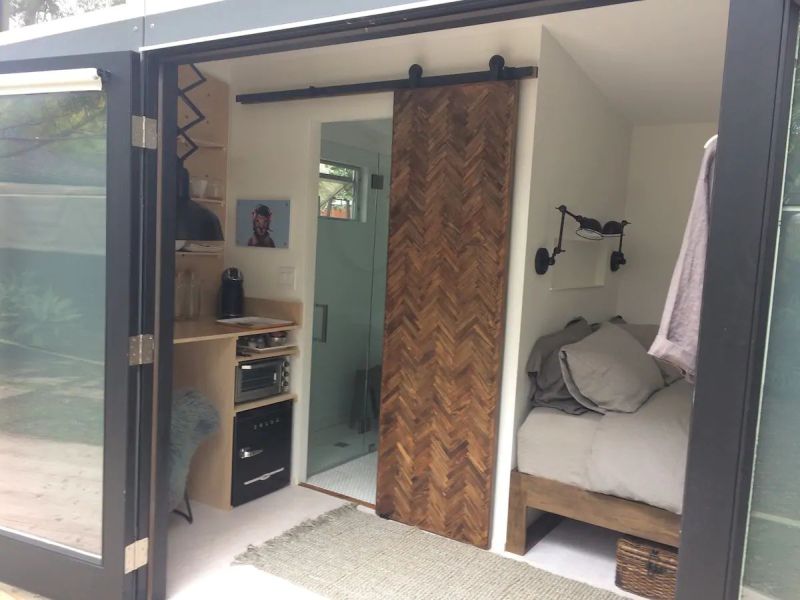 Off-Grid Stargazing Cabin, Twentynine Palms
If you are looking to stargaze lying on your bed, a trip to this tiny house cabin may be what you may want to do. It is a corten steel structure designed by Architect Malek Alqadi. The interior is equipped with modern amenities to ensure comfort for guests. There is a living room, full kitchen with dining space, 2 bedrooms and a full bathroom.
Highlights
Bedroom with no roof
Living room with mountain views
Outdoor hammocks
Price: $560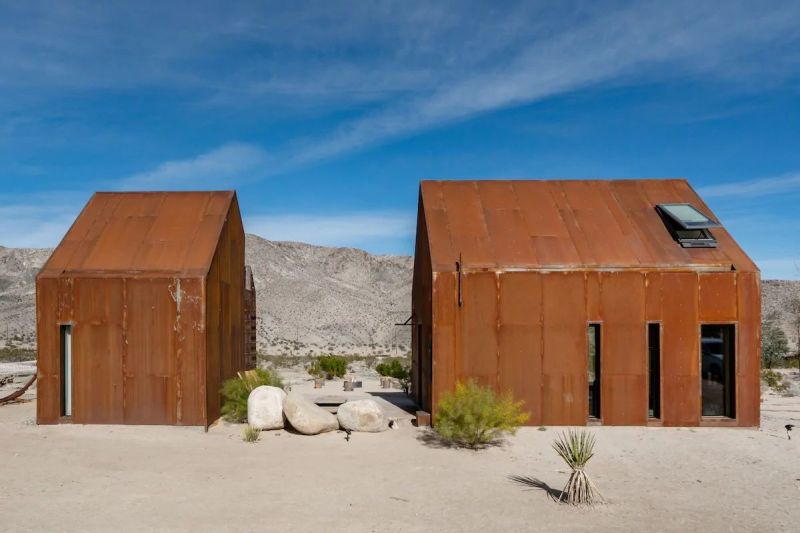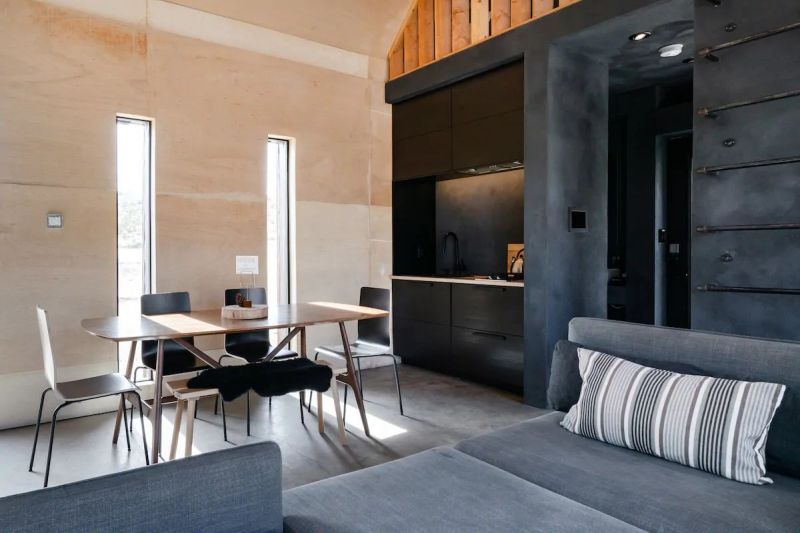 Shipping Container Tiny Home, Redding
It is just a repurposed shipping container converted into a cozy, roomy and industrial-style tiny home. There are 9 ft ceilings that make the 300-square-feet living area feel spacious. Inside, there is an elevated bed, kitchen and a bathroom with shower in the tiny house.
Highlights
Washer and Dryer
Pocket Wi-Fi
A skylight above the bed
Price: $101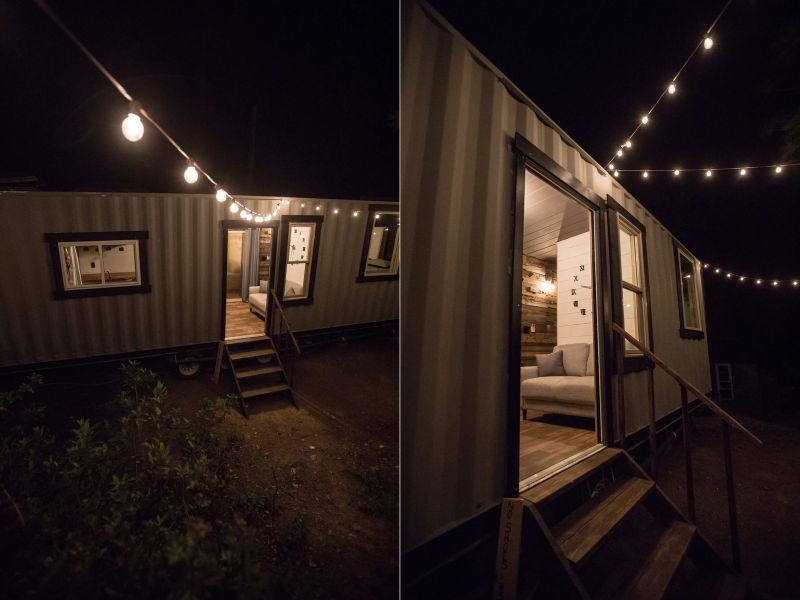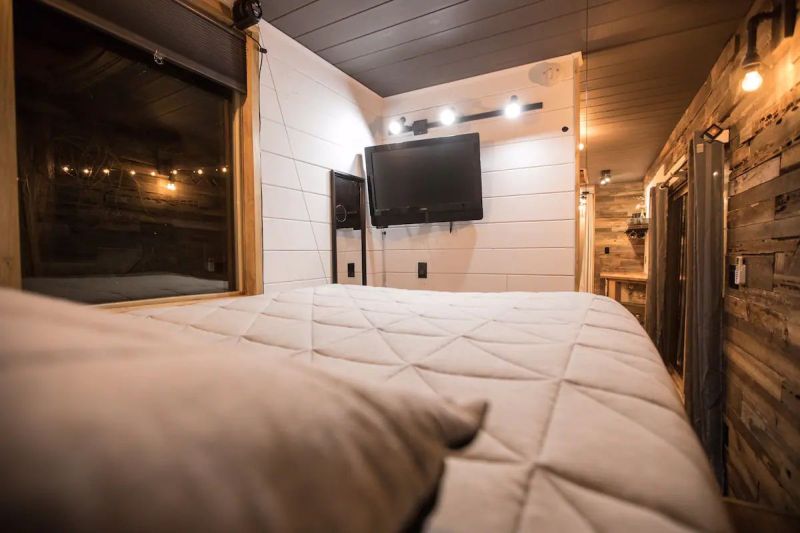 The Little Dipper by Moon Camp, Joshua Tree
This beautifully, off-grid tiny home features a bright living area with a fold-down couch, a moderate kitchen, bathroom and a loft bed. Enjoy the tiny lifestyle and pleasant walks amid the Joshua Trees.
Highlights
Private lawn
Dog-friendly
Hammocks
Outdoor dining area
Price: $208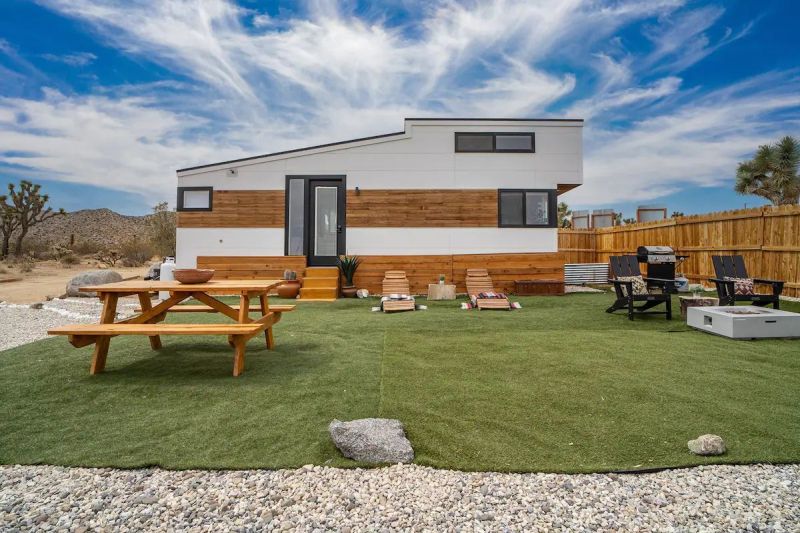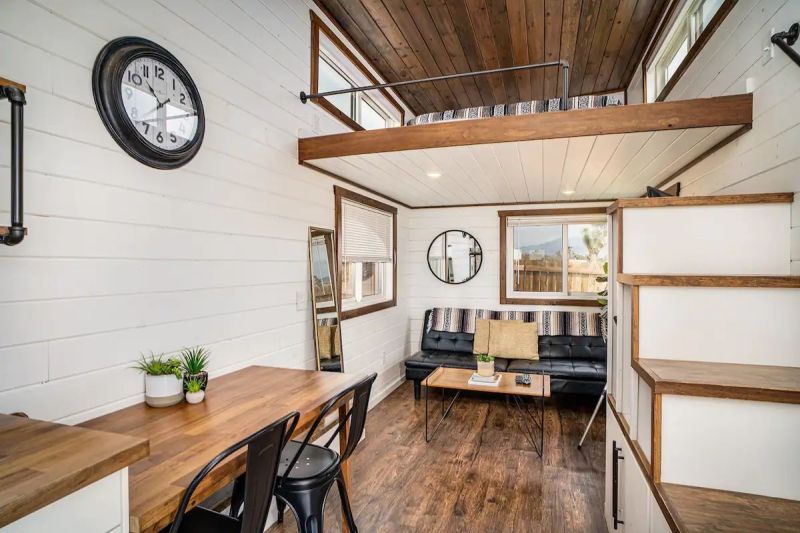 Area 55 Futuro House, Joshua Tree
This UFO-shaped tiny house is one of the 85 original Futuro Houses in the world that is restored to provide a unique, otherworldly glamping experience. It is an off-grid accommodation with only the basic amenities so that guests can freely disconnect from city life yet stay comfortably.
Highlights
Outdoor kitchen and bathroom
Pull out beds
Sound system onboard
Price: $287