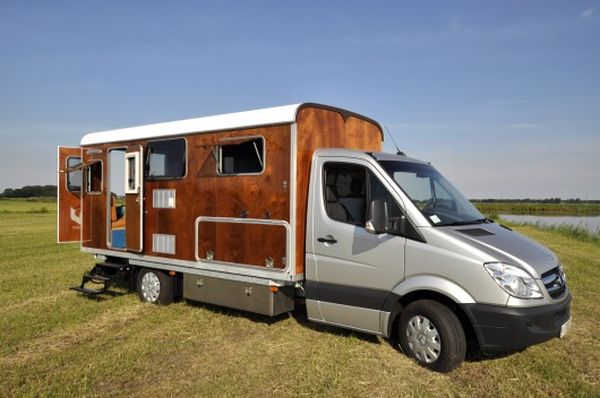 There is a difference between spatially efficient mobile homes and those commonplace trailer park specimens. This 'difference' is righteously upheld by the Dutch-built Tonke Camper. Originally founded by Maarten van Soest, this mobile home alludes to the design culmination of various features. These unique features incorporate the venerable aesthetics of horse-drawn carriages of olden days which are towed efficaciously by modern day 4×4 trucks. This classy influence contributes to a distinctive visual aspect in which the Tonke is draped in an exquisite wooden shell, and carried by a Mercedes cab (infused with a 130 HP, 2.2-liter CDI turbo-diesel engine).
Commercially, the Tonke is available in the Fieldsleeper and Explorer series. These models pertain only to the carriage, while the users can choose their own vehicle base. In terms of spatial characteristics, the Fieldsleeper is slightly bigger with a vertical garage that can hold up to three bikes. Other common interior zones include a built-in bed, a living area (that can be used as second bed); a kitchen with two-burner stove, sink and a refrigerator, and finally – a bathroom with toilet and shower. All of these spaces are complemented by utilities such as a 4 kW heating system, 140-liter fresh water tank, 10-liter hot water tank and 83-liter waste water tank.
Finally, coming to Tonke's pricing range, an Explorer I camper (with no vehicle) will set you back by €61,570 (around $80,400), while a Fieldsleeper 2 (with the Mercedes Sprinter) will cost you €103,291 (around $135,500).
Via: GizMag