If I have to be honest with you, the year 2022 belonged to some impressive feats in the field of furniture design and architecture. It wasn't a year that specifically belonged to physical products but was predominantly dominated by computerized renders. Below, I bring to you a list of ten such furniture designs (both renders and physical products) that intrigued our attention this year. These furniture designs are so mesmerizing that I desire to lay my hands on them someday.
Corum Golden Bridge Coffee Table by Pedro Costa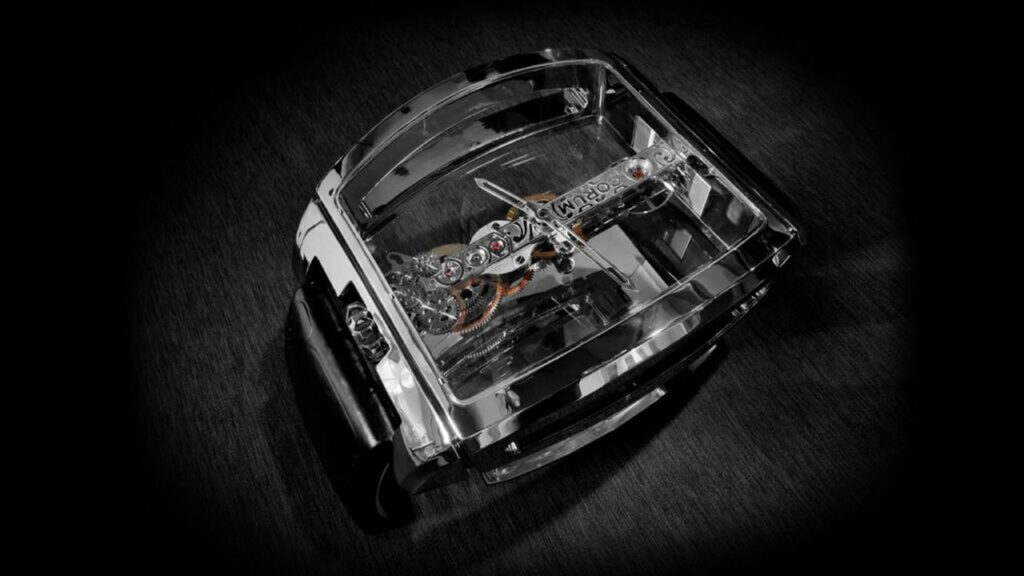 Designed for hardcore horologists, the Corum Golden Bridge table functions as a classic timepiece and a coffee table in one. Serving as a centerpiece for your living room, the table is 20 times the size of an actual watch. It is designed by Colombia-based metal artisan Pedro Costa who crafted the table body using stainless steel. Boasting a transparent exterior, the table also features aluminum and glass detailing that have played a significant role in shaping the structure.
Walking Table by Giliam de Carpentier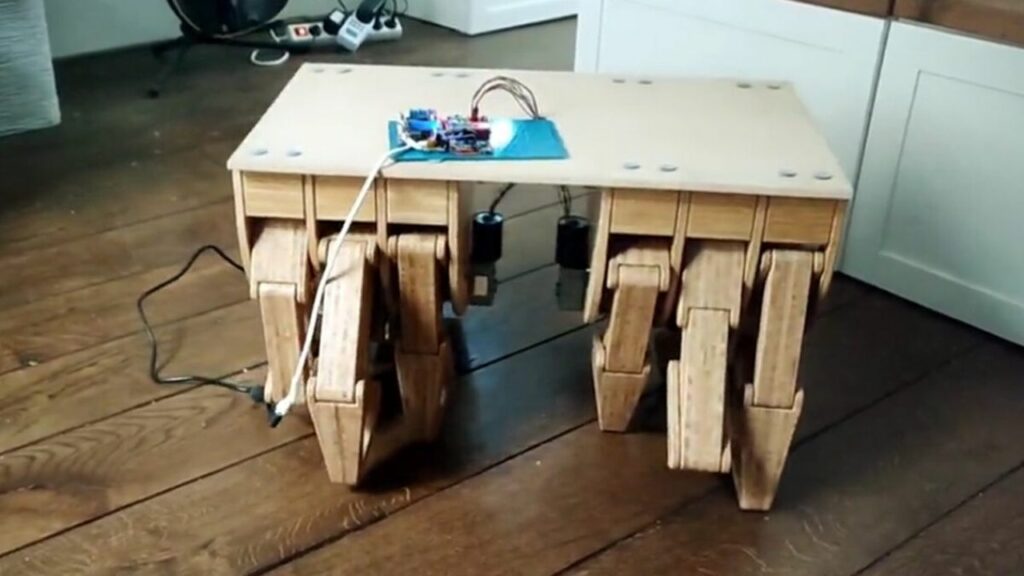 Once in a blue moon, we come across furniture that leaves us totally awestruck. The twelve-legged Walking table by Giliam de Carpentier was exactly that. Gathering limelight on Twitter, the table was made using cross-laminated bamboo. The legs of the table connect to the other parts of the table via steel rods and ball bearings. The table is incorporated with two motors that are connected to programmed microcontrollers and rollers which help it crawl.
Revolver Wall Mounted Desk by Joao Teixeira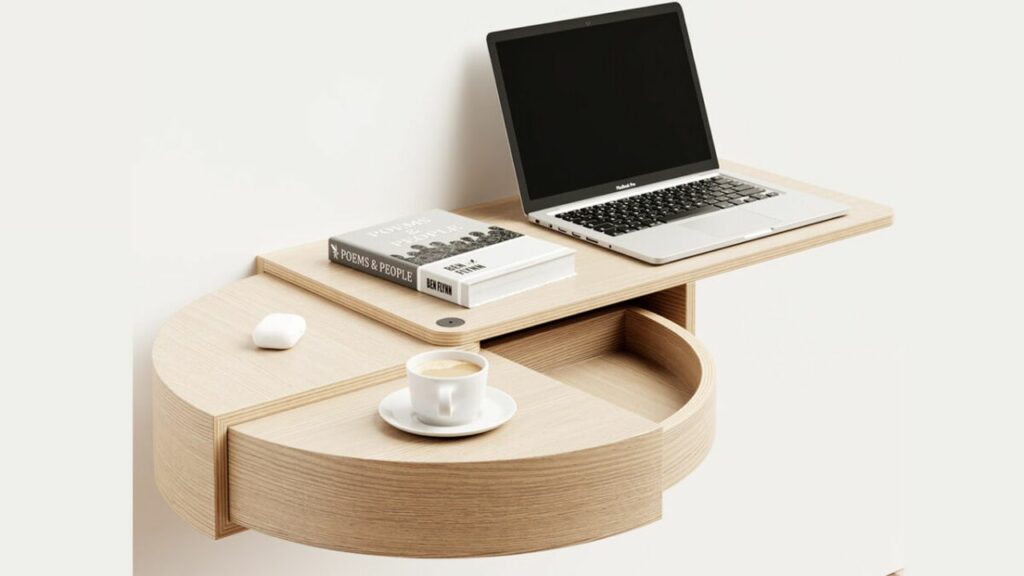 As soon as Joao Teixeira dropped the concept table, I knew it was worth covering. Affixing into any wall with ease, the desk boasts a floating form and gorgeous profile. The small wall-mounted desk comes with ample storage as it features corner drawers that open like a Matryoshka doll in order to create a wider working area. There are a total of three drawers that open and close with a swiveling and spinning system, hence deriving the name Revolver.
Coffin Office Chair by Chairbox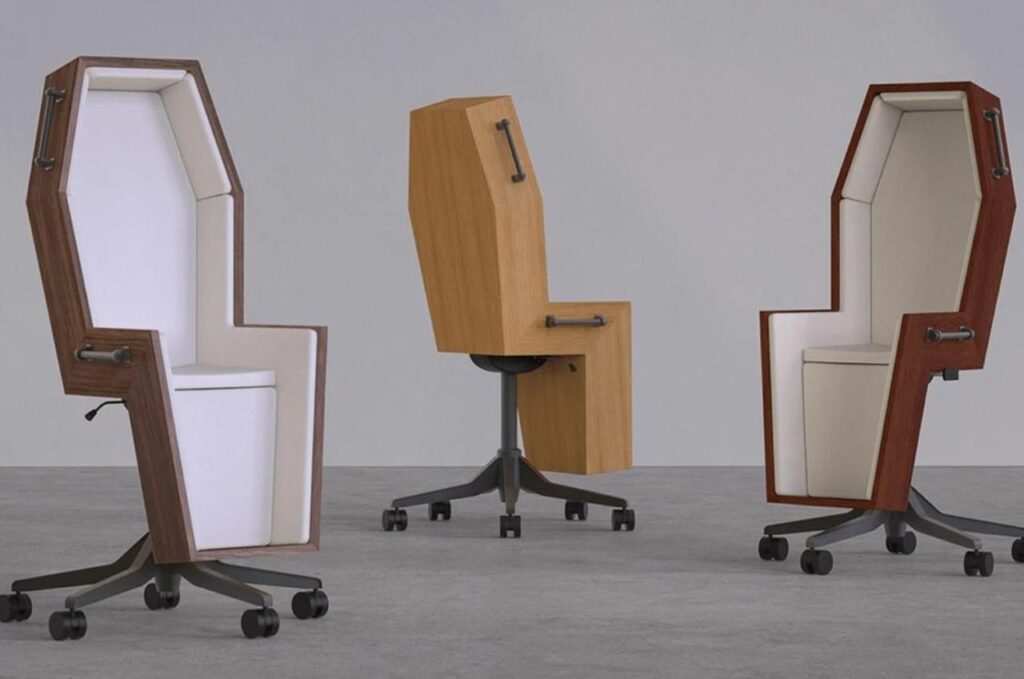 Coffin Office Chair is inarguably the most talked about furniture design of 2022. Renowned by the name, Last Shift chair, it is designed by the UK-based company Chairbox. The idea behind the design was to create a visual poetry and satirical reflection of reality. So, if an employee dies at work, their manager can simply roll them to the corporate cemetery for quick and efficient burying. The chair exterior takes inspiration from the shape of a coffin and is crafted using wood and vegan leather.
Dune Coffee Table by Duffy London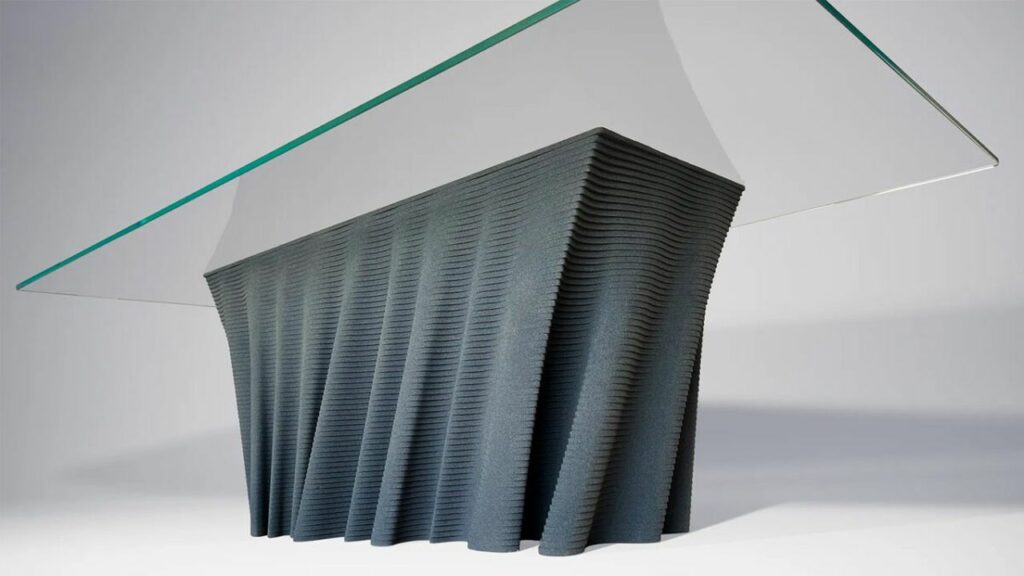 Beautiful, bold, and dynamic in appearance, the biggest highlight of the Dune coffee table is its base which is 3D-printed using black quartz sand. The base exhibits a wave-like pattern of sweeping sand dunes which add an aesthetic appeal to the piece. Complementing its black quartz sand base is the toughened glass top that adds even more elegance to the coffee table. It's a limited-edition piece available on Duffy London's official website.
Also Read: Famous Chair Designs of All Time
Sharing Joy Chair by Zhe Gao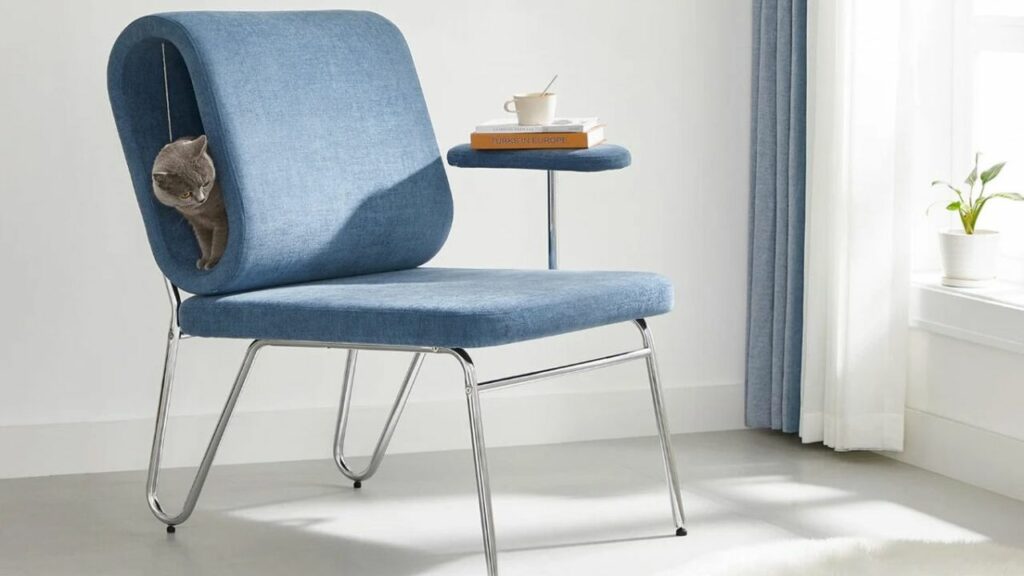 Multifunctional furniture is always in popular demand, and one that caters to both humans and pets is deemed classic. The same was the case with Sharing Joy lounge chair, which garnered a lot of headlines for the dual service it provided. With a metal base as its core structure shrouded by a comfortable cushion, the chair features a cat tunnel in its backrest for cats to lounge alongside humans, thus offering services to both.
Bookgroove Coffee Table by Deniz Aktay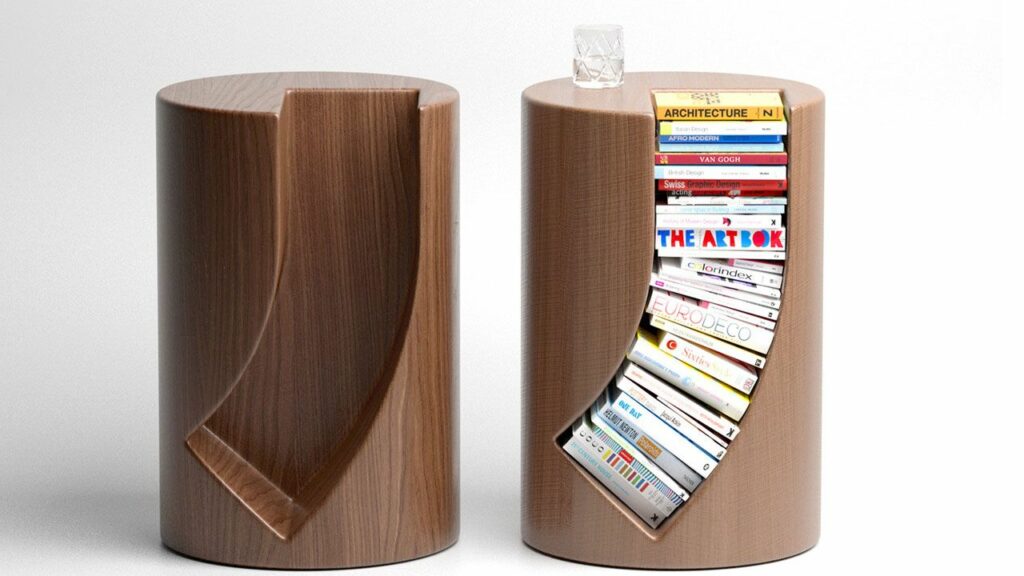 If the Coffin office chair is the most talked about furniture, the Bookgroove side table is one of the most-liked furniture designs of 2022 with over 120,000 likes on Instagram. Designed by Deniz Aktay, the sculptural side table is cylindrical in shape and features a storage section to house your favorite books. The curved groove is the major talking point of the furniture which actually functions as a storage section to house books.
Corca Side Table by Orior furniture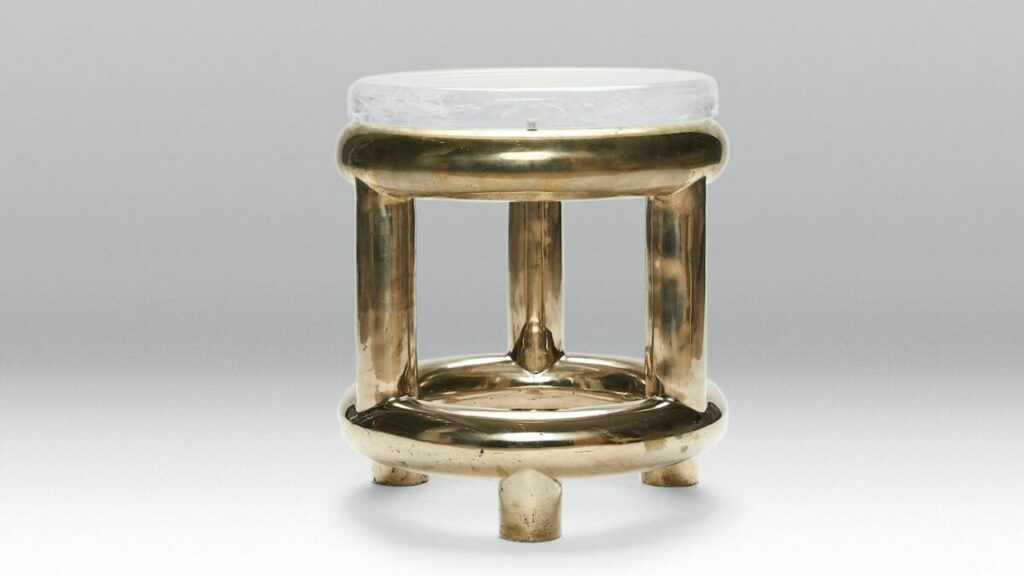 An ode to the rich Irish heritage, the Corca side table is an instant conversation starter. The design of the table holds a resemblance to Ireland's most famous ancient stone circle in the Cork-Kerry region. The side table is beautiful and aesthetic and on top of that adds sheen to any space. Featuring a cast-bronze frame topped by an Irish crystal, it boasts a gorgeous design and can even serve as an art installation.
Skim coffee table by Karim Rashid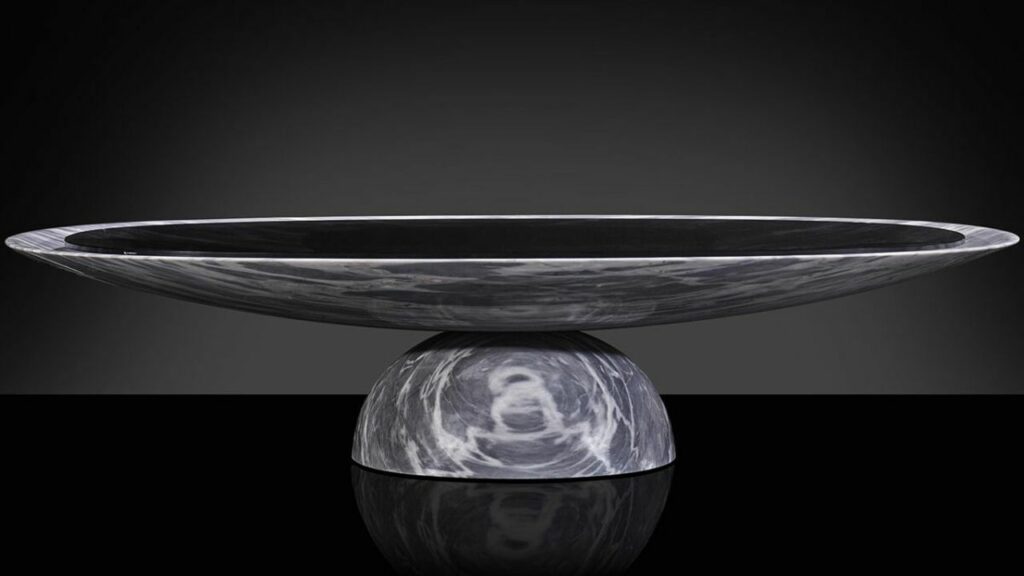 Designed by renowned artist and designer Karim Rashid, the Skim coffee table is a sculptural piece of furniture for your home and office space. Karim designed the table in collaboration with the Italian company A.A.T.C. Poised on a hemispherical marble base, the furniture comprises a two-layer tabletop. Syndicating both balance and beauty to furniture lovers, Karim Rashid has cleverly incorporated both marble and glass in the same slab which adds both elegance and grace to the structure.
Marina Out Outdoor Chair by Leonardo Rossano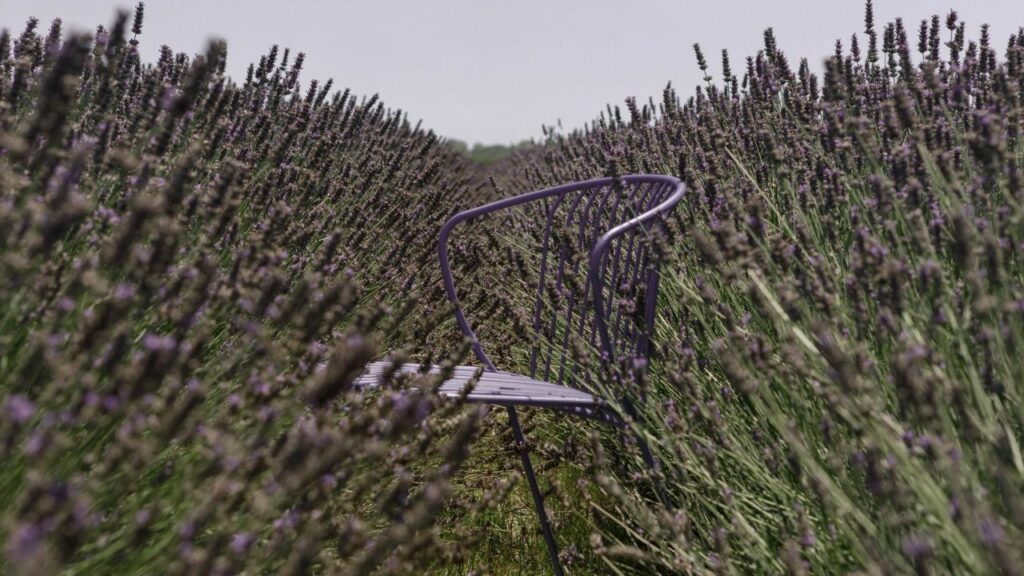 Designed by Italian designer, Leonardo Rossano, the chair is compact, lightweight, and stackable. Featuring a combined seat and backrest, the Marina Out chair is made using metal rods or wire mesh. Ideal for outdoor spaces, it camouflages neatly with the environment and comes in an array of colors ranging from green and yellow to violet.
That's a wrap for now. We hope to cover more such intriguing furniture designs in the coming year and get up and close with your favorite designers and architects. Stay tuned!