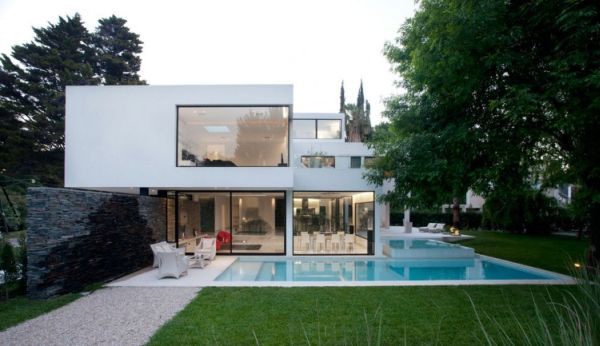 Andres Remy Arquitectos, an architectural firm, has designed Carrara House situated in Pilar, Argentina. It is a two story home with walls made of huge clear glass windows making it almost a transparent house. Huge windows allow bright natural light to light-up the whole house during daytime and gives a beautiful view of surrounding green environment from inside.
Externally, the architect has included an outdoor pool right outside the living room with an interior waterfall against a transparent glass wall all the way from upper floor, which looks mesmerizing from both inside and outside of the house.
Internally, the house has three dining areas that let the owner dine with beautiful view of garden and pool. A lounge area with contrasting red chairs provides an open space. A bedroom with black and white interior and a sophisticated kitchen with a green striped slab and contemporary bar chairs complement the modern two-story architecture with gigantic windows.
The contrast color combination used in the interior and exterior of the house has really enhanced its elegance. Plants are also planted within the house premises to make the owner feel close to nature all the time, even while sitting inside. The Carrara House is designed cleverly to provide a moderate temperature through cross ventilation and lush green lawns & tree line surrounding the home to survive in a warm climate of Argentina.
Via: TrendHunter