Taking a spin from the old hammock, the Hanging Treepod is a convenient getaway with a view. Offering an alternative to wooden treehouses, the cocoon-shaped nook is easy-to-assemble and can be suspended from any tree without any need of hammer or nails. But don't let its flimsy appearance fool you, the hanging pod is able to carry heavy load of up to 400 pounds.
This means a small crew of children can enjoy playing a pirate hideout, while their parents can relax or read a book in the simultaneous nooks. Plus, vibrant colors would add liveliness to the surrounding environment. You can enjoy hammock-styled swinging within these enclosed pods either in your backyard or anywhere in wildwood, escaping the world.
Treepod is made from an aluminum frame and water-resistant nylon shell. It can be easily folded into a small package so that you can carry it with you without any hassle. After reaching your desired location, just hang it from any solid tree branch and relax the entire day. If not on a branch, then an additional frame structure is available as an add-on purchase. However, the brand does not recommend it being hung more than four-feet off the ground. This is possibly a liability point, as we're not seeing limitations to hanging it higher in a tree.
The project is seeking funds on Kickstarter for initial amount of about $50, 000, but sadly the Treepod has been able to collect only $20,548, with three more days left for the campaign to get over. So, it's clear that the project won't make it to the production phase. In case, you want to get your hands on an identical pod- you may consider other suspended cocoons or pods for purchase.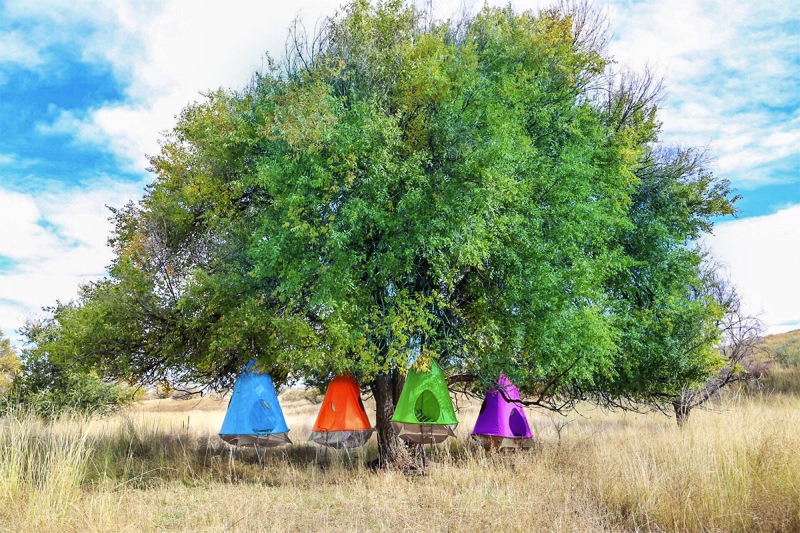 Via: GearJunkie