If you are seeking a perfect home for your adorable cat, then this tri-level mini apartment cat house is the best place for your kitty to stay comfortably. This amazing cat furniture for your furry friend is designed by CatastrophiCreations, makers of creative furniture for cats. These tri-level shelves are lined one over the other with holes on each shelf to let your cat move easily from one shelf to another. The holes in the cat house also allow the cat to jump out of its mini-apartment in case of danger or in an emergency situation.
The entire cat tower is made of plywood with necessary stuff for a kitty. The top level is equipped with a top 'plush chaise lounge', an area for sleeping and exploring. The middle level is for relaxing while sitting and moving from top level to the bottom easily through a circular hole in its center. The bottom level includes two bowls for cat's meal and water.
The tri-level mini pet house is designed to be mounted on a wall with its supporting stainless steel brackets just like bookshelves. It will provide a comfortable home to your lovable pet keeping you tension free about its comfort. You can purchase this cozy home for your kitty online for US $160.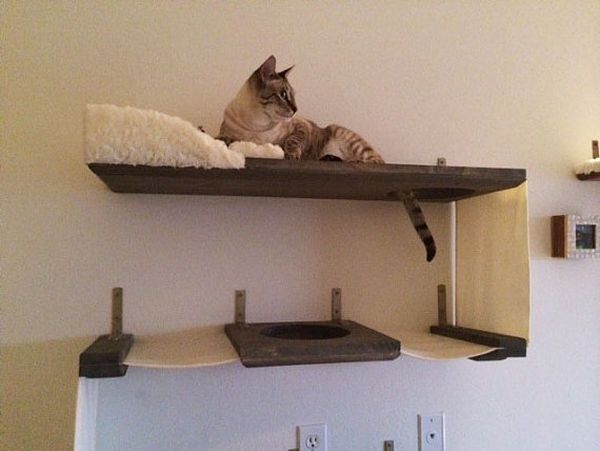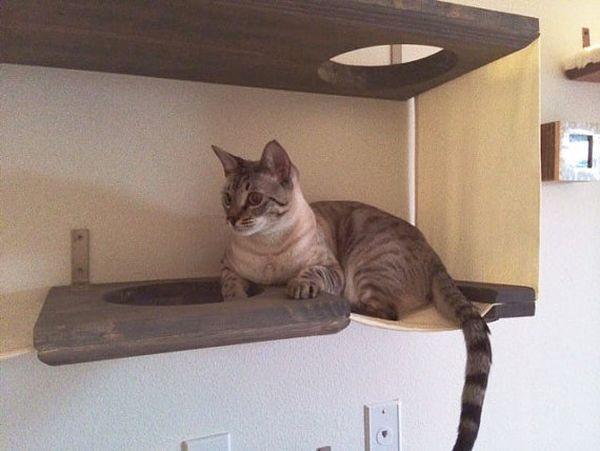 Via: DesignTaxi