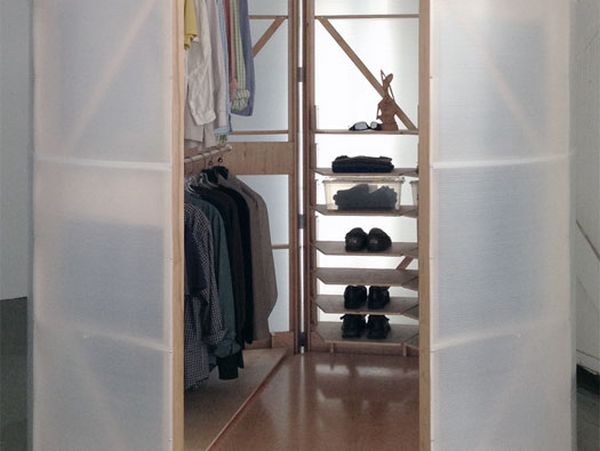 People living in small apartments often look for furniture that offers a great storage area. Keeping this in mind, many designers are coming up with different furniture units for small spaces that are not only functional but also attractive. Today we will be getting familiar with one of such furniture pieces that offer an extensive space for storage and is stylish as well. Tom Villa of Superorganism presents Tuberoom, which is a walk in closet that provides a tremendous storage space and its translucent character gives it a fascinating feature. This cylindrical wardrobe is portable due to the wheels on which the entire structure stands and hinges open in two halves.
The Tuberoom is constructed out of eight plywood framed planks with corrugated translucent vinyl skin, which can also be changed according to the user's preferences. This lightweight walk in closet rests on wheels and thus is movable. The façade is not bound to structural requirements and can fit into the place where it is kept and also to the users need offering flexibility unlike other built in solutions. The interiors of the wardrobe can be configured with shelving as needed.
This freestanding walk in closet is characterized as "reconfigurable private retreat". The translucent walls of this mobile closet enclose a large and bright space and therefore the interiors can be utilized as an office space or a private lounge.
Via: Mocoloco