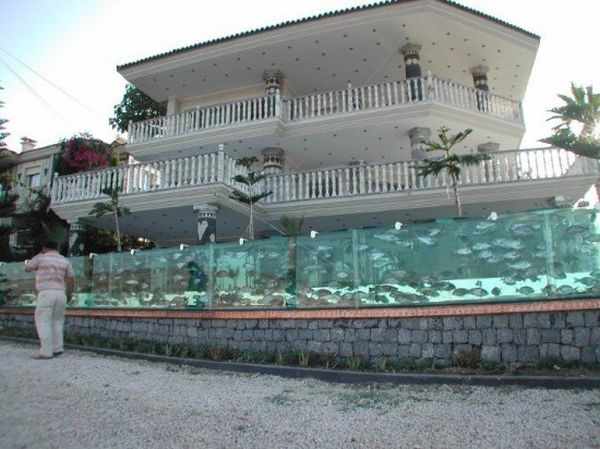 Fences either entail those sinister iron bars or those picturesque wooden posts, right? Wrong! For Mehmet Ali Gökçeoğlu, fences are also about fish aquariums. Hailing from the coastal town of Çeşme,Turkey, the successful businessman and topographical engineer decided to totally revamp his metallic fence. The end result is a whopping 50 m (165 ft) long 'aquarium fence' filled with living marine organisms like fishes, eels, mullets and octopuses. Of course, the momentous decision was taken around eight years back, which helped in turning Gökçeoğlu's residence as one of the quirky tourist attractions of the already popular resort town.
This residence (can also be categorized as a villa of sorts) in question is just a few feet away from the shores of the famed Aegean Sea. This close proximity to the sea may have influenced Gökçeoğlu's decision, as all of the marine animals were taken from the Aegean. However, according to sources, the uniquely transparent structure of the aquarium fence was actually quite easy to construct. The difficult task pertained to the connection of the sea to the aquarium, so as to change the water frequently for the sustenance of the marine life.
This imposing task was achieved with a remarkable feat of engineering – a 400 m (1300 ft) long buried pipeline that goes all the way to the Aegean Sea. As a matter of fact, Gökçeoğlu employed specialized divers who could finish the bold endeavor. And as a result, he ended of paying 40,000 Turkish Lira ($21,000) for the entire project.
So, at the end of the day, the aquarium fence is all about being a labor of love. This 'status' is further reinforced by a surveillance network of 17 cameras (with advanced facial recognition system) that sets off alarms when people are too close to the fence!
Via: DesignTaxi