They say, 'opposites attract.' This phrase seems so true if you look at this unusual two-sided wedding cake. UK-based couple 27-year-old Kia Parsons and 41-year-old Billy Bunning wanted to reflect their unique personalities on their wedding cake. While Parsons wanted a traditional, well-decorated white cake, Bunning being a Marvels fan wanted a cake with his favorite masked crime fighters.
To meet their unique wedding demand, they approached Julia Baker, owner of Tier by Tier bakery. Being a professional baker, Julia came up with a perfect solution in the shape of a two-sided wedding cake that is half classic and half superhero-themed.
The front side of the four-tier cake is completely decorated in classic white, adorned with white flowers. However, this beautiful white cake elegantly hides four different superheroes on its back. Each tier features different comic book characters including Captain America, Spiderman, Batman, and Iron Man.
It took almost 40 hours to create this exclusive wedding cake, which pays tribute to the bride's taste for tradition as well as the groom's love for Marvel comics. This is indeed the best wedding cake the couple could have asked for. It not only reflects their opposite personalities but also symbolizes how two completely different people can find true love, just by sharing little things.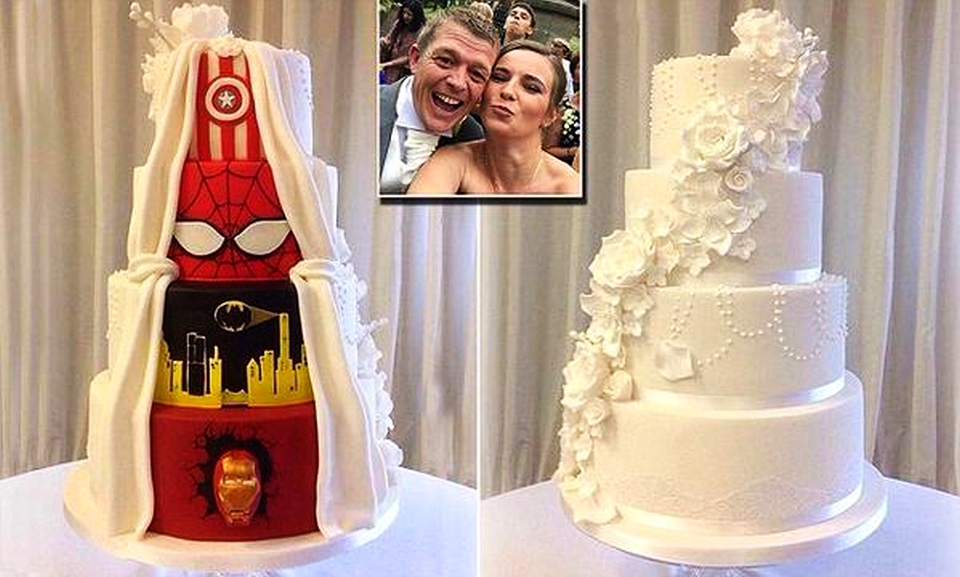 Via: Geekologie