Are multi-story buildings with tiny apartments confining on your hobby of planting vegetables? Don't worry, as you can keep your hobby alive all thanks to the Green Farm Tri-Tower by U-ING. It is a vertically stacked hydroponic grow box that allows you to plant different types of vegetables and fruits within your own apartment, no matter if you've got a small living space.
This is because the tri-tower grow box comes in shape of a tiny closet to fit into any available area in your living room or kitchen. Its dimensions are 14 x 20 x 45-inches and weighs only 40 kg, when empty. The upright grow box has three sections, where two units are of same size (7-inches) and one unit of different size (11-inches), giving you the freedom to grow various fruits as well as veggies- from mini tomatoes and lettuce to berries.
Each section features a separate door that protects vegetables from insects and dust, and also maintains their different growth rates. At top, there is a control panel to monitor different settings like timer, tear-off calendar and germination mode for retaining proper growth and healthy life of indoor vegetables.
The timer can turn on/off its lighting automatically according to natural day and night intervals, whereas the tear-off calendar displays the number of days you've spent on cultivating a particular plant. The germination mode turns off the lighting to reduce power consumption, meanwhile encourages seeds to sprout in its initial phase of plantation.
This grow box is also equipped with air pump to deliver correct amount of air to growing plants. Moreover, a water level measurer gives you clear idea of when plants are in need of water. The lowest cabin of the tower contains extra storage space to stock small items like seeds, scissors and other cultivation materials.
Overall, it is a perfect unit for growing indoor organic vegetables to adapt a healthier lifestyle. A starter set of tri-tower comes with distinct seeds such as basil, mini tomatoes and lettuce along with an AC adapter. The U-ING Green Farm Tri-Tower Grow Box can be yours only after spending a huge amount of money i.e. for $1,926.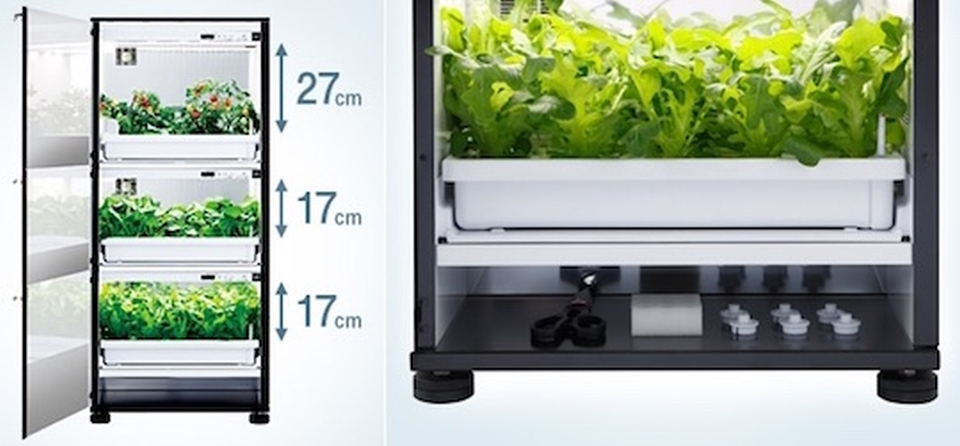 Via: JapanTrendShop