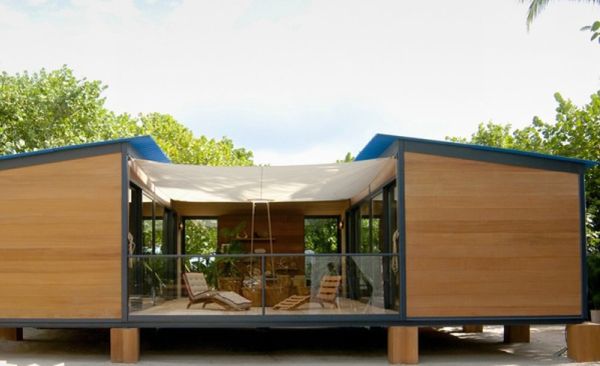 A beach house designed by architect Charlotte Perriand in 1934 has been constructed, furnished – in short brought to life by the French fashion house Louis Vuitton. Dubbed the La maison au bord de l'eau (translated 'house by the shore'), the U-shaped beach house is targeted at well-off holiday makers who prefer a makeshift shelter on a vocation by a water body. The house can be assembled anywhere anytime. The Perriand design was conjured up in Italy and was shipped to Florida to be exhibited at the Design Miami fair.
The prefab home has constructed exactly like the original design under the guidance of Perriand's daughter, Pernette Parriand Barsac. The house is based on steel frames with iroko and okoume hardwood work on it. The beach house features a marine blue roof and rests on short pillars, which can be extended on user's requirement. The prefab beach house has a terrace which is well connected to the bedrooms and bathrooms on one side and a living and dining room on the other.
Created exclusively for the Miami design fair, the beach house is a homage to the 20th century modernist icon. The state-of-the-art sustainable designed home feature Perriand visioned furniture made from walnut, oak, and slate, which are meticulously placed around the house, complementing the designers concept of high functional design and practicality.
Via: Pursuitist