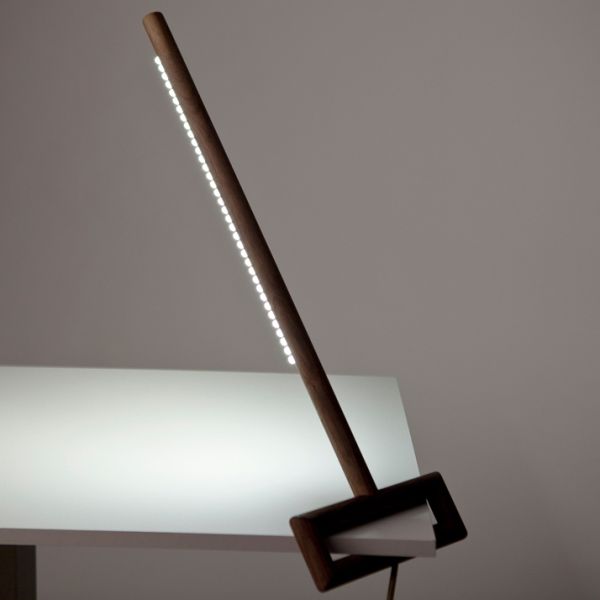 The minimalist design of the table lamp above appears very much like an oversize bottle opener but it's basically a very uniquely designed table lamp. St. Petersburg-based talented designer, Yaroslav Misonzhnikov , has created this splendid table lamp christened 'Ugol', meaning corner in Russian. The lamp is designed in a linear form with many LED lights carefully hidden onto it along with a clever mounting solution.
The elegant desk lamp is constructed out of wood. The long wooden arm of the lamp that holds the LEDs extends from a rectangular handle. The rectangular wooden block counterbalances the weight of the table lamp allowing for a slide-on mounting to the corner of the table or desk. When mounted in the corner of a table, the lamp simply rests on the adjacent surface and its axle depends on the thickness of the surface on which it is mounted.
Therefore, as the thickness of the surface increases, the position of the lamp becomes upright.  The strip of small circular LED lights can be turned on and off with a simple flick switch placed near the lamp's base. The designer created the 'Ugol' for this year's Salone Satellite in Milan where it was awarded a patent to ensure the originality. This desk lamp is  manufactured by Immeno-design.
Via: Yatzer