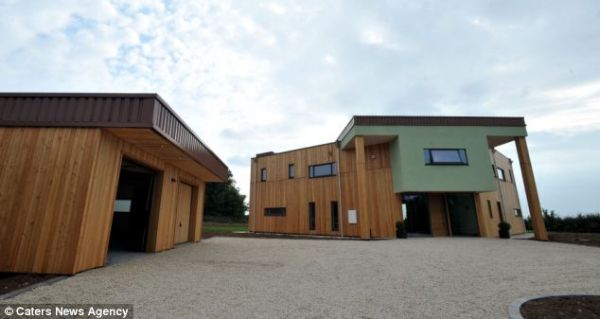 The first ever solar powered house in the UK is now up on the market and available to potential buyers for £1.2 million. The Solar House is located in Great Glen, Leicestershire and stands on two acres land. This house is said to be heated by solar energy entirely all year around. The construction of this beautiful solar house was completed last week.
The five bedrooms, timber framed property boasts of its ecological features that includes solar electric energy, triple glazing and rainwater storage. A charge point to charge an electric car is also added to maintain its sustainability.
The architect company Caplin Homes that is responsible for building this detached solar house believes that the hybrid solar panels installed at the roof tops will collect electric as well as thermal energy are robust enough to provide heating, hot water and electricity to power the home for the entire year. Moreover for backup power, the Eco house is also connected to the electricity grid.
The excessive amount of energy collected during the warmer months could be stored in the Earth Energy Bank (EEB), which can be further used during the cold winter months. According to  the developer, the stored energy in the EEB will not be required for more than 10 weeks depending on the climatic conditions.
The solar house was designed and constructed using specific materials that could minimize the overall carbon footprint. All of these features make the house self sufficient and self sustaining as well and this aspect brought about various prospects to have a keen interest in knowing how the house worked.
Via: Thisisleicestshire