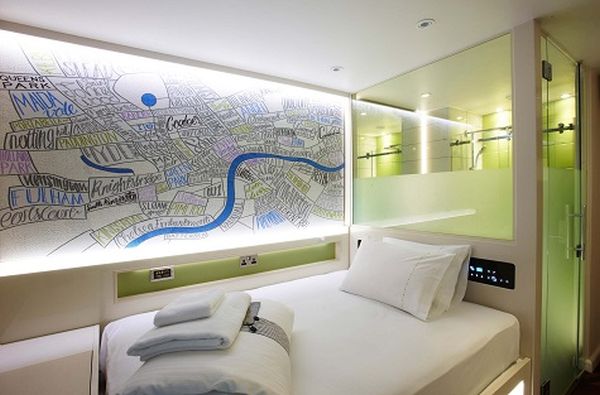 In our previous post we discussed how smartphones can control the indoor temperature of a house. And, now we have come across a new hotel concept of 'hub by Premier Inn', a novel initiative undertaken by UK's largest hotel group, Whitbread PLC for various cities in Britain. The scope basically entails a 'personalized' hotel experience for the customers, who can control various features of their individual rooms via the 'hub' smartphone app. This hub app will allow the guests to make collective decisions like – booking rooms online, pre-selecting their room temperature and light settings, and even choosing their television and radio channels. This innovative app-controlled ambit will also be available beyond the hotel rooms. For example, the guests will also be able to pre-order their breakfast from a deli-style restaurant whose menu items would focus on local produce.
Of course, the project of 'hub by Premier Inn' is not only about the app-controlled experience. It also encompasses a wealth of efficient spatial and electronic features. In that regard, the 11.4 sq m rooms will showcase a compact bearing with optimized design considerations like a Hypnos pocket-sprung bed, luggage storage space under the bed, bathroom with power shower, free WiFi and an imposing 40-inch inch smart screen TV.
According to Patrick Dempsey, Managing Director of Whitbread Hotels and Restaurants –
Premier Inn has played a leading role in shaping the budget hotel market and we believe 'hub' will do the same for a new generation of compact city centre hotels. 'hub' will work in tandem with Premier Inn, appealing to more price sensitive customers seeking quality accommodation in the heart of a city. It will enable us to broaden our customer appeal and further strengthen our competitive edge.
So, at the end of the day, the hub by Premier Inn is all about user customization achieved through affordable means. This is certainly a good news for business travelers and budget globetrotters who are looking for a personalized experience within the heart of a city.
Via: Whitbread