Fascinated with the charm of transforming furniture, and after the successful appearance of its Stealth modular kitchen, Recourse Furniture has developed the Ulisse Dining, the first of its kind vertically opening queen size wall bed with a dining table on the front.
The ingenious, space-saving wall bed is a perfect all-in-one furniture unit to eat and relax in the same room. In addition to saving space, by retracting into the wall, the Ulisse Dining system also makes a perfect attraction for your guest, if you may.
Like other dual-purpose furniture, you don't need a huge room space for the Ulisse Dining, which has a 4.5-foot dining table (good enough for a couple to dine). When opened to form a bed, the dining table folds underneath and a queen bed is ready for you to jump into and relax.
Available for delivery (price on request) only in the Los Angeles area, the Ulisse Dining is designed by Clei (world leader in transforming furniture design) in Italy.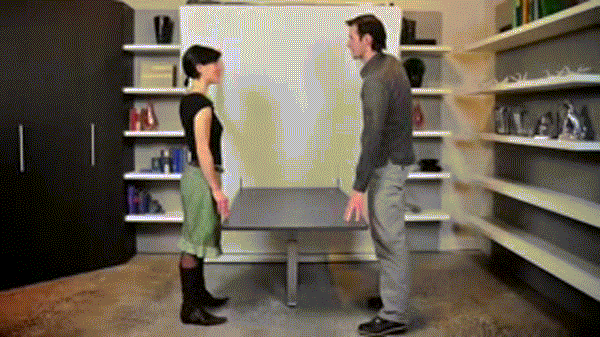 Source: Recourse Furniture