The number of Star Wars fans is increasing day by day. As a result, companies and designers are creating themed products to satisfy every type of Star Wars fanatic. With thousands of options in the market, it is difficult to scroll them all and find the right gift for the Star Wars fan in your life.
The popularity of Star Wars is never going to fall, which significantly impacts the overall production of Star Wars-themed products. Kids want their own Star Wars-themed bedrooms while adults are always on a lookout for Star Wars-themed furniture, appliances and accessories for their homes.
For all such scenarios, we have an extensive list of Star Wars gift ideas to quench the unrelenting thirst for the lovers of the Force. You'll find everything from Star war-themed pet care products to furniture and home accessories. May the Force be with you!
Star Wars-Themed Gifts for Food Enthusiasts
Baby Yoda Toaster by Uncanny Brands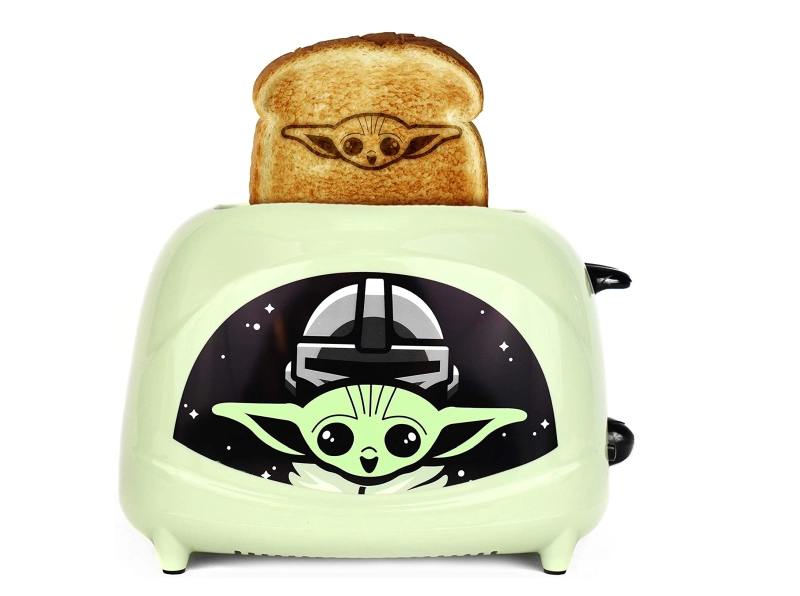 Themed on The Mandalorian, this 2-slice toaster is a cool gift for Star Wars fans. It imprints an image of Baby Yoda head on every toast.
Buy: $40
Uncanny Brands Death Star Popcorn Maker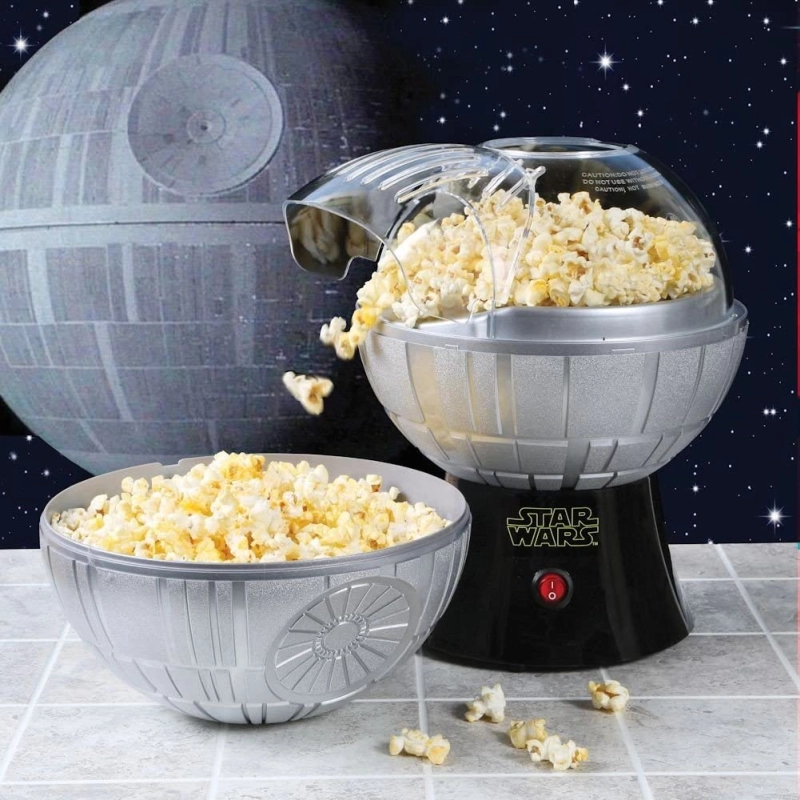 This Star Wars-themed popcorn maker uses hot-air popping method so no oil required. It features a removable bowl, chute, cup, and lid that makes it an easy to clean product. The transparent cover allows watching the corn pop.
Price: $60
Millennium Falcon Chopping Board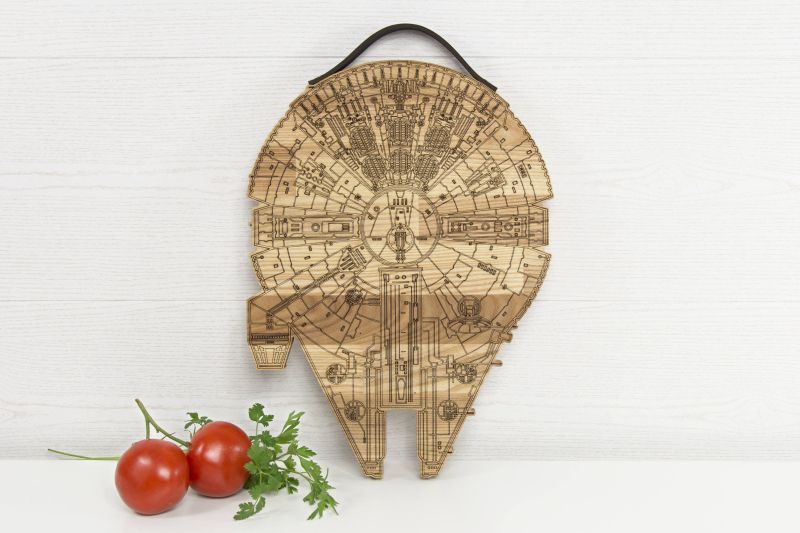 Engraved with the Millennium falcon ship, this wooden cutting board is a thoughtful gift for cooking enthusiasts who love Star Wars. It has a natural leather handle that makes it easy to store it after use.
Buy: $60
Kotobukiya

Lightsaber Chopsticks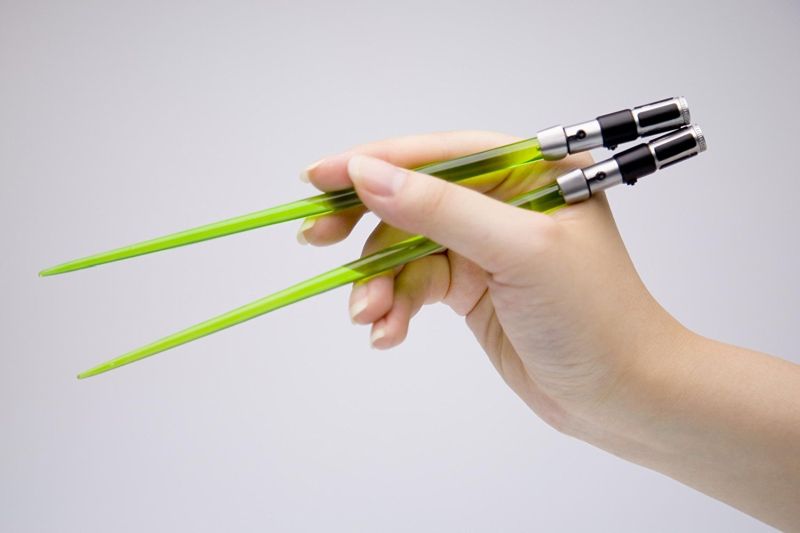 Shaped like the fictional sword from the Star Wars movie series, any kid would love to eat their noodles with these colorful replica lightsaber chopsticks. They could play with them before or after eating up the meals.
Buy: $20
Riveira Star War-themed Wooden Cooking Utensils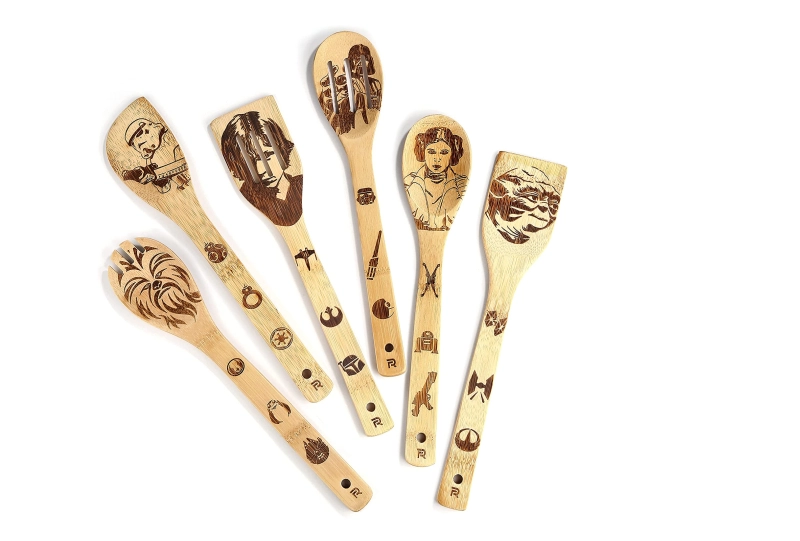 This 6-piece bamboo spoon set are sculpted with smooth handles and comes with a slotted, solid, and turner wooden spatula. It is a cool housewarming present.
Price: $29
Pyrex Star Wars The Child Decorated Glass Set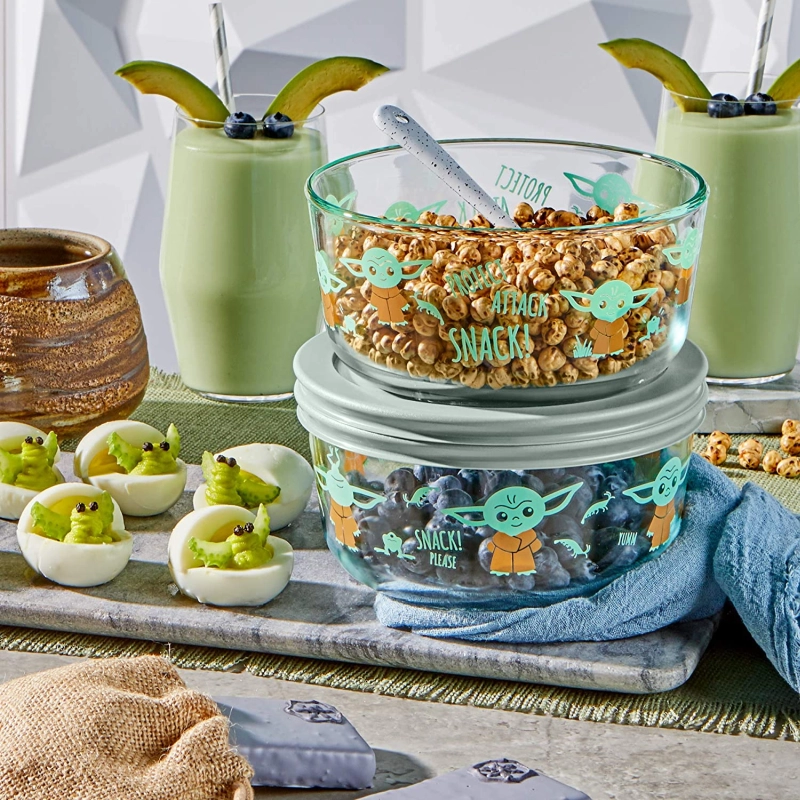 Featuring unique star wars designs, this glass container set is suitable for taking food on-the-go. Made of durable tempered glass, all the pieces come with a secure lid for food storage. It is a fun and stylish gift The Mandalorian fans.
Price: $40
JoyJolt Star Wars Ugly Sweater Stemless Glasses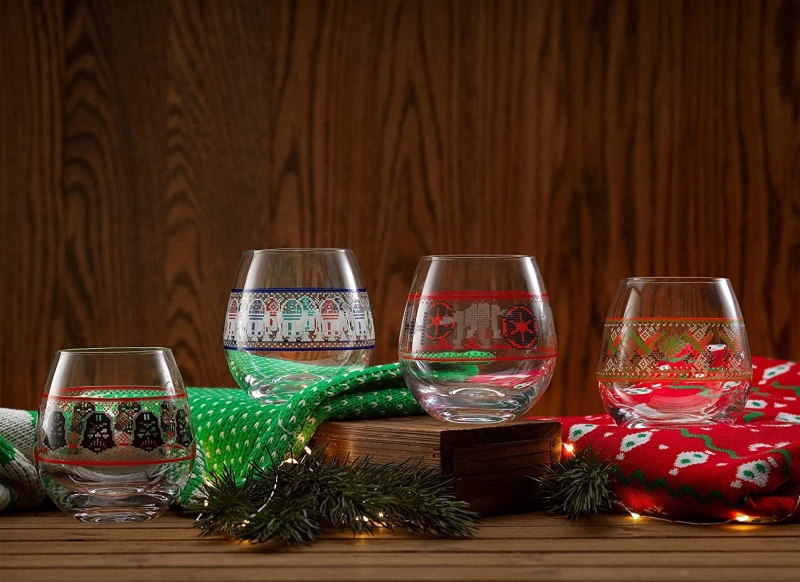 This 4pc glassware set may be a cool gift for those who love Christmas sweaters and also Star Wars. The decals are fired on and won't fade or rub off onto hands. These glasses are a very unique collectible for adults and kids.
Price: $25
Darth Vader Mug by Zak Designs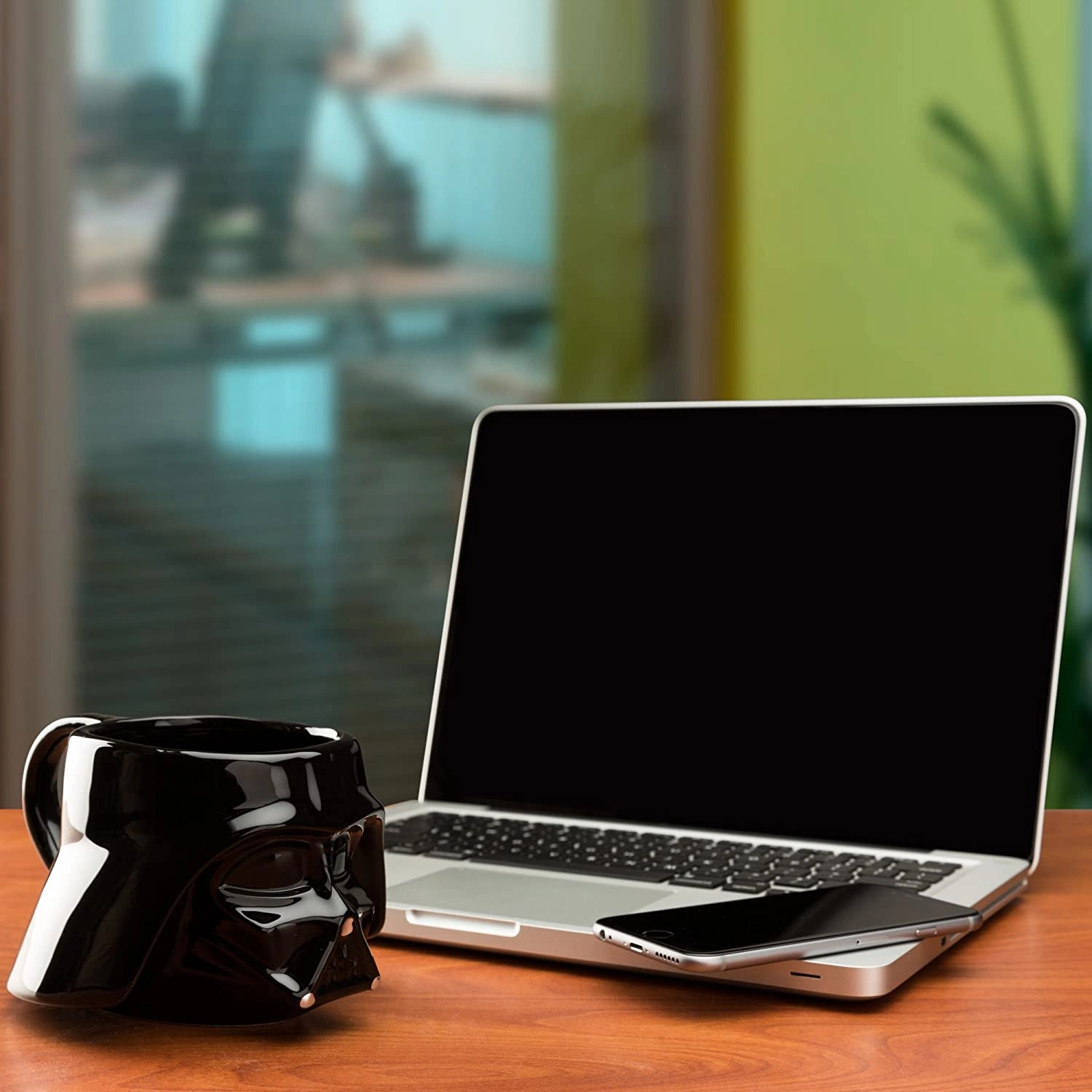 This custom sculpted ceramic coffee mug is a great collectible for a Star Wars fan. It is crafted in shape of Darth Vader. It can hold 16 ounces of coffee.
Buy: $13
Star Wars-themed Home Accessories
Millenium Falcon Wall Clock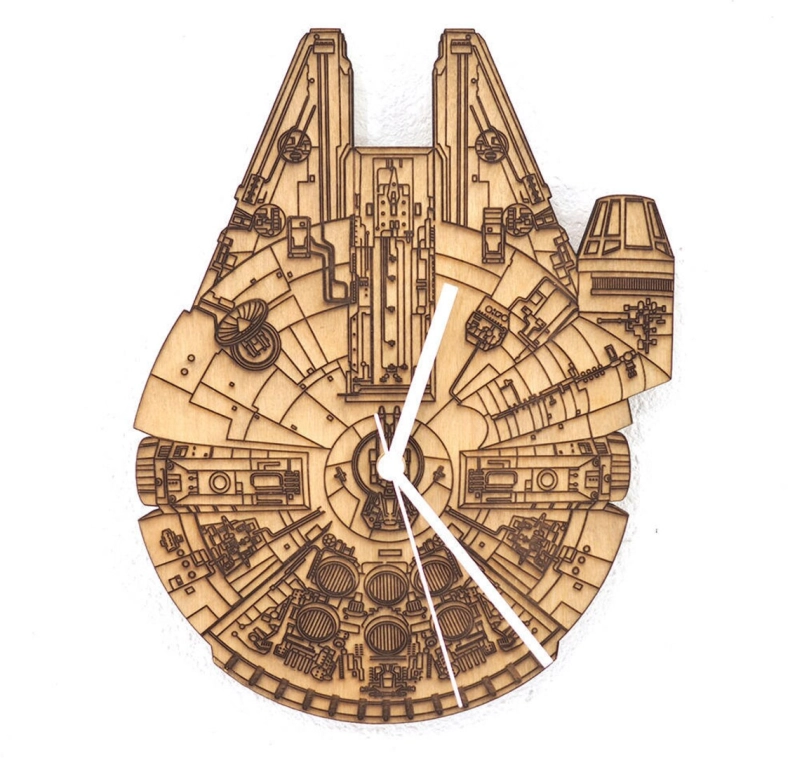 Made of wood and plastic, this wall clock is a great gift for people obsessed with Star Wars and have a unique taste for interior decor. The developers allow this clock to be engraved with name, original design, or important dates on the clock.
Buy: $65
Millennium Falcon Bluetooth Speaker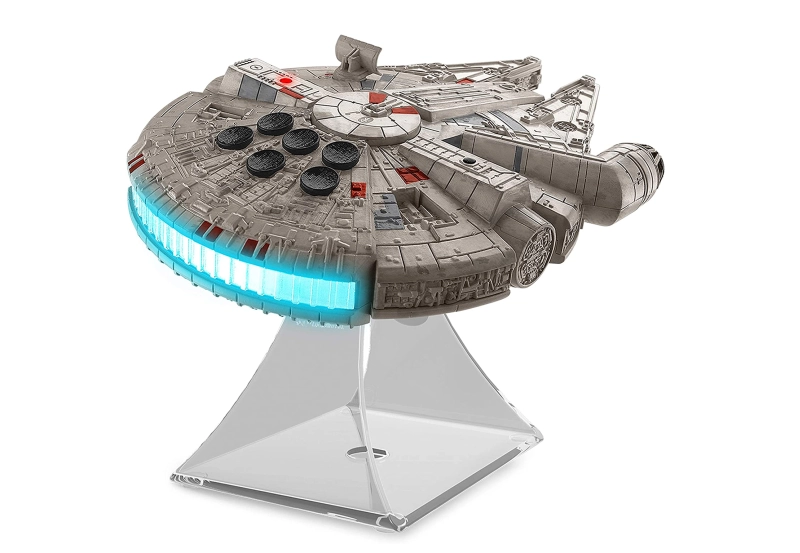 This Star Wars-themed Bluetooth speaker in shape of the Millenium Falcon can play your favorite music. The speaker works with Siri and Google Assistant. It comes with a built-in microphone to make and receive phone calls.
Buy: $34
Also Read: 20+ Christmas Gifts that Would Delight a Design Lover
Stormtrooper Whiskey Decanter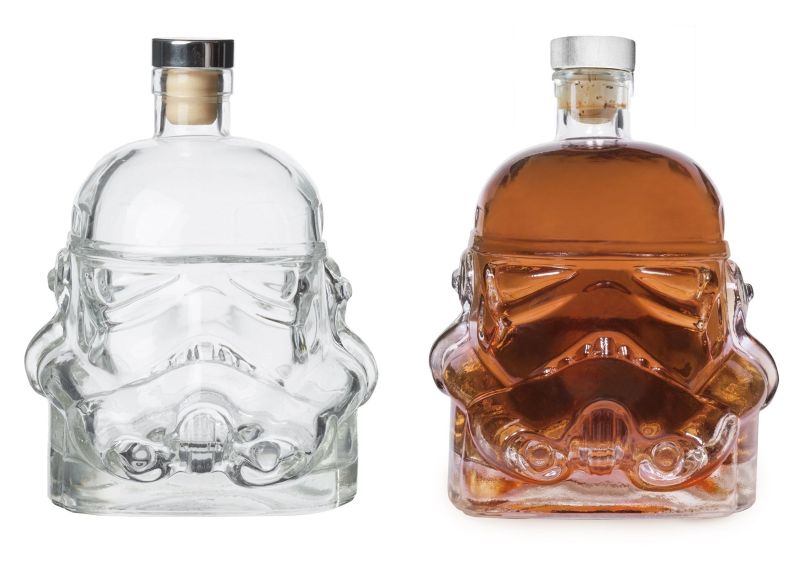 This transparent glass decanter is shaped like the head of the policing troops of the Galactic Empire from Star Wars movie series. Weighing 950g, it can hold 650 ml whiskey and can be sealed with a cork top.
Buy: $32
Rebel Alliance Millenium Falcon Bottle Opener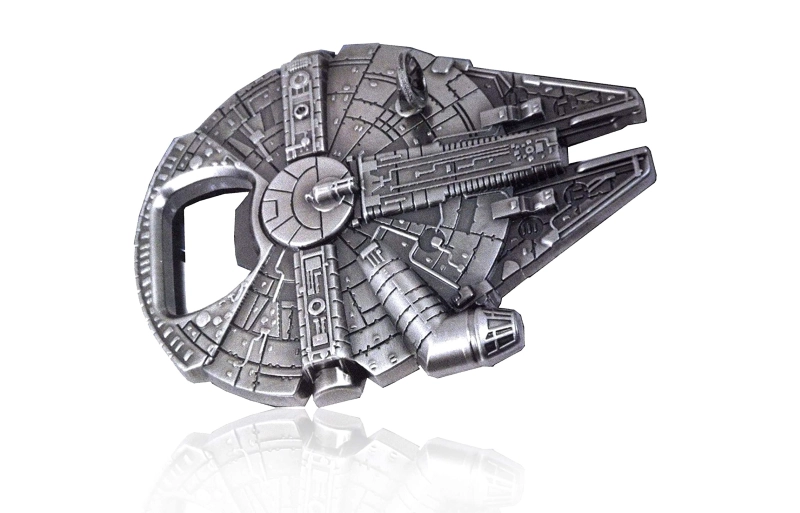 Made from Zinc alloy, this bottle opener will take your party a galaxy far away. Its design is pretty cool that looks nice. It is a great stocking stuffer for Star Wars fan.
Price: $7
Star Wars Inspired 3D Printed Planter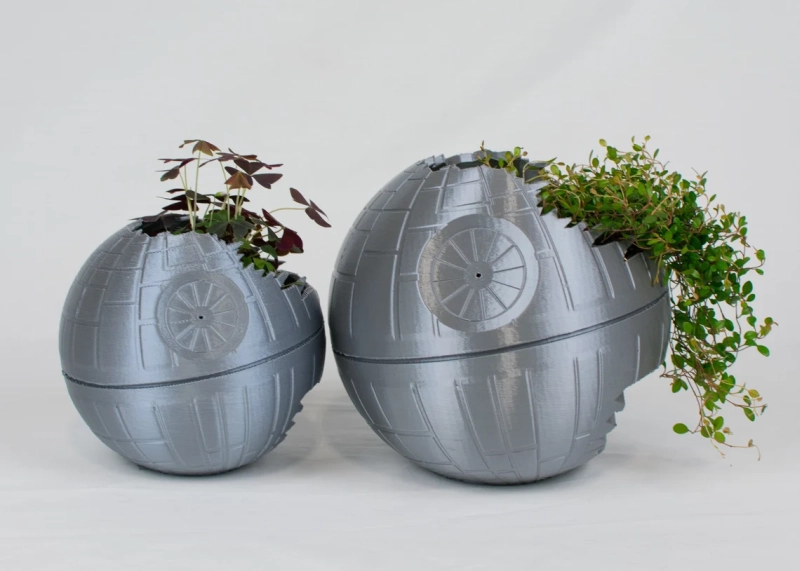 This Death Star-inspired planter comes in two colors and sizes. There is also option to add a water plate. It would be an extraterrestrial accessory to show off the never-ending obsession for the Galaxy Far Away.
Buy: $18
Sphero BB-8 Droid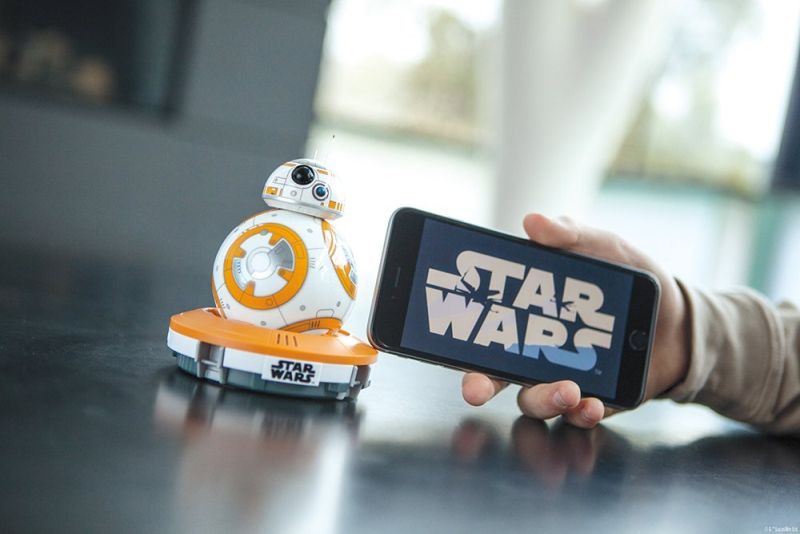 Powered through Bluetooth, this app-controlled droid is made with a waterproof polycarbonate shell. Comes with an induction charging stand that adds 60 minutes of battery life. It also supports the Force Band and can be controlled via gestures. The Sphero BB-8 Droid has two plastic rollers for a smoother quieter movement.
Buy: $400
Star Wars-Themed Camping Gear
Lucas/Star Wars Camping Chair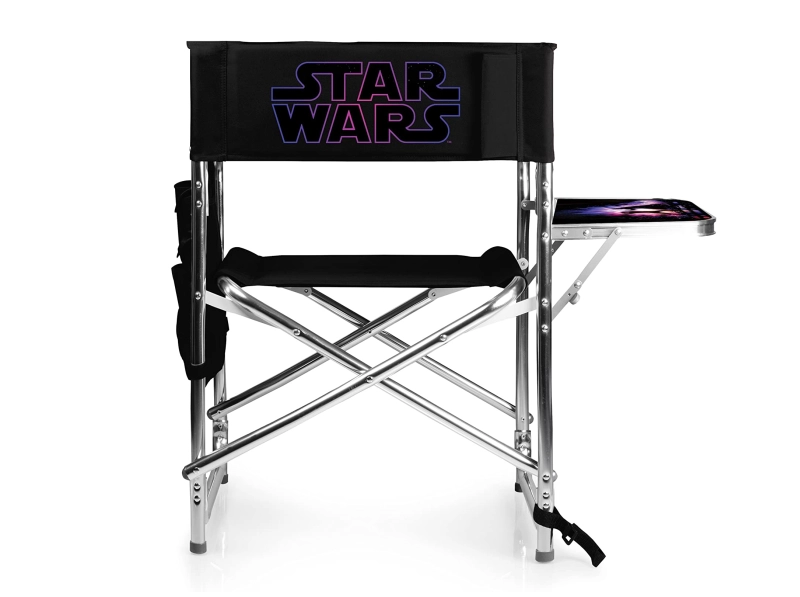 Made with polyester and a steel frame, this folding chair features a Star Wars logo on the back. The chair is versatile and its folding design makes it an easy to store and carry around. The chair also has multiple pockets to store phones, sunglasses, magazines, etc.
Buy: $138
Star Wars Themed Sleeping Bag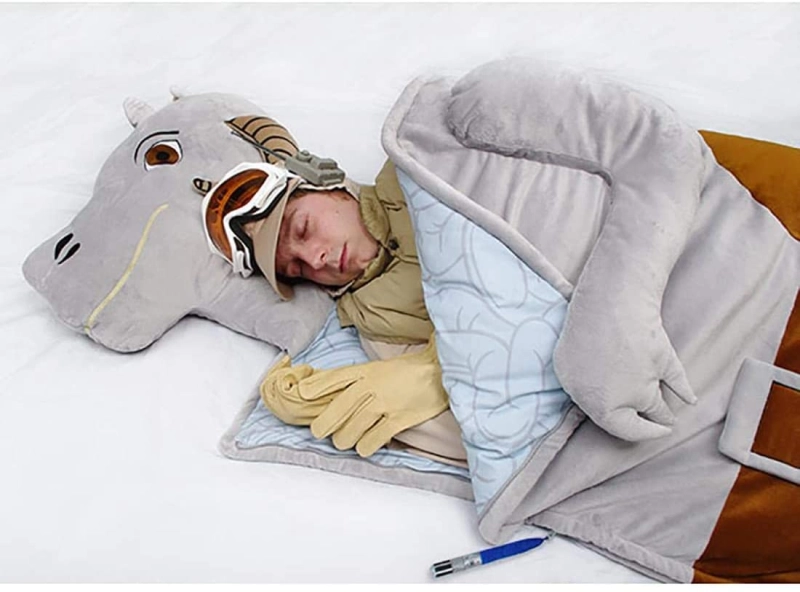 Made of polyester, this 33″ x 67″ sleeping bag looks like a Tauntaun, complete with saddle, printed internal intestines, and a plush Lightsaber zipper pull. Each unit weighs about 5.45 lbs.
Buy: $148
Star Wars Gifts for Pet Lovers
Grogu Cat Teaser Wand Toy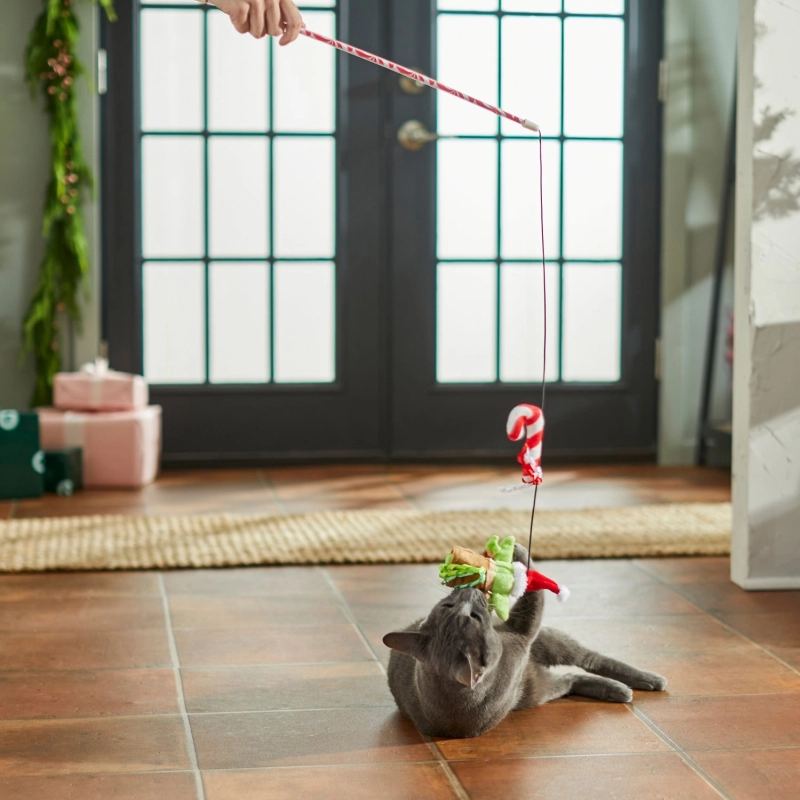 It is an impressive gift for a cat lover who's crazy for Star Wars. Kitties would love jumping and playing with the cute little Grogu. It can be a cool way to interact with your kitty.
Buy: $10
Star Wars-Themed Pet Tags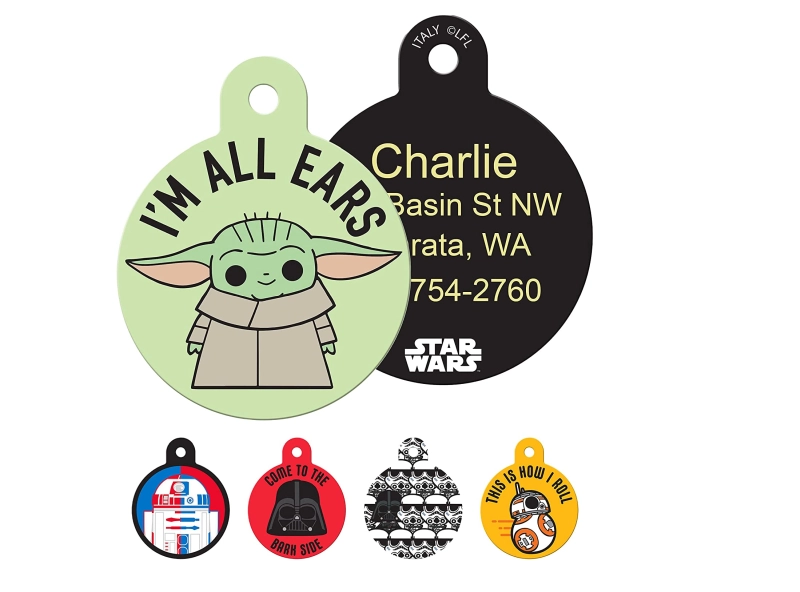 Spread your love for Star Wars with pet ID tags. There is an option to laser engrave up to four lines of custom text. It helps homeowners to ensure pet safety in case they wander-off or lose track of the way to the home.
Buy: $17
Stormtrooper Cathouse by Cacao Pets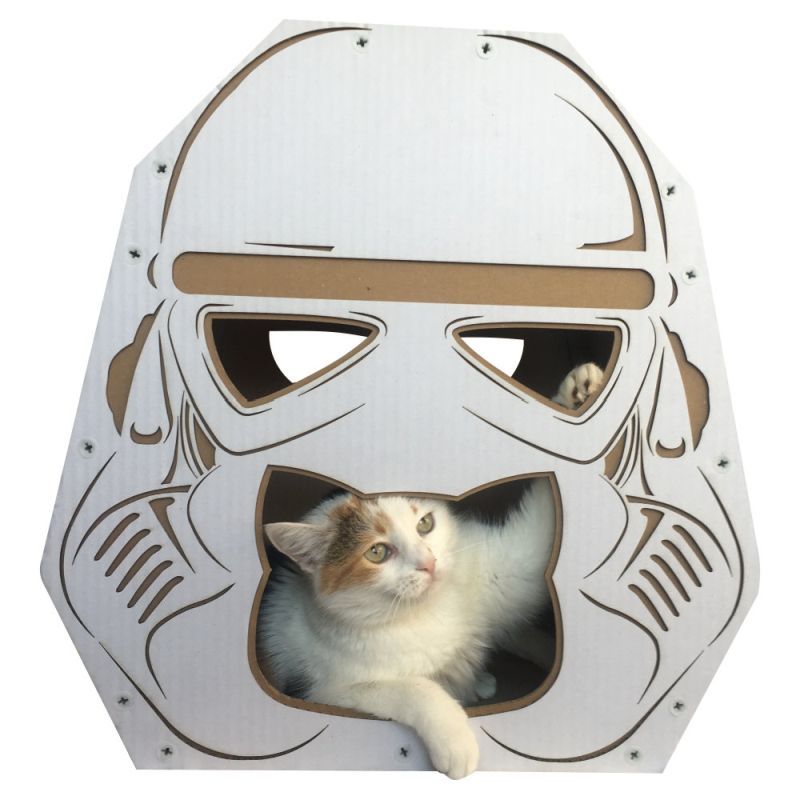 This fully-recyclable, Star War-themed cathouse is made from 4 mm thick corrugated cardboard. It measures 64″ tall and 32″ wide, sufficient enough to accommodate a cat.
Buy: $79
THE MANDALORIAN Cat and Dog Bed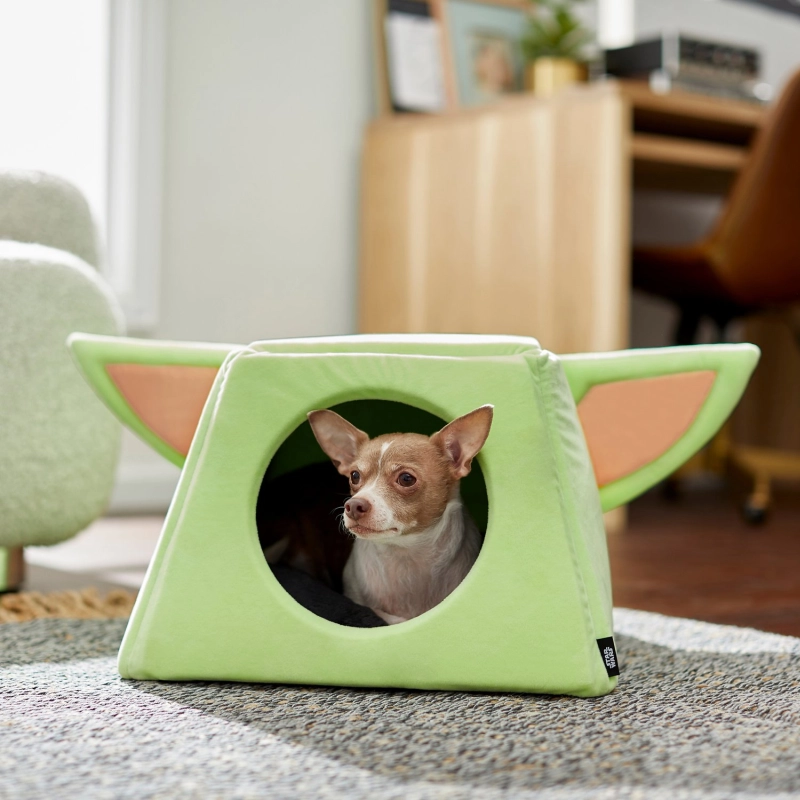 This uniquely shaped pet bed is a comfy retreat that will blend the Star Wars theme. It comes with soft padding on all sides and a machine-washable, removable cushion. It can also be flattened it down into a bolster bed.
Price: $28
Star Wars-Themed Lighting
Star Wars 3D Illusion Night Light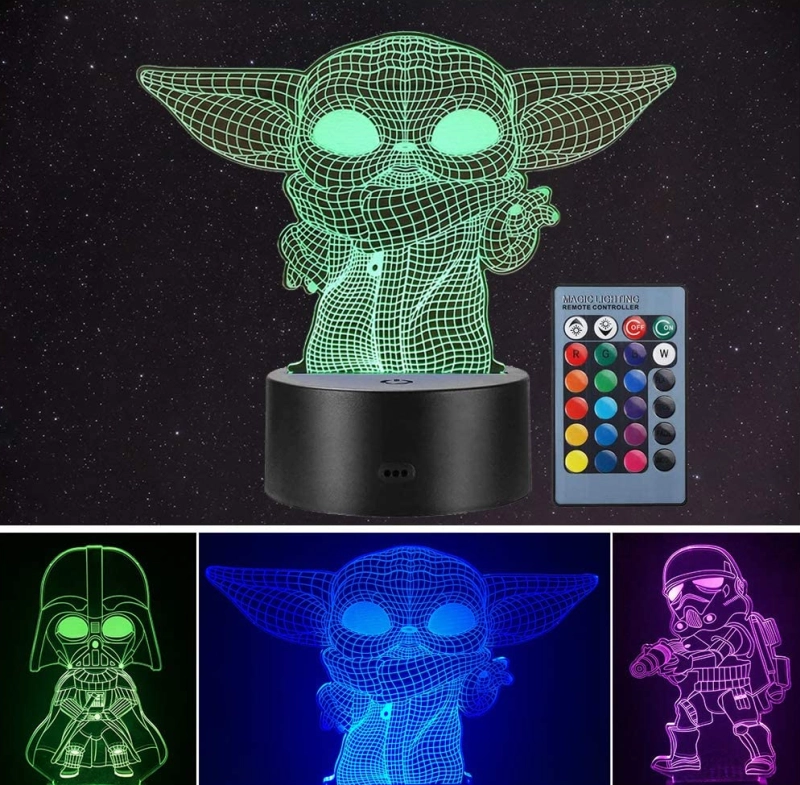 This 3D dimmable lamp features 16 different colors and 3 patterns: Baby Yoda, Darth Vader, and Stormtrooper. It features three different touch-control modes: shade only, base only, the shade and base together.
Buy: $25
Death Star Inspired Lamp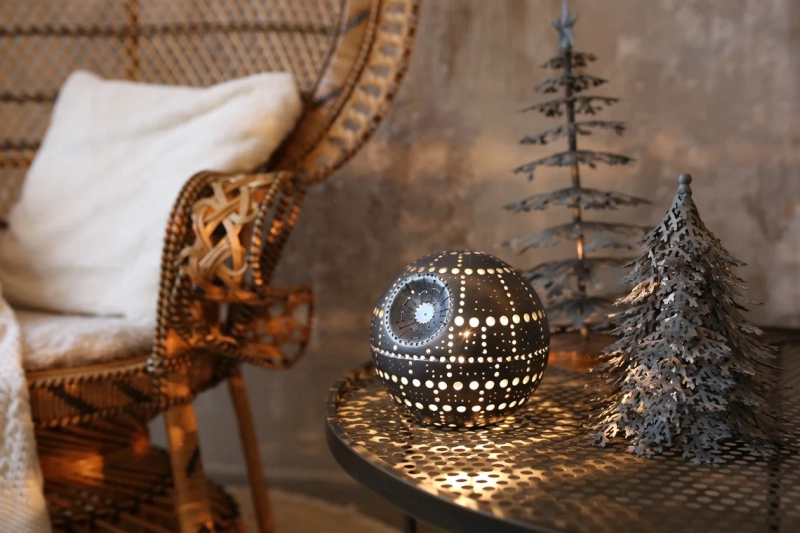 This Death Star inspired metallic silver lamp is a perfect gift for a Star Wars fan. When illuminated, it casts cool splashes of light and dark in space, making it look unique just like a votive.
Price: $175
Grogu Table Lamp by Idea Nuova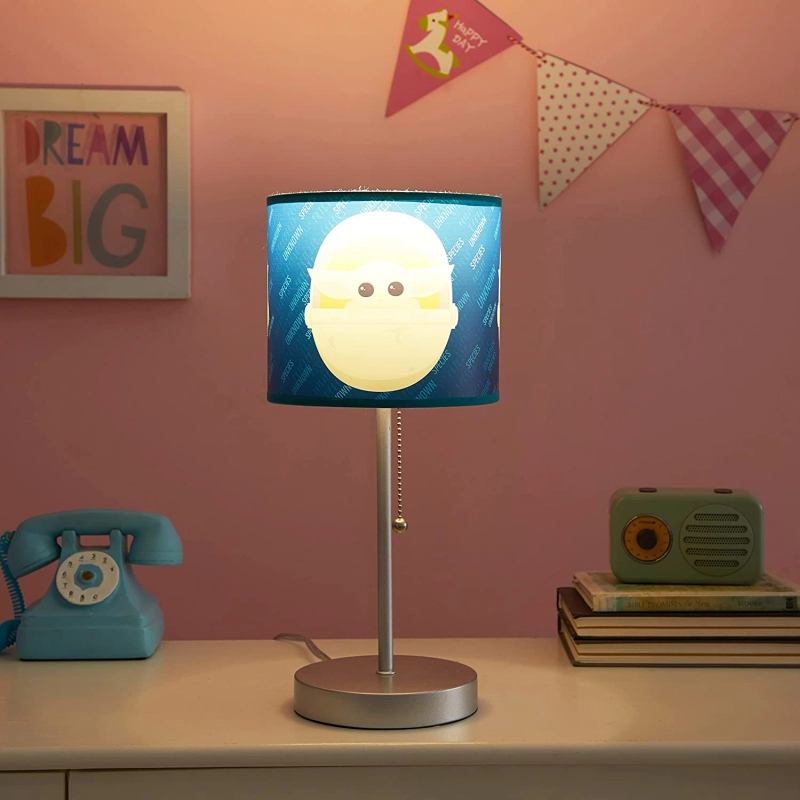 Add a fun theme to your living space with this cute table lamp. It features a metal base and a themed printed shade. Gently pull the chain to turn it on and off.
Buy: $35
Death Star Desk Lamp
This Death Star-themed desk lamp features three lighting options, and can be operated through the touch-sensitive base. One other fantastic feature is that both the lampshade and base can illuminate at the same time.
Buy: $44
Star Wars-Themed Furniture
Star Wars R2-D2 Anywhere Beanbag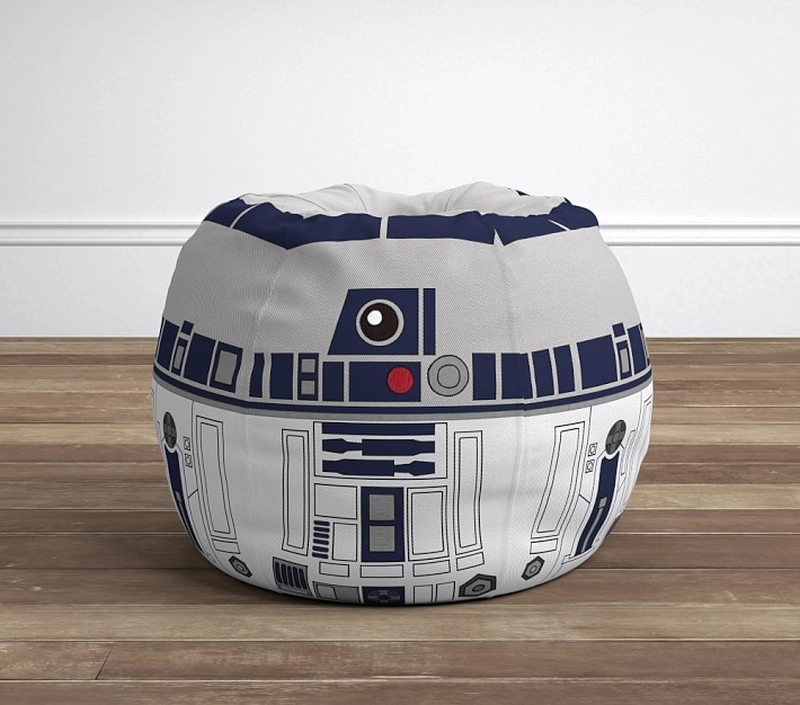 If you are looking for a gift for a Star Wars fan kid, this beanbag by Pottery Barn Kids might be a good choice for you. It is filled with up to 50-percent recycled polystyrene. There are also zippers on the beanbag.
Price: $165
Star Wars Tie Fighter Desk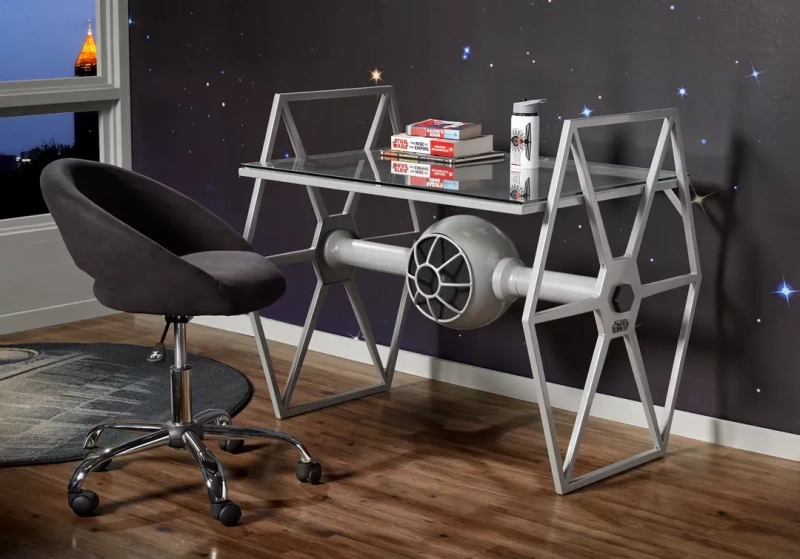 Made from powder-coated steel, this Tie Fighter-themed desk features a solid base in gray finish and several carbonite textured details. It comes with a clear tempered glass tabletop.
Buy: $400
Millennium Falcon Asteroid Coffee Table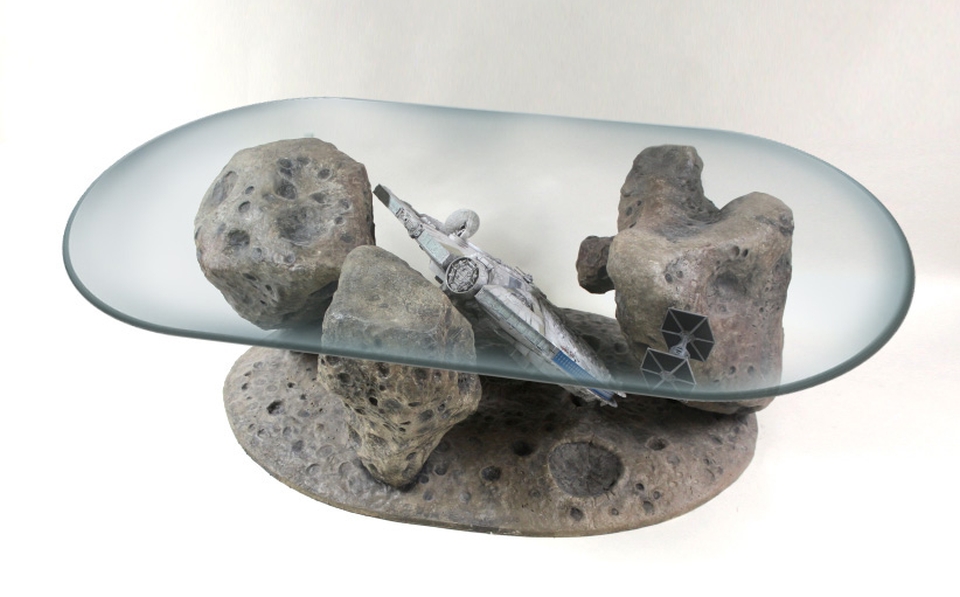 Created by Tom Spina of Regal Robotics, this one-of-a-kind Star Wars-themed coffee table is an extravagant gift for wealthy fans. With durable glass tabletop and asteroid-like base, it looks like an otherworldly furniture piece. This unique coffee table emulates the asteroid chase scene from Star Wars: Episode V – The Empire Strikes Back.
Buy: $6,500