All thanks to the latest visual and audio technology, the concept of ultra-modern bathrooms is more achievable in the 21st century than ever before. With the easy availability of high-tech bathroom fixtures, materials, and contemporary design choices, creating unique environments has become quite a breeze in the digital era.
If you have been longing to give your bathroom an ultra-modern makeover, we'll be giving you some outstanding modern bathroom ideas to inspire you to create a stylish up-do to your shower room. Before jumping to the actual topic, let's highlight the vital things that ultra-modern bathrooms must-have.
Following are the Must-Have Ultra-Modern Bathroom Features:
# Technology
New technology is changing the way we think about bathing. It is also one of the most striking ways of turning your bathroom into a 21st-century haven. Home speakers can act as music speakers and digital assistants while you bathe surrounded in the utmost luxurious and entertaining technologies.
Demisting pads for mirrors can mean no more wiping the condensation off your mirror after every shower. It might seem minor, but you'll appreciate it every time you don't have to clean your mirror because it's covered in fingerprints and smudges.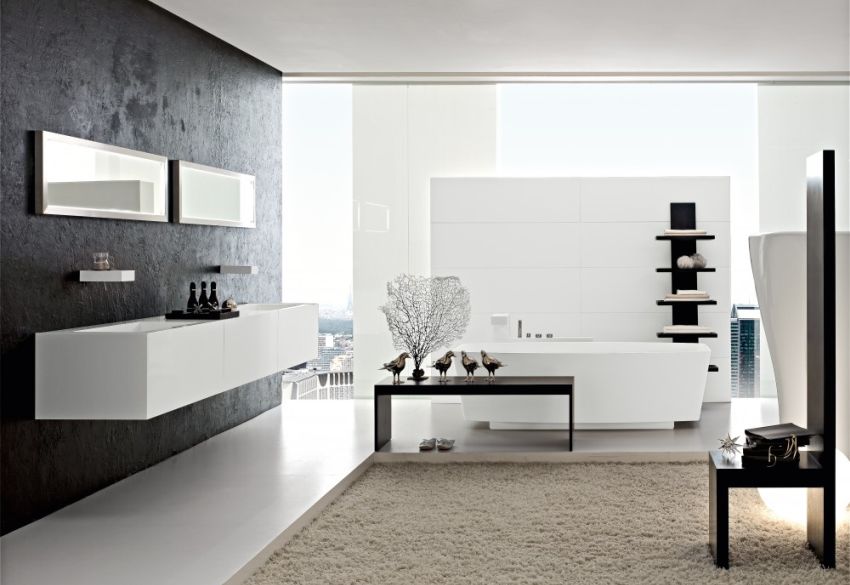 # Materials
If you want to create a consistent modern look in your bathroom, rather than just having pieces of technology dotted around an otherwise traditional room, consider introducing modern bathroom materials to the aesthetic.
Bathroom panels can create an ultra-modern, seamless, and glossy look. With no grouting and a simple tongue and groove installation system, they're a fantastic choice. They're also available in different colors and styles to suit your décor.
The glass is another great modern material that not only creates a clean and minimal look but also reflects light and makes your bathroom seem bigger and brighter. Wood brings warmth to your bathroom and, paired with greenery, will add a natural and subtly modern look and feel to your bathroom, especially when combined with the latest in audio and visual technology.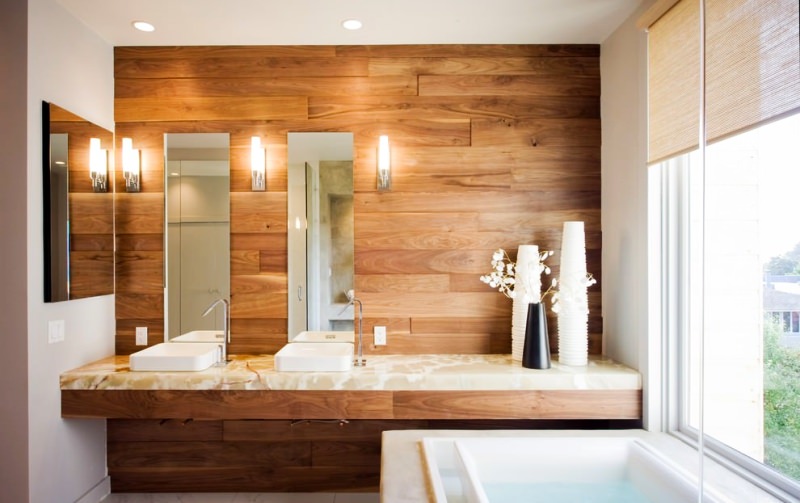 # Design
Finally, you can tie together all the individual elements of your modern bathroom with ultra-modern design features.
Freestanding baths are a modern choice and can look wonderful as the centerpiece of a modern bath utopia. Baths and showers with jacuzzi-like massage features will add that extra touch of luxury.
Lighting comes in various shapes and sizes and with various effects, making it easier to set the mood in your bathroom. Consider a skylight above your bath or shower or a star ceiling. Bathroom plants are another design element worth considering. There is a range of houseplants that make for great bathroom residents and thrive in warm or damp conditions. Finishing touches like modern photo frames or prints, concrete details, and monochrome accessories can complete your modern bathroom.
Now, coming back to the ultra-modern bathroom ideas, the following are the trending contemporary designs that you can incorporate into your bathroom in 2019:
# Bathrooms Go High-Tech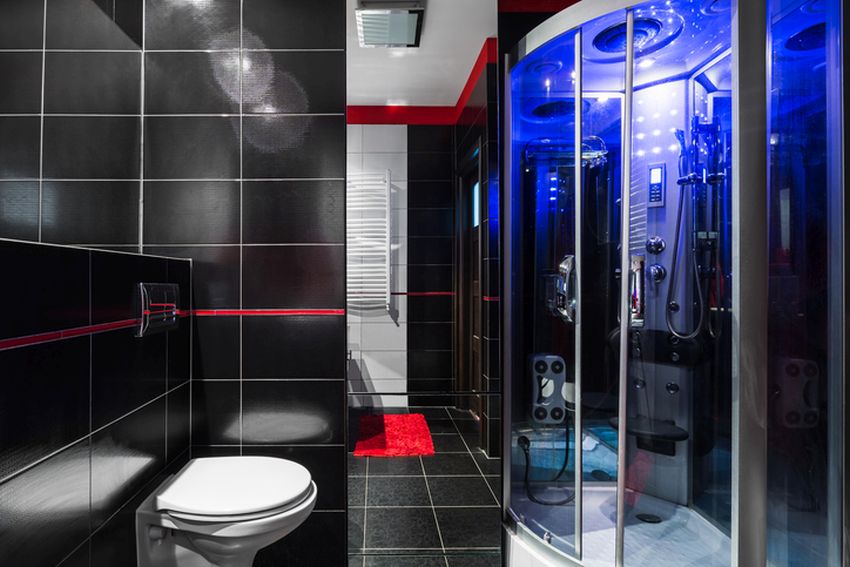 Japan has been the undisputed leader in high-tech toilets for years. But now homeowners from all parts of the world are interested in adding a bit of technology to their toilets. The 2019 high-tech toilets come integrated with features such as automatic lid openers, seat warmers, adjustable air dryers, built-in deodorizers, and slow close features, etc.
Not just the toilet, but the entire bathroom is getting a high-tech facelift this year. Right from smart temperature adjusting shower to mood-enhancing lights and music playing showerheads all make the bathroom more stylish. Adding a small fridge within the bathroom cabinetry to keep drinks cool or store medicines is another new trend.
# Brass & Gold-Tone Fixtures are Making a Comeback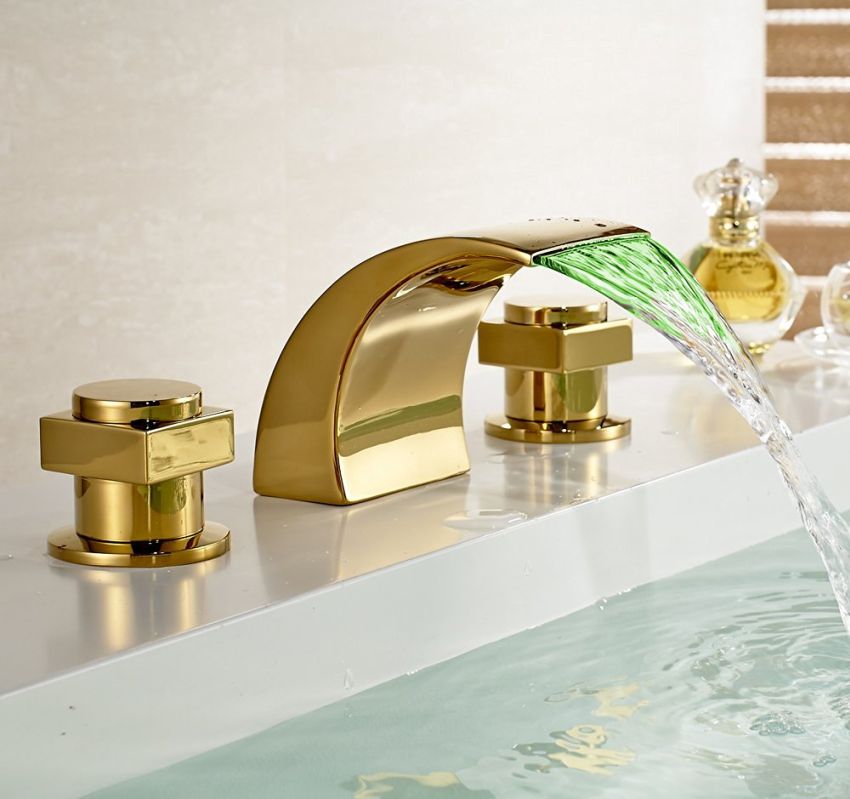 Remember the iconic brass faucet in your grandparent's bathroom? Well, the same brass & gold faucets are back in 2019 to glam up your shower room as well. This new tone gives a perfect twist to calmer gray paint colors that have become extremely popular in recent years. Moreover, the gold-toned bathroom fixtures can also be added to give the right amount of dimension, depth, and luxury feels to any space.
The warmer accent created with the brass and gold-toned bathroom fixtures is being loved by modern homeowners. These new faucets also come with the added bonus of keeping fingerprints and water spots hidden. The simple reason these are making a comeback is, they look stunning in different bathroom settings.
# Vanity Lighting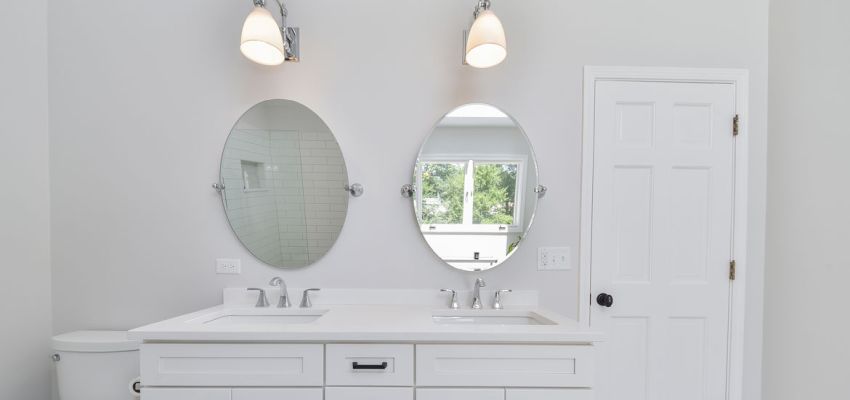 The bathroom vanity area generally consists of a countertop, cabinet, faucet, and hardware. After that, we think about the lighting and the mirrors. But both these items are equally important for your bathroom. Placing lighting strategically can make a world of difference. The 2019 bathroom design ideas are more focused on lighting schemes. One of the most popular ways to make your bathroom illuminate and shine is through vanity lighting. Such lighting fixtures create a luxurious and relaxing feeling; you can choose to include light bars and wall sconces, a chandelier, and small pendant lights to make your bathroom more glamorous.
# Bold Accent Walls & Floors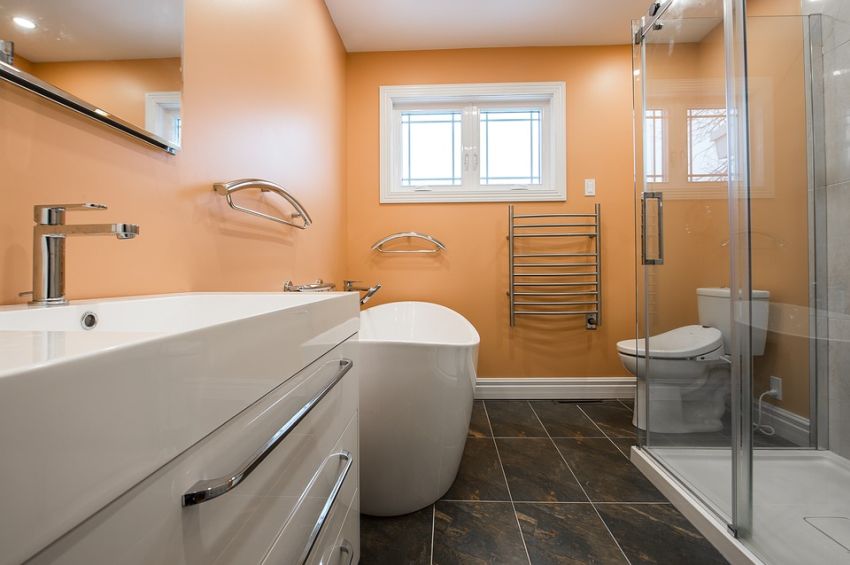 Bold accent floors and walls sparkle and stand out in any neutral bathroom design theme. It indeed makes a defining statement of personal style while being the focal point. If you want to create an outstanding impact on the floor, add ceramic or porcelain graphic tiles. With bold colors and patterns, it will be a showstopper of your shower room.
You can even go for a dramatic accent wall for a unique feel in the bathroom while incorporating a sense of sophistication. If you are feeling a bit creative, you can also add some graphical figures or a painting on the entire wall.
# Neutral Styles With Organic Undertones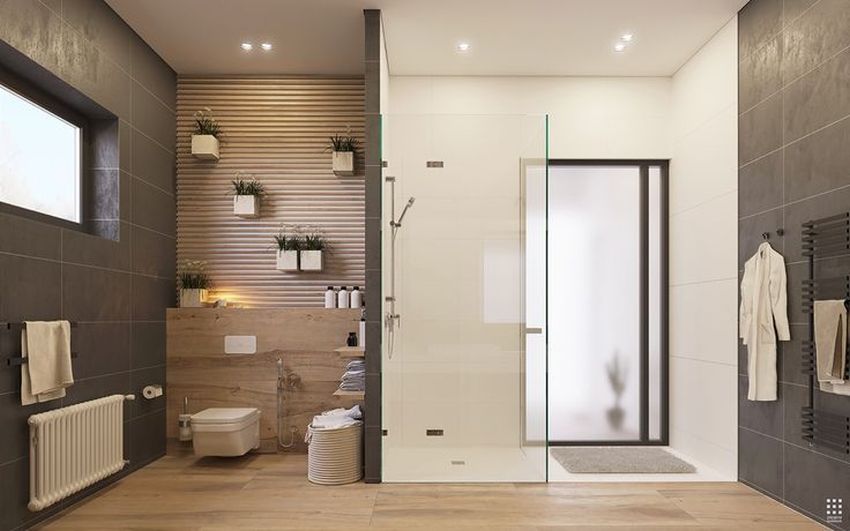 The neutral decor trend has become very popular in recent years. Why not? Homeowners are simply loving the whites, grays, and warmer brown color tones that make a space look elegant and modern at the same time. In 2019, neutral bathrooms will still be very much in, but with a bit of an organic infusion.
You can make way for neutral colors with organic hues such as blues, greens, and warm browns. Try to bring in more elements of nature like plants, grass, and flowers into your bathroom. For materials, you can choose reclaimed wood, brick, and natural stone and have natural appeal maintained.
# Narrow-Fit Bathroom Furniture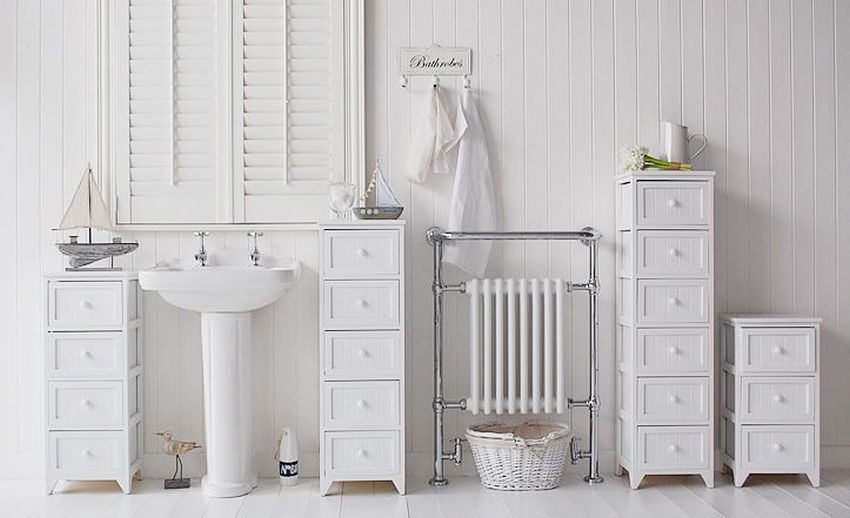 Ultra-modern bathrooms are being decked up with high-gloss modular furniture to make your showering space look larger and to bring in more light. Even if the bathroom doesn't have generous floor space, opting for narrow-fit furniture is the best idea to achieve a feeling of openness. Narrow furniture also tricks your eye, making the given space appear both bigger and lighter.
The slimline wall cabinets are ideal for a narrow room. You can even match them with a compact basin unit for more storage of items such as lotions, shampoos, soaps, and other bathroom accessories.