Rodney Allen Trice moved to New Your City in 1988 to further pursue his graphic design work and explore other areas of the arts as well. After exploring for about five years, he founded T.O.M.T. (The Other Man's Treasures) in 1994, a Brooklyn based design studio. Trice gives old junk and ordinary objects that world has discarded or have no obvious purpose left, a new life by transforming them into a useful, attractive and high-end furnishing.
Rodney believes that there is some purpose to everything and nothing is truly garbage. Crutches are a great example of it, as it is normally an object that people don't want lying around their homes. Since crutches carry some painful memories, so they normally end up in the dumpsters after use.
His experience of exploring found materials for five years, forced Rodney to find beauty in such objects, and he started collecting them without any clear purpose. When they started acquiring some extra space at his studio, Allen decided to start working with them. In the beginning he tried to make a coffee table by putting six crutches together but couldn't fit them with each other. Then someone suggested him to use only five crutches in a star shape and the idea clicked. Finally, Crutch Upcycled Table was born.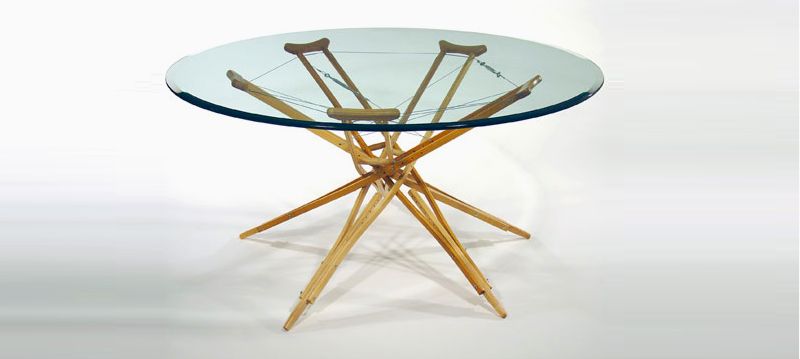 The Crutch Upcycled Table is entirely a unique piece of upcycled furniture with no two pieces replicating each other. When viewed from top it looks like a star, and the structural strength provided by the crutches is incredibly reliable. And why not, they have a history of supporting the weight of a full grown person.
This upcycled table is reinforced with a steel wire that connects all the crutches together, making is sturdy enough to hold a large piece of glass table top. It's beautiful and elegant design will definitely attract all the attention it deserves.
Since it's made on demand, you'll have to wait for a piece like this for four to six weeks, after you have placed your order. Top glass can also be customized according to your requirements.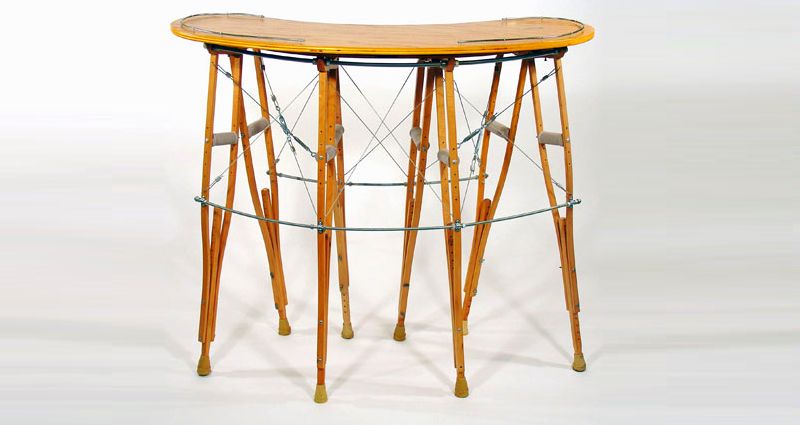 There is something more for all those who love their drinks and find them more enjoyable at a bar table. Rodney Allen Trice, followed the same idea by designing an Upcycled Bar Table with his salvaged crutches. Made with eight crutches and plywood counter top with an elegant steel rod border to hold your drinks sturdily, it is an upcycled bar table that you would love to have in your home bar.