Urb-Garden is a group project based on bringing herb gardening into the home of a modern gardener with limited indoor space in a sculptural and innovative way. The major concern of the project revolves around creating something that would prevent back strain in people by positioning the flower pots at comfortable height. Presented by team of Ash Stephens, Caitlin Clark, Cole Holyoake, Emily Stonehouse and Sebastien Voerman, the motive was to bring the fun element of gardening into the homes of urban people.
Urb-Garden is a collection of standard units that are fixed together at the base of a concrete stand. The user can utilize a little space with the minimal design of the structure by creating continuous row of plants. To ensure the best strength to weight ratio, the bases and exterior pots are made out of fibrous concrete, while the stems are made of steam-bent laminated strips of Ash. The removable pots are made from aluminum by professional metal spinners designed to fit the outside concrete pots.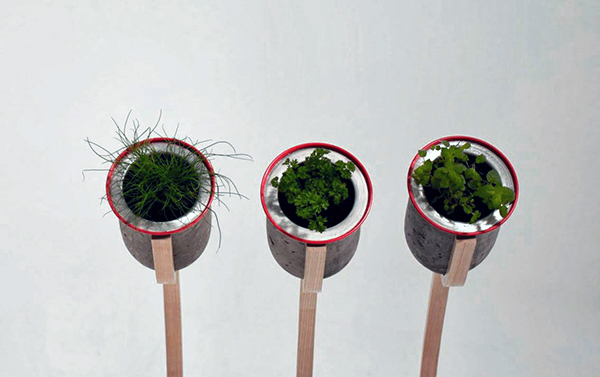 The quirky motion of the stem adds a lively feel to the interior of one's home. The base and the edges of the aluminum pots are painted in red color which perfectly strikes with the green color of the plants. The Urb-Garden project was developed over a period of 3-weeks and the production phase also lasted 3 weeks.
Via: Gessato