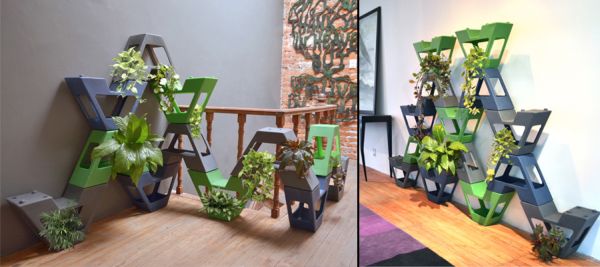 Undoubtedly, plants can make the surrounding environment more fresh, healthy and beautiful. Therefore many people engage different planters at their homes, offices, restaurants, hotel lobbies and even parking lots. But, these plants also need proper care and maintenance especially watering from time to time, which can be a botheration for many. To combat this problem, the NOS design consultancy has crafted a new modular planter system that waters the plants automatically. Dubbed as the Vava Modular Planter that can be installed with an automatic irrigation system.
Agustin Otegui and Erick Saucedo from the Mexican design consultancy have created this innovative project. The Vava modular planter system can be created in any of the trapezoidal shapes. With hollow spaces for plants. The basic module is a single trapezoidal piece which is joined together with other single modules to form four different types of structures including a crossed structure where the plants are arranged in a zig zag manner, hexagonal structure where the modules are stacked together to create a hexagonal shape, pyramidal or L structure covering more area with less planters, which also wrap around corners and squared structure in which rows and columns of any width and length can be created.
After placing the pots on any of the above structures, water can be supplied either manually or by an automatic pump. When you water the upper planters manually, the water is also distributed to the lower planters by virtue of the thin hoses. When an automatic pump is installed, the water is recirculated from the base of the lower pot up to the highest planter through those hoses. The Vava modular planter system can be freestanding or placed against the walls.
Via: NOS