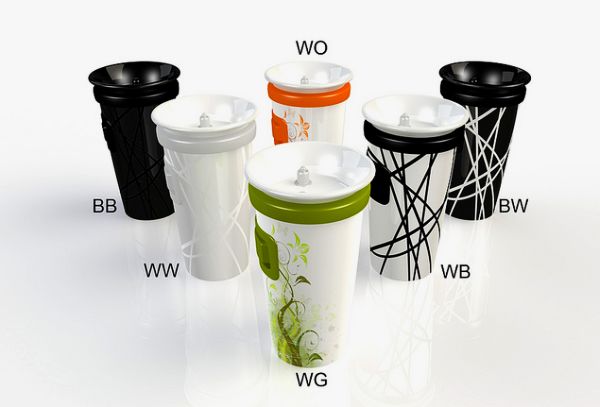 Previously, we told you about the Nohot cup that was a revolution in drinking hot beverages. Today, we have another great innovative creation named vertiGOmug that helps users sip coffee without burning their tongue. A creation of A3D Innovation, which is a family firm based in Montreal specialized in industrial design, development and product improvement, the vertiGOmug tumbler lets you enjoy hot beverages without being scalded.
The husband-wife team designed the vertiGOmug in a way that the tumbler is divided into two compartments. The upper compartment cools down some sips of the hot beverage that is pumped up from the lower compartment and hence avoids any burns. To create the tumbler, the duo has used eco-friendly ceramic and natural silicone. The ceramic mug is covered with a simple pump system. You just need to gently press the trigger to allow a sip or two of your beverage to come up on the top compartment of the mug through a little spout where it cools down a bit during the time taken to reach the upper zone and so is not burning hot.
As the tumbler has a double-sided insulation and superior cover, the beverages inside remain warmer for a longer time. The lid of the tumbler prevents any accidental spills. The tumbler fits into the cup holders and is also dishwasher safe. The design house has designed a line of such mugs called the aesthetic thrill collection with various color choices and patterns all made of sustainable materials. Unlike the paper or plastic cups, the eco-friendly materials used in its making doesn't react at high temperature, therefore it doesn't change the taste of the beverage you are drinking. Roberto Barbusci – industrial designer and co-founder of A3D Innovation – says that it's a great idea to prevent billions of disposable cups from ending up in landfills every year.
Check out the video for more.
A3D Innovation has posted their vertiGOmug project on Kickstarter crowd-funding site to bring it to production. We hope it will soon hit the £10,000 goal and go into production line to improve people's lives through better design.