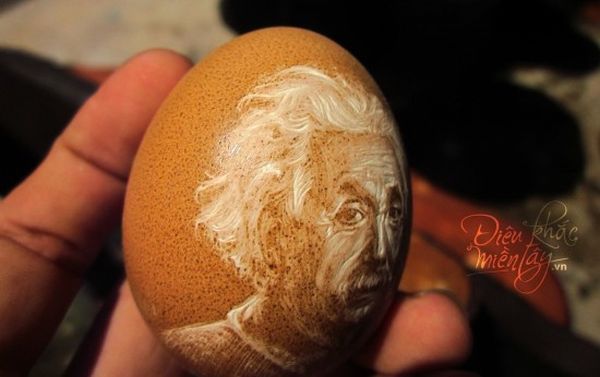 For many of us bits of eggshells may be uninvited guests still staying over due to the faulty cooking of the omelette. However, for Vietnamese artist Ben Tre, eggshells equates to art! This man salvages most of the eggshell in an intact manner to ingeniously carve classy portraits on them. Once again, we repeat – we are talking about carving, not just mere drawing or painting on the frail eggshell. The artworks generally comprise of two types of vivid portraits; firstly of famous historical and contemporary figures like Karl Marx, Queen Elizabeth II and Albert Einstein, and secondly of various scenes from the 'life and culture' of South Vietnam. And the remarkable part is that you can feel their finesse with your fingers while you are admiring them with your eyes.
Now these eggshell artworks are surely high quality novelty items that can bedeck your living room shelves and furniture pieces. But those of us who are enticed more by lighting than conventional decor pieces might feel left out of this exquisite scope. Well, worry not! Ben Tre has also recently launched his line of intricate lamps that have shades crafted from goose eggshells. According to the artist, the lamp conception poses as the delicate combination of a light system and a sculptural ambit. The end result is without a doubt superlative with the allowance of different colors of LEDs for the vivacious effect.
Of course, as expected the aim of these charming artworks is more decorative than just being functional. For more details on the products and their pricing, please check out this link.
All images are courtesy of Dieu Khac Mientay.