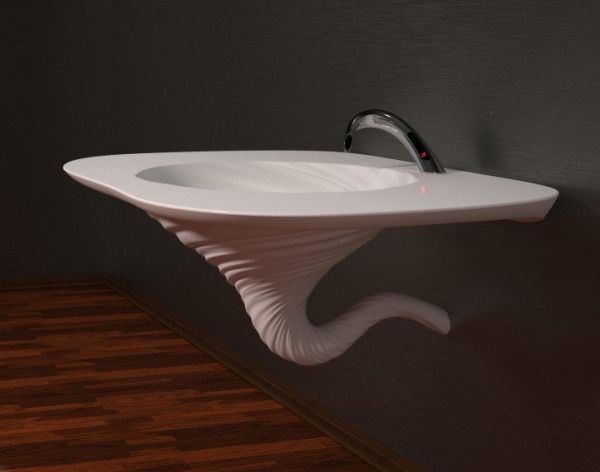 Deniz Karasahin, who is the man behind the design of Vortex Washbasin, is actually right when he says that his design is for the aliens who have never seen a conventional washbasin. If that is too imaginary, then you will observe that this design is really unique and out of the box. The design includes a washbasin and a complementary faucet that completes it. Deniz is inspired by the vortex form, fluid behavior, and drain so as to take up and accomplish this A' Design Award winning washbasin design that undoubtedly can be seen in stores in the near future.
The Vortex washbasin design has some unique aspects associated with it, e.g., it shows to us a new kind of water flow that is one of its characteristics. This kind of design is sure to elevate the user experience and bring more of interest in fluid mechanism which is generally not so detailed in conventional washbasins. The faucet and the washbasin have a design-wise integration that makes water move in a spiral form. It also promises less water consumption for cleaning.
To give the washbasin design a technological aspect, electronic touch panel is added to the faucet functioning. The users of Vortex can manage water pressure and temperature with the help of this control panel that can be operated with touch gestures. Material like high-durability ceramic and brass metal having a touch of chrome plating make up this beautiful washbasin. And finally, an electronic touch panel installation makes the design complete in all aspects. So, would you like to have such a plumbing fixture to decorate your home space?