Tired of increasing monthly payments of cable operators and dish antenna providers? Don't worry, Antennas Direct – global provider of TV and HDTV antennas has now developed the Eclipse Antenna that will bring free TV channels into your home like old age antennas.
Eclipse may somewhat function like classic antennas but its patented ClearStream Tapered Loop provides ability to the device to deliver better quality HD programs to masses. Unlike traditional antennas, this HDTV antenna is to be placed indoors and can easily catch signals from inside your home. Don't go on its compact size, this circular antenna is quite efficient and powerful in delivering HDTV signals.
It provides high digital reception from local networks on your television screen for free, provided you live within 35-mile radius of local network broadcasting tower. There is also a passive antenna with same technology that works within 25-mile radius for telecasting you favorite TV channels.
Another good thing about the device is its placement technique; it comes with Sure Grip Technology having a semi-adhesive that sticks to any flat surface without external support, so no need to drill the wall to fix the antenna.
Don't like current position of Eclipse antenna? No problem, it can be removed easily from its current position to another suitable place, that too without leaving residue marks on the wall. Isn't it a revolutionary and cost-effective way for entertainment?
But to enjoy the services of this futuristic antenna you've to wait until September 10, for its official launch. After that, you'd be able to purchase the Eclipse antenna with 35-mile radius coverage for $90 and another passive antenna having 25-mile radius for $70.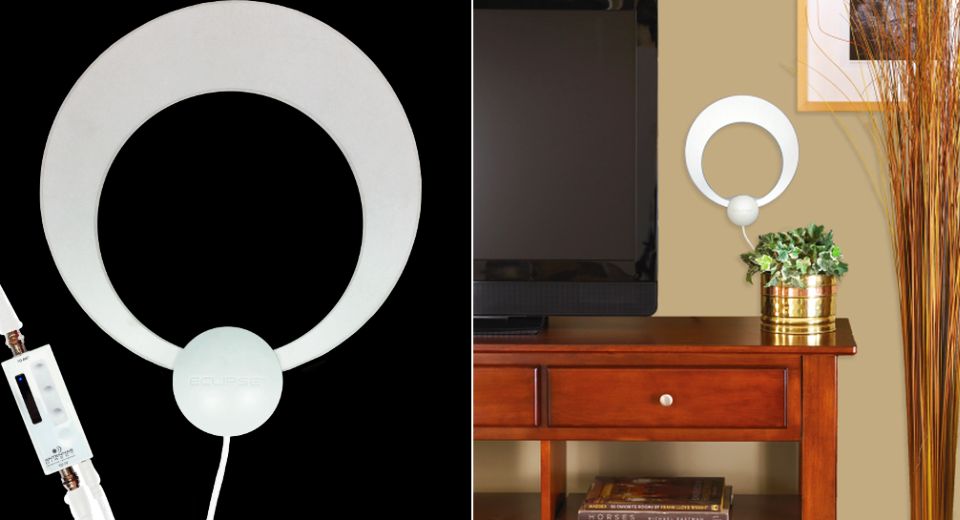 Credit: ChipChick