Curtains are for people who love to hide their melancholy behind a fluttering fabric. For an introvert like me, who loves to spend time indoors, curtains have played an integral part in shaping my personality. These drapes have not only provided me assistance in avoiding people but also block extra sunlight.
However, furnishing your home with the same kind of curtains may get monotonous at times. If you are a curtain lover, who is bored and tired of traditional curtains and looking for a change, Tokyo-based designer Oto Kawamata has come to your rescue with his 'Water Shadow' curtain. The product is in its prototype phase but is receiving a lot of positive reviews and acclaim on social media.
Water Shadow Curtain is a lace-based curtain that filters light to create caustics. Holding resemblance to the bottom of the pool and aquarium, these curtains create similar random fluctuating patterns of bright lines on the floor or on your bed. The curtain will not only blocks the sunlight but will also keep your room cool and aesthetically pleasing with shadows of the water.
Reflection and refraction of sunlight are responsible for creating these caustics. This leads to the creation of illuminated lines which flow gently as the day passes or the curtains flow. The water shadow curtains will make your indoor time subtly more enjoyable and make your bedroom look like an aquarium.
Also Read: IKEA Unveils Sound-Absorbing Curtain to Dampen Noise and Reverberations
Oto Kawamata said,
Mimicking this underwater sensation by using curtains has the potential to bring joy and magic into a room. I hope the idea can help create a more relaxing environment and alleviate stress as we spend more time indoors.
The designer has recently formed his design agency and is accelerating the work process in a bid to introduce the curtains to the public. The unique design is certain to add a beautiful subaquatic element to your interior.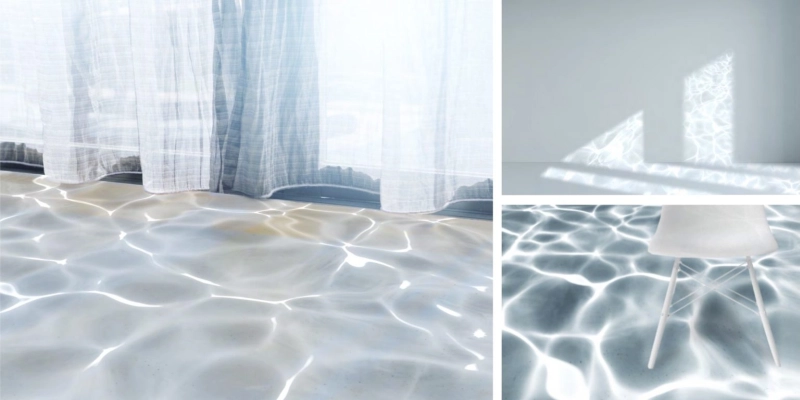 Via: Spoon & Tamago