Music festival camping is a popular summer activity for young concert goers. Although the music festivals are associated with entertainment and fun, but you can see the ugly side after the festival gets over and people move away, leaving their temporary tents behind. These left out tents further add up to the landfills.
Fortunately, one Dutch startup has come up with a feasible solution in form of the KarTent, which is a temporary shelter made out of 100-percent recyclable cardboard. But don't be fooled by this lightweight and delicate material, the tent is sturdy enough to withstand three days of constant rain without tearing apart. Hence, it's ideal for most music festivals.
Designed by Jan Portheine and Wout Kommer, each 0.6 kilograms tent ships flat-pack, and comes with a 3.3-square-meter floor plan. This means two persons along with their luggage can easily accommodate themselves within this temporary shelter. Due to the dark interior space, the tent remains cooler during summer.
As it is made from recyclable cardboard, so there won't be any harm to the environment even if you leave your tent behind after the festival. After the camping, these tents can be converted into other useful products for later usage.
Besides featuring lightweight and foldable design, the tent can also be customized as per an individual's personal preferences. KarTent can print anything from sponsored messages to personal drawings onto the tent facade. Moreover, the company is currently working on creating a larger design that could accommodate four people.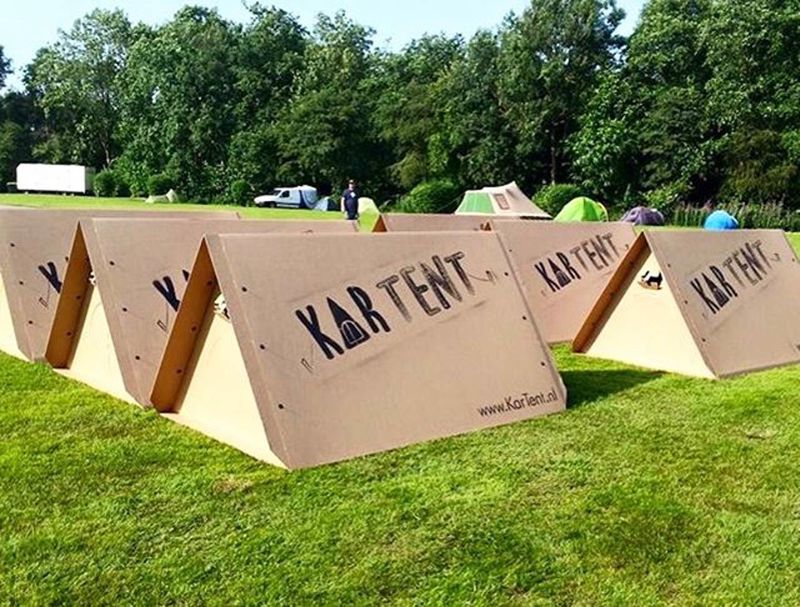 Via: Neatorama