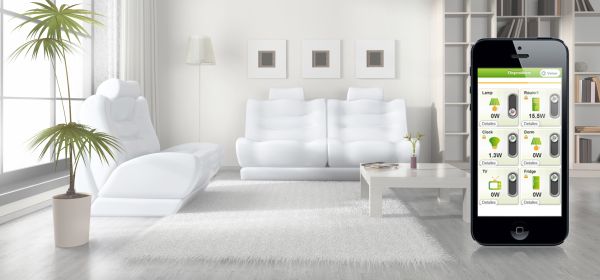 With the strides of green technology and remote controlling mechanisms, a home oriented electricity saving solution was always on the cards. However, the question was about the accessibility and usage convenience of this solution. And, in that regard, the Indiegogo funded 'Wattio' comes out with flying colors. Touted as a 'smart' electricity saving solution (that can save up to $130 in electricity and $300 in heating annually), the collective product line comprises of four separate components – Gate, Thermic, Bat and Pod. These components are all connected and accessible by a common mobile app (specially created for Wattio).
The Gate represents the main interface of the Wattio, which would show all the important info relating to power consumption, HVAC and even weather forecast . Consisting of a color LCD touchscreen, the device can be remotely accessed via the internet and also through the aforementioned app from phones, tablets and even smart TVs.
The Thermic entails a thermostat with simple design lines and intuitive features for controlling your interior's temperature. The advantage of Thermic is that it is compact in its size and battery powered, thus allowing it to be fitted anywhere around the house.
The Bat comprises of a small energy monitor that can be housed inside your electric box. Having a slew of functions like exhibiting power consumption alerts, statistics and comparative analysis, this component alludes to the cloud based features of Wattio, in which your usability pattern can be bench-marked against other consumers using the same product.
Finally, coming to the scope of the Pod, it is basically a range extending plug that allows you to take control any household device via Wattio. This controlling ambit includes various attributes like on-off switches, regulating the working hours and even setting the electricity consumption meter (for future analysis).
Via: Indiegogo