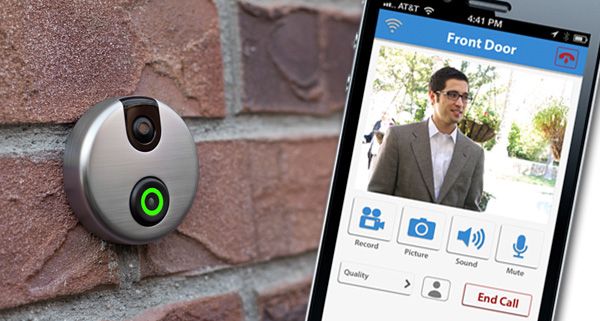 We have harped about smart locks that can be remotely controlled from anywhere in the world. But now the domestic security level is technologically cranked up to a whole new scope with the iDoorCam, a 'smart' mechanism that allows you to answer your door from your smartphone. Its main component consists of a WiFi enabled doorbell that comes with a slew of features, including – a day and night vision camera, speaker, microphone and motion sensor. So, in simple terms, when any visitors rings your bell, you can see, hear and even speak to that person, while he/she can only hear you (if you wish).
The working scope of the iDoorCam encompasses the doorbell's connection with your home's WiFi. This allows it to send its feed (both video and audio) to your mobile devices via WiFi or cellular networks. So, whether you are outside your house or busy in the kitchen, the iDoorCam brings up a 'personal' interface with the visitor. More importantly, from the safety perspective if your child is alone in the house, you can always maintain a watch on your guests (welcome or unwelcome), and that too from anywhere on the planet.
As for the usability of the iDoorCam, the device is actually pretty easy to install. A simple screwdriver can be used to attach the base plate to the wall, while the device is snapped onto the plate. The  iDoorCam also comes with soft, brush aluminum finish that certainly improves its visual credentials. Furthermore, it boasts of a specialized UV coating that conveniently mitigates the effect of rusting.
Price – starting from $137 for single device. For more details, please visit the product's Indiegogo page.
Via: Indiegogo