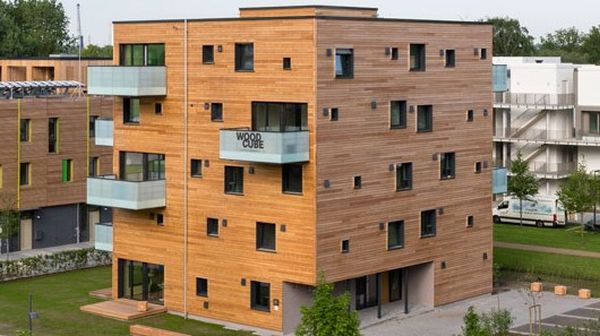 The acceptance of wood as a credible construction material has perhaps reached its zenith with the above pictured Woodcube. The building designed by German architectural firm Architekturagentur is not just a housing unit but rather a full fledged 5-storied apartment constructed from wood. In fact, baring some structural components like the foundation and elevation shaft, the architects have actually used untreated wood with simple wooden dowels for the entire construction process. In this regard, the carbon neutral design does stand as a testament to the ingenious utilization of natural materials, with its 1,479 sq m (16,000 sq ft) area and eight residential units within the super-structure.
The superlative features of the building however are not just related to its impressive size. There are numerous user-oriented features that improve upon the overall efficiency of the scope. For example, the Woodcube has 32 cm (12.5 inch) thick outer walls that play their part in high quality insulation. The outer skin also integrates solar panels for generation of 'green' electricity for all the regular requirements of the building.
But it is the advanced technological attributes of the Woodcube that really holds our geek fueled fancy. The building boasts of an efficient ventilation system that is depended on a heat exchange system controllable via iPad (similar to the scope of our previously covered Soleta House). The elevator system on the other hand utilizes a regenerative brake system (a technology also used in F1 racing) that reduces energy consumption by over 60 percent.
The Woodcube is currently showcased at IBA Hamburg till November, as a part of the  Smart Material Houses exhibition.
Via: Woodcube-Hamburg