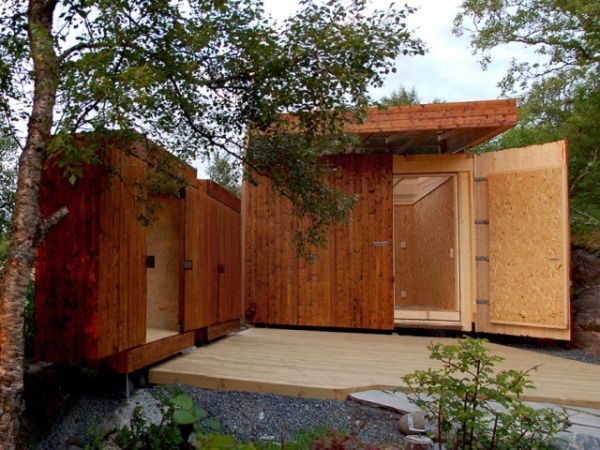 When architecture studio Rever & Drage was contacted to build a small multi-purpose facility near the client's summerhouse in Norway, architects Marting Beverfjord, Tom Auger and Eirik Lilledrange got together and built a magnificent cluster of wooden cabins that is made precisely to meet the client's need and withstand harsh winds and severe rains. Dubbed the Hustadvika Tools, the 15 sqm construction features a hut with retractable roof and two sheds with slide open doors, making this a place worth spend few days close to nature.
Created primary as toolshed, rain shelter and a camping area, each wooden structure is integrated with sliding and folding mechanisms, which allows these to be used for various activities and also adapt to changing weathers. Hut is the largest of the three structures with a retractable roof, which slides or unfolds to reveal the glass-glazed ceiling. The ceiling allows sunlight inside the hut and also protects it in rain.
The pair of sheds with sliding doors function as storage areas. The walls of the sheds are also well glazed, which allow a beautiful coastline view. To protect the outsides of the structures from showers of salt water perpetuated by the tides in the sea, the architects have used a layer of tar on the wood, which makes the structures shine beautifully in the setting sun.
Via: FrameWeb