A UK-based hotel group Warner Leisure Hotels has launched world's first adult-only ice cream van that will serve boozy flavored ice creams and sorbets for free, but just to adults. The van also pronounced as The Warner Ice Cream Bar will travel around the country this summer season serving alcohol-infused treats.
If you are under age, then don't even think about trying it as the bouncer won't allow any disturbance from a minor. Grown-ups have to show their IDs to get the alcohol-infused Mr. Whippy served in a pork scratching cone.
The menu of alcohol-infused ice cream van was created by New Forest Ice Cream. It was further inspired by the study which revealed that men over 45 prefer beer and women go for cocktails. Keeping that in mind, the adult-only van will be primarily serving five boozy ice cream flavors – IcePA, The Jäger Bombe, Bacon and Bourbon, Vodka Martini, Tequila Sorbet. All the flavors are made using alcohol beverages like beer, vodka and tequila.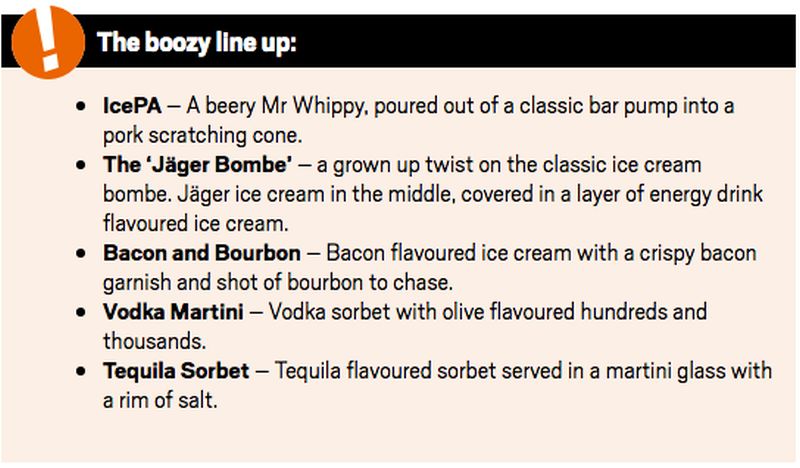 The adult-only ice cream van has already toured hotels in London, Hampshire and Hungerford. It will travel to other places of the country soon, this summer season. People are queuing up by the van to try the adult-only ice cream flavors. Ice cream lovers can keep an eye on the van's location through social media, as it will be travelling around the whole country this full summer. People have to keep a check on the hashtag #GrownUpIceCream on Twitter for spotting the location. For people's convenience, Warner Leisure Hotels will tweet the van's location every morning.
People who have tried the latest boozy flavored ice cream are happy with such unique combinations of ice cream. From all of its features, the best one is that it is being offered for free on this bar-on-wheels.