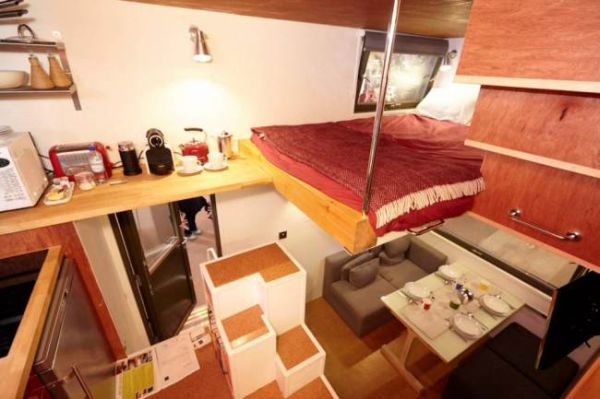 Taken IKEA concept to an all new extreme, Dr Mike Page, engineer and lecturer at the University of Hertfordshire has created a flat pack house that take just four hours to build. Reckoned as the first of its kind, the home dubbed QB2 cube house has all the essentials of a normal home including flat pack tables, beds, kitchen cabinets, furniture and bathware. Ready-to-assemble QB2 cube house is three-story property, which measures 3m (10ft) tall and 4m (13ft wide. The scaled down home is good enough to sleep up two people and given its size doesn't need planning or permission to erect.
Despite its miniscule size, the QB2 cube house crams within it a spiral staircase, kitchen, full size bathroom, bedroom with double bed and a lounge all spread over its three floors. Giving and insight about the portable house, builder Dr Page says that the QB2 can be assembled by anyone who can put together an Ikea Billy bookcase. According to him the house can be put together in under four hours but would obviously take a while longer when you wish to put everything, including kitchen and bathroom together.
Scheduled to hit the market early next year, the QB2 cube house is comfortable low-carbon solution for looming housing crises. The highly insulated construction will go on sale for £10,500 to £45,000, depending on the version you choose.
Via: Metro