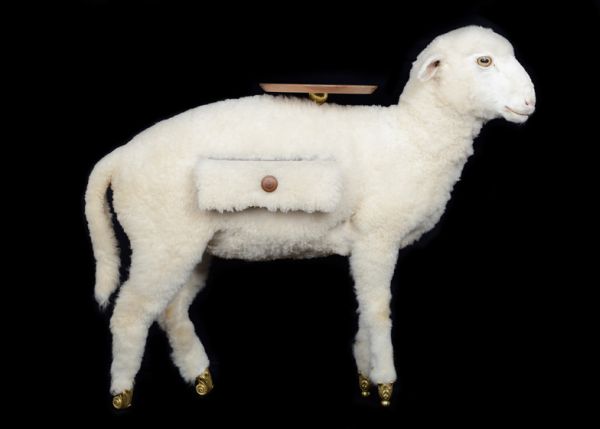 Whenever we talk about unique furniture piece, a side table for instance, we often expect the furniture unit to have a different and unique style and an incomparable design. But, the Xai Side Table is truly one of a kind, as one would have never expected a side table to look exactly like a cute lamb.  This extraordinary piece is a part of the furniture collection from Spain based Oscar Tusquets Blanca, who is a professional architect, a designer by adaptation, a painter by vocation and also a talented writer.
The Xai Side Table is the latest unit from his Salvador Dali furniture collection, which is dedicated to the magnificent painter Salvador Dalí. To create this exclusive table, Oscar was inspired by the Surrealist artist's 1942 painting Interpretation Project for a Stable-Library, which features a lamb with a telephone balanced on its spine and a drawer in its side. He used the services of taxidermist Maison Deyrolle, where Dali was a frequent customer during his lifetime, to create his stuffed lamb side tables. He selected 21 lambs from the Parisian slaughterhouse out of which only one is black in color.
The multi-talented designer attached a circular tray onto the back of the lamb, which serves as the table's top and also inserted a wooden drawer that opens from one side of its abdomen and its hooves are replaced with rococo bronze feet. They are currently exhibited at the Setba Foundation in Barcelona. The limited edition collection of 21 Xai Side Tables includes 20 white pieces, each of which is priced €36,500 (£30,350) and a unique black piece that costs €72,000 (£59,900). Spanish company BD Barcelona Design has produced these amazing furniture units, which also produced the Dalilips sofa created by the artist together with Oscar Tusquets in 1972.
Via: Dezeen